Updated

June 1, 2022

Publish Date:
May 11, 2022

Marketing and digital communications agency specializing in smart, meaningful content development.
Subscribe to the MZ Blog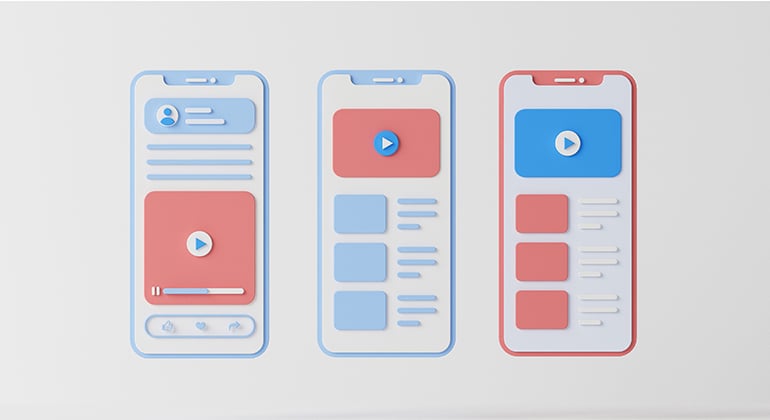 What content type do customers say they prefer most on social media? Given the topic of this blog, I'm sure you've guessed it—video. And this isn't just taking into account video-first platforms such as TikTok and Snapchat. Facebook alone gets over 8 billion video views per day. What may be even more surprising is that 85% of Facebook videos are watched without sound! With many diverse platforms and audiences, it's important to refine your marketing strategies based on the best practices for each platform—from content to ideal length and more.
In this blog, we'll walk you through the key components of video optimization, as well as strategies and best practices for each platform.
Marketing video optimization includes three key components—content, platform and file optimization.
Content must be considered first. After all, what story do you need to tell? Start every strategy by identifying basic information.
What is your objective? Specificity is key. Vague objectives return vague results.
Who is your target audience? Think beyond market and professional title. What are their challenges, interests and aspirations?
Why should they care? Numerous videos pop up in their feed each day. How will you grab and keep their attention? How can you solve their challenges?
Where is your audience? Do they Tweet, frequent LinkedIn, browse Facebook, or prefer watching short-form content such as Reels or TikTok?
When is the best time to reach them? Consider the day of the week and time of day.
How can you best execute this? Is a short teaser ideal or is there a longer story to tell? What resources do you need? Can you repurpose existing content?
The answer to all of those questions starts with the first—what is your objective? On channels such as Facebook and LinkedIn, objectives fall into one of three categories: Awareness, Consideration or Conversion. Depending on the objective, best practices differ. Being specific is critical. This determines your target audience and how you measure success.
If your objective is to build brand awareness, you don't want to introduce your brand and talk about your company too early. After all, a logo won't interest an audience who has no trust or value associated with it. Did you know companies that wait until the second half of a video to introduce their brand have 40% higher viewer completion rates? With only seconds to capture people's attention, you need to immediately speak to their needs, challenges and desires. Remember, the goal is not conversion, so stay away from sales pitches and call to actions such as "Sign-up" or "Request a demo." When marketing to a cold audience, you simply want to generate awareness, interest and thought leadership so viewers associate your brand with a positive memory.
If your objective is to drive consideration (e.g. website visits or interaction with other content) or conversions (e.g. filling out a form or purchasing), the opposite is true. Here, you're targeting people who are already aware of or interested in your brand, so introduce it right away to leverage that foundation of familiarity and trust. Ensure your most important message is shown within the first few seconds. Use current industry buzzwords and paint a picture of what could be possible with your solution.
Now that we've gone over the basics for content creation, here are statistics and best practices to help you build the best strategy for each platform.
LinkedIn
LinkedIn accepts video files ranging from 75KB to 200MB, and an accepted length of 3 seconds to 30 minutes. Longer videos (1+ minute) are acceptable for telling a more complex product or brand story. Otherwise, it's good to keep your message short and focused on one topic since videos under 30 seconds have a 200% increase in view completion rates. LinkedIn also recommends showing the main message you want your audience to see within the first 10 seconds since viewer attention drops after that point.
All video ads need to be horizontal (16:9 aspect ratio), but regular posts can have a vertical aspect ratio to fit the full height of a mobile device (they will only be displayed vertically on devices that support vertical video however). Horizontal videos are the most common but square and vertical video ads are becoming more ideal since they take up more screen space on LinkedIn's newsfeed, capturing more attention.
Facebook
Since 85 percent of Facebook videos are watched without sound, always include closed captioning and design for sound off. The aspect ratio should be 16:9 with a minimum width of 1280 pixels (720p). Another factor to note is that videos 30 seconds or less will loop, but videos longer than that won't loop.
For Facebook ads, upload HD video (1080p or larger) for higher quality. Ads should be short, ideally no longer than 15 seconds which will make the video eligible for in-stream placements and within Stories. Optimizing for mobile is another key component. Square and vertical videos are increasing in popularity since they take up more screen space and are more visually disruptive and engaging. You can use horizontal video and crop for various ad placements so shoot with square cropping in mind. While this doesn't mean horizontal video ads should or will go away, it's important to be aware of this trend as more advertisers embrace square and vertical formats.
Instagram
For in-feed posts, files can be up to 15MB and 60 seconds is the maximum length. Videos around 26 seconds have been found to receive the most comments. The maximum width is 1080 pixels wide, and the ideal height is 1920 pixels tall to maximize screen real estate.
Sponsored ads in Instagram Stories and Reels have become a lucrative marketing tactic, even for B2B. After all, 43 percent of social media users watch Instagram Stories more than other types of video content on the platform. Stories also have the highest completion rate—86 percent. B2B companies can use Stories or Reels effectively to share thought-provoking clips from a webinar or testimonial, give a behind-the-scenes look at events and conferences and more.
Twitter
Video posts on Twitter can be up to 140 seconds, whereas ads can be up to 30 seconds. However, 15 second ads are found to garner three times higher completion rates than 30-second ads, so keep messaging as concise as possible. Stick to the following pixel dimensions based on your video's aspect ratio: 1280x720 (landscape), 720x1280 (portrait), 720x720 (square). GIFs are also supported, but they need to be looping GIFs or they will appear as a static image.
Regarding content, videos on Twitter that showcase positive human interactions or desire for a product increase overall response by 40 percent. Twitter videos also shouldn't require sound to be understood. Videos that are either understandable without sound or include closed captions or text overlays gain 28 percent more view time and 1.8 times the return on investment.
TikTok
The maximum file size for TikTok ads is 500 MB. Vertical videos are the norm for TikTok, and what users expect. While horizontal ones can be posted, always shoot vertical if possible. Videos should ideally have an aspect ratio of a normal smartphone screen (9:16) The pixel equivalent is 1080x1920. A 1:1 aspect ratio can be used, but will not appear full-screen. While videos on TikTok are typically kept under 60 seconds, the max limit was recently increased to 3 minutes.
As you continue to use video in your social media marketing strategies, keep these optimization tips in mind to maximize your return on investment!
---