Updated

May 22, 2023

Publish Date:
May 18, 2023

Marketing and digital communications agency specializing in smart, meaningful content development.
Subscribe to the MZ Blog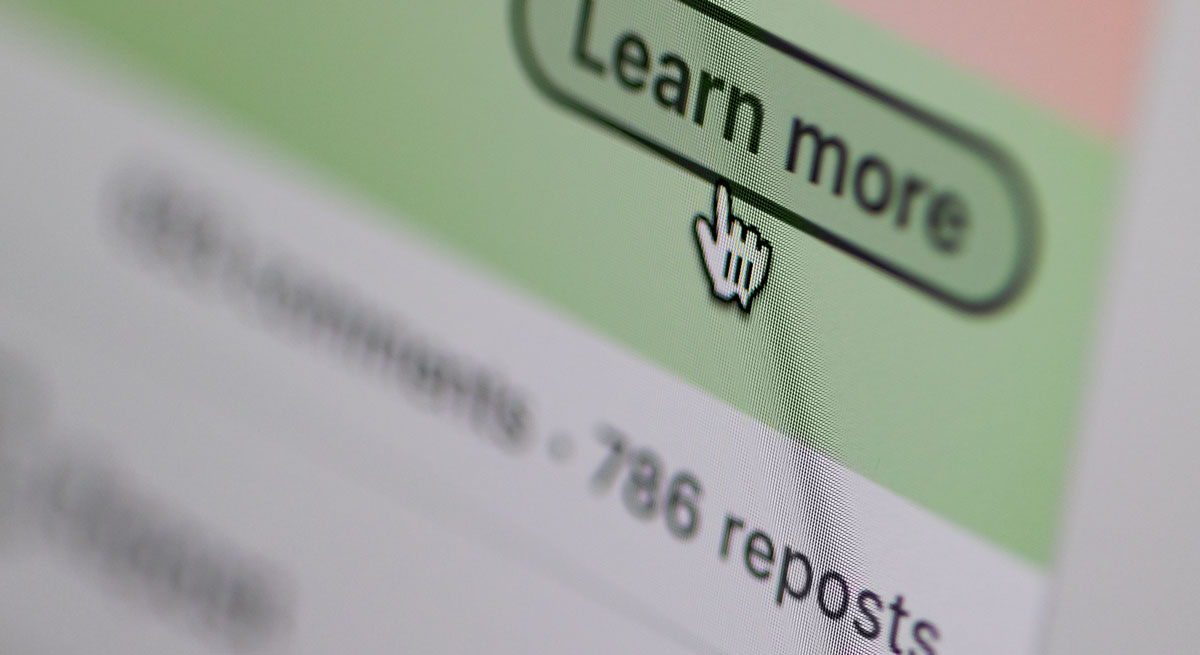 Did you know audiences exposed to brand messages on LinkedIn are 6X more likely to convert? A platform full of decision-makers and professionals with buying power, LinkedIn is a great place for B2B lead generation. In fact, 80% of B2B leads come from LinkedIn. HubSpot even found that a $1,000 ad budget could generate 11 conversions on LinkedIn at $90 each, while the same budget with Google Ads only generates 8 conversions for $125 each. Start attracting and nurturing more leads by taking full advantage of all LinkedIn offers.
Here are seven helpful tips for getting started.
1. Complete your profile, including company hashtags.
LinkedIn gives search preference to companies with completed profiles. On average, this can lead to 5X more page views, 7X more impressions and 11x more clicks per follower. Fill out the entire profile on your business page, including pertinent keywords in your business description for SEO optimization.
Research what hashtags are searched for and followed by your audience. Some companies follow and associate their entire page with specific hashtags, known as community hashtags, to build brand awareness, encourage community engagement and track activity. For example, this could be a tagline or campaign motto used regularly in posts and on your profile.
2. Encourage employee engagement creatively.
Your biggest advocates are your team. And their engagement is critical for growing your following and generating leads. Did you know 30% of a company's engagement is actually from their employees? Encourage your team members to add the company as their workplace which will also automatically add them as followers of your page. And every time your employee makes a new connection on LinkedIn, the connection will be prompted to follow your page.
There are many ways to foster employee engagement such as running monthly contests with a prize for the top contributor, using the "My Company" tab to make it easy for team members to share and promote content authentically, and simply creating posts about them—recognizing excellence, innovation and fun team events. This also shows customers—and potential employees—that you place a high value on company culture.
3. Collaborate with influential industry leaders.
Identify what companies and influencers are making waves within your industry. Who are your customers currently following? Think subject matter experts, brands, podcasts, magazines, blogs and other publications. And how engaged are their followers? Other important considerations are if their values align with your brand, their ability to create content, and if they're active on other social channels.
Reach out to influencers to collaborate on various communication tools such as blog posts, videos eBooks, whitepapers, podcasts and more. A good place to start looking for influencers is your customers and partners. Start strengthening relationships by sharing their posts, news and videos when fitting. Collaborating through case studies and testimonials is another great way to build relationships and reach a broader audience.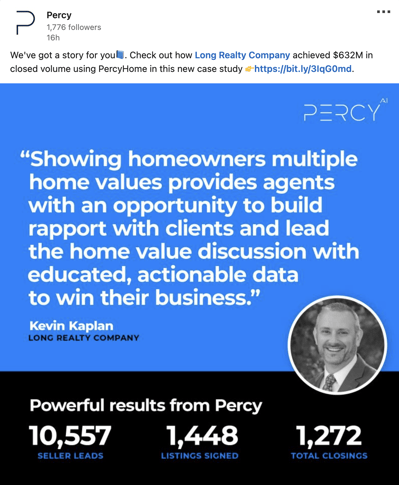 Percy partnered with a client to show the powerful results of its solution, directing leads to a landing page to learn more.
4. Be active in LinkedIn groups.
LinkedIn groups are pages where people with shared interests exchange insights, expertise, questions and advice. While your company can't join a group, your individual team members can—and should. Joining groups is an effective way to contribute to popular industry discussions and ultimately bring awareness to your company.
Ask your employees what industry-related groups they are in and suggest others join. You can also find groups by searching LinkedIn for industries and topics, and provide your team recommendations. Identify which groups have a strong following with your audience. Your professionals can share insights and answer questions in those groups, building valuable relationships.
5. Don't underestimate the importance of creativity.
Often the biggest mistake B2B marketers make when creating content is undervaluing creativity. A recent study found 69% of people said B2B purchasing is just as emotionally driven as B2C. Showing personality and telling compelling stories is a huge part of building your brand. Did you know the average attention span on social media is 2 seconds? With so much content out there, you need to immediately pique interest and give users a good reason to stay engaged.
Remember, people use LinkedIn to network with peers, learn ways to do their job better, see what's being talked about and read news stories. Stick to the 80/20 rule—only 20% of your social media content should promote your brand. The other 80% should be dedicated to audience interests, such as content that educates, engages and entertains.
Posting regularly is also necessary to gain more visibility. Pages that post at least weekly see more than twice as much engagement. And video posts generate twice as many likes, shares, and comments. Remember, it doesn't just have to be content you create. Repost relevant articles and insights from other brands and professionals in your industry.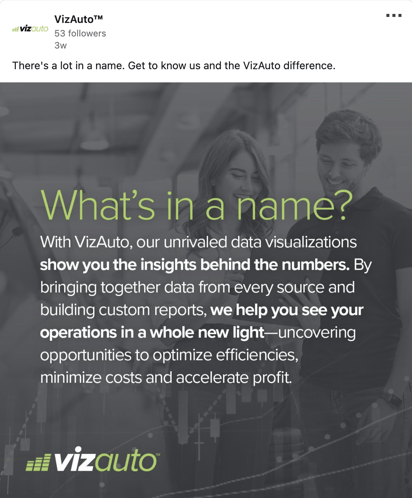 To grow brand awareness, VizAuto created a series of posts explaining its purpose and mission.
6. Leverage lookalike audiences and lead gen forms.
With lookalike audiences, you can reach people who have similar characteristics to an existing audience within your CRM. By uploading your leads, the LinkedIn algorithm identifies users with similar traits, such as job title, educational background, skills, interests, work history and more. You can also add targeting options such as industry, company attributes and more.
Lead Gen Forms are another great LinkedIn advertising tool that helps remove barriers to conversion. When a user clicks on your ad, the form automatically populates with their profile data so they can submit it with one click—all without leaving their feed.
7. Respond to comments—thoughtfully.
Responding to comments keeps the conversation going which is critical for lead generation. And timeliness is key. Especially if it's a question—79% of customers expect a response within 24 hours. Have an active monitoring strategy in place so you don't lose leads or customers. But don't sacrifice quality for the sake of minutes. Take time to craft a thoughtful and appropriate response. To help expedite the process, develop an FAQ document for your team to reference when responding. It's also important to know when to take an issue offline and not engage with those simply intent on an argument.
While not every comment on your page merits a response, it's good to reply to any questions and thoughtful contributions. This also boosts post visibility and people will be more likely to follow and engage with your page when they see the company actively engages with its audience.
As you refine your LinkedIn marketing strategy, use these helpful tips to generate more leads and encourage meaningful conversations with your audience.
---