Updated

April 20, 2022

Publish Date:
January 26, 2021

Marketing and digital communications agency specializing in smart, meaningful content development.
Subscribe to the MZ Blog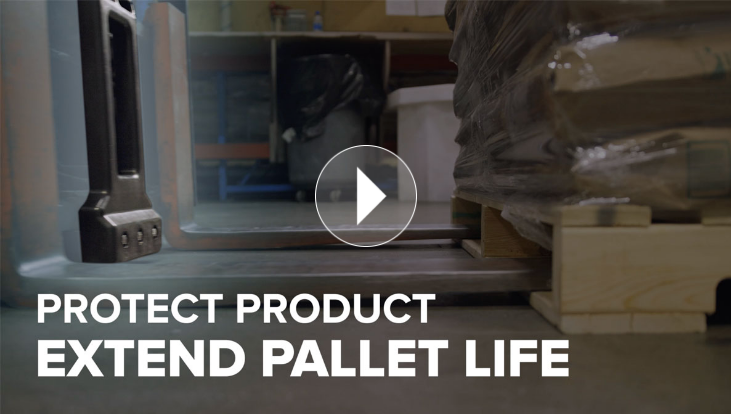 You remember? Back in the day we all used the phrase, "Give me your 30-second elevator pitch." Strange to think that "back in the day" was just a year ago when we could actually ride an elevator together! In the past year, video content marketing has increased exponentially with 64% more B2B buyers watching online during the pandemic. Even more remarkably, digital marketing as a whole has gone up 88%. And of this number, 45% of marketers began using digital for the first time during the pandemic—meaning the competition for not only attracting but maintaining attention is at an all-time high.
There's no doubt video is key to engaging your audience in today's world. With so much content out there, not just anything will do. And what can't be overlooked is the effect length has on engagement. As the human attention span continues to shrink, the short-form video marketing trend has grown.
What is short-form video marketing?
A short-form video is typically less than 2 minutes, depending on the platform it's on. For example, 45 seconds is ideal for Twitter, whereas LinkedIn recommends short-form videos up to 90 seconds based on marketing goals.
Overall, since viewer engagement tends to drop off after 2 minutes, most companies keep videos around the one-minute mark to stay on the safe side. It's a delicate balance between crafting a story short enough to hold attention, but long enough to communicate effectively.
How is this valuable for B2B companies?
There's no lack of short-form video marketing on the business-to-consumer side. Brands of all kinds have embraced platforms such as Instagram and TikTok to reach audiences with fresh and entertaining content that requires only seconds of their time.
People crave quick video content, and in many B2B industries the lack of it provides a great opportunity. Besides, creating a traditional video can feel daunting. Short videos are often lower-budget, requiring less time and resources. It's time to ditch the stereotypical boring explainer video for something creative and unique. After all, at the end of the day, B2B buyers are consumers as well.
What effective content looks like.
To have an impact, short-form videos must be relevant and helpful. A study done by Wyzowl found that an astounding 84% of people were convinced to buy a product or service based on the brand's video. Demonstrate how your product solves your customer's current problem in a concise and captivating way.
For example, BST Technologies' Pallet Dawg and Bull Dawg products were developed to solve costly problems resulting from damaging forklift impacts to pallets and products. Engineered to "take the hit", Pallet Dawg and Bull Dawg reduce product damage by 10% and decrease pallet damage by 40%. We created a video response to this pain point, demonstrating product benefits from increased profitability and productivity to facility safety and sustainability. Timely and relevant, the compact one-minute video educates the target audience about the problem, the simplicity of the solution and its compelling ROI benefits.
Another simple message was developed for our client KEES. This commercial and industrial ventilation solutions provider kicked off the year with a fresh-air campaign in response to the growing need for indoor air quality (IAQ)—especially during COVID-19. We created a quick 30-second video to inform customers of the importance of fresh air and position KEES as the turn-key solutions provider. Best part? No video shoot was even needed; the animation of existing imagery streamlined the process.
Promoting your video strategically.
So you made a video—but now what? Having a promotional strategy is essential to meeting your audience in the right place, at the right time, with optimized content. Create a company YouTube channel if you haven't already and share the video on social media. The video can also be repurposed at trade shows, on your website, in eBook content, and sent to media outlets for PR opportunities.
The team at KEES authored a compelling news story and sent an e-blast with the video, plus a link to the full story for further information. What's more, they feature the video on their home page and are targeting their desired audiences on LinkedIn. It all adds up to thousands of views in a very short timeframe.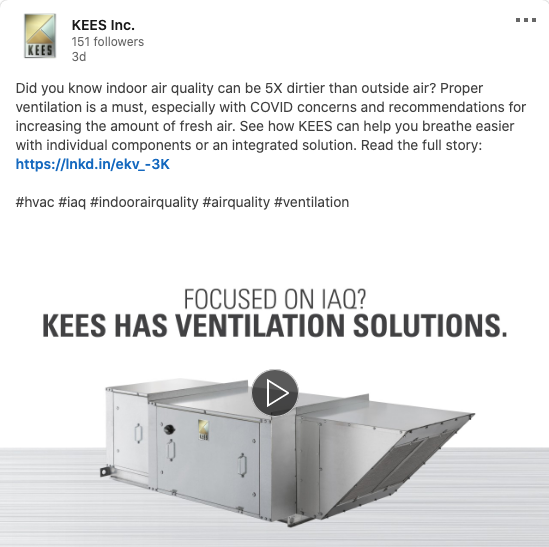 If your video includes people talking or has a voiceover, always include closed captioning. No only does this make your video accessible to all, but 92% of people watch video with audio off and 80% of people are more likely to watch an entire video when captions are available.
Short-form video marketing is here to stay. By speaking to your audience's challenges, needs, and desires with fresh and intriguing content, you'll compete for your customer's attention smarter—and communicate better.
---