Updated

February 21, 2022

Publish Date:
May 8, 2018

Marketing and digital communications agency specializing in smart, meaningful content development.
Subscribe to the MZ Blog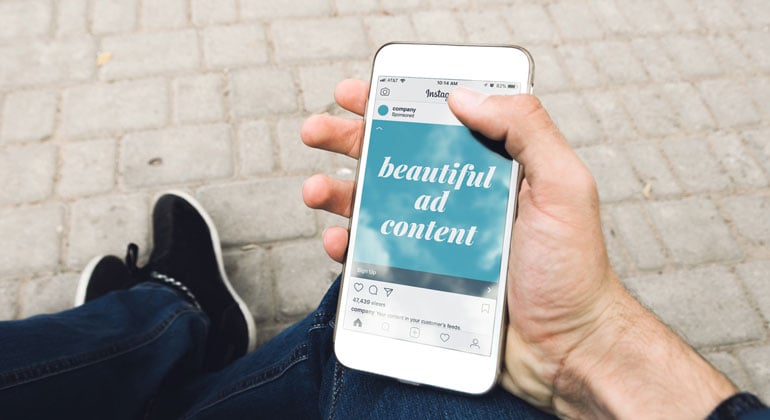 With roughly one billion active users, it's no surprise Instagram has become one of the best social media platforms on which to advertise. Instagram's mobile ad revenue has risen rapidly over the past few years and is projected to reach 33.7 billion by 2023. Their advertising value has notably grown through the adoption of Facebook's game-changing tool—lead ads.
Instagram lead ads are paid ads, run through Facebook's advertising system, that appear in between posts on people's news feed. Unlike other ads, the viewer is able to fill out the contact form without leaving Instagram, and the form auto-fills based on information Instagram already has about the viewer. This process makes it more convenient for the user, meaning higher conversion rates. But with a growing number of businesses using this platform, how do you make sure your ads are effective?
How to Create Effective Lead Ads
Here's some tips for how you can create Instagram lead ads that convert.
Use eye-catching visuals
People's Instagram feeds are already flooded with visuals, so it's essential your ad contains an image that catches their eye. Humor is a great way to stop users in their tracks and pique interest, so think of ways you can incorporate tasteful humor relevant to your copy. Analyze data from past conversions as well. What worked for those consumers? In all cases, remember to keep your images fresh and unique.
Create a clear message and short form
Your message throughout should be clear, concise and audience focused. Ask questions with compelling headlines and show how you are the solution. When possible, use videos for effective storytelling and maximum engagement. Then wrap it all up with a short form that doesn't ask for too much information so they're more likely to complete it.
Give them a reason to sign-up
Remember, people don't browse Instagram with the intent of finding a new product or service so it's best to offer an incentive for filling out your form. Then use that added value in your call-to-action button by avoiding the typical "Sign-Up" message. Tell them exactly what they have to gain by clicking. Are you offering a free report? Say "Get Report". Free eBook? You get the idea.
Leverage different targeting options
Instagram uses Facebook's advertising system which offers many different targeting options. You can include or exclude specific audiences based on criteria such as job titles, education, income, hobbies and much more. Be sure to upload email lists and lookalike audiences when setting up your ad, and Facebook will create a list of similar people. Target people who've already visited your site as well with ads relevant to the pages they visited.
Have a rapid response time
Leads can go cold fast, so a rapid response rate is crucial. Statistics show that companies who contact a lead within 5 minutes increase their chances of having a successful conversation 100x, compared to companies who contact a lead 30 minutes after submission. Whatever you're offering them, follow up and get it to them immediately so they don't lose interest or look for a solution somewhere else.
Sync leads with your CRM system
After prospects convert, you need an effective process in place for retrieving the leads. Integrate lead ads with your CRM to save time and improve your lead close rate. This will give you access to all of your leads in one place and with an automated process you don't have to worry about manually exporting and importing them.
Instagram lead ads make filling out a form a lot more convenient for the user and are therefore an extremely effective tool for converting prospects. Keep these tips in mind and watch your conversion rates grow!
---