Updated

March 26, 2018

Publish Date:
October 10, 2017

Marketing and digital communications agency specializing in smart, meaningful content development.
Subscribe to the MZ Blog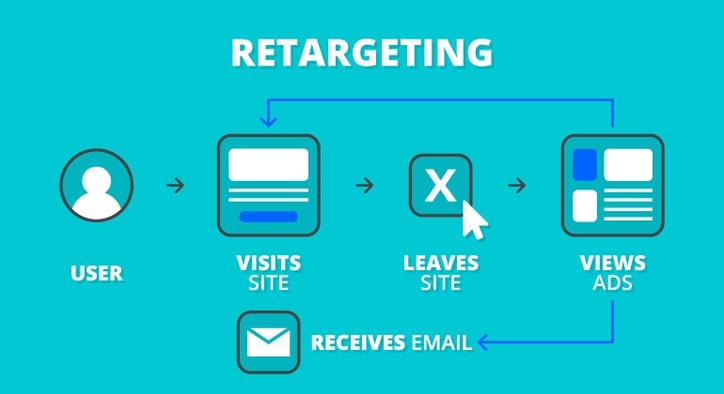 What is Ad Retargeting?
Ad retargeting is an inbound marketing strategy that targets people who have already shown interest in a company's website or an eCommerce site. Retargeting involves banner ads that pop up when searching the web, visiting web pages or even on social media. When the retargeting ad is clicked, the visitor is "redirected" back to the website of interest. Email can also be another means to retarget prospects via list-based retargeting.
How Does Retargeting work?
This strategy places Javascript code—known as a cookie—into a user's web browser to track online activity. Once the user is tagged and tracked online via a retargeting vendor, banner ads will pop up on other websites for a set period of time.
What are the Benefits of Ad Retargeting?
Directed at a Preferred Target Audience—strategically target and connect with individuals who have already shown interest in your offerings
Effective Conversion of Customers—70% of website visitors who are retargeted with display ads are more likely to convert on your website, so map out a retargeting ad path to move prospects farther down the sales funnel
Builds Brand Awareness—keeps your brand familiar, and front and center as retargeting leads up to a 1,046% increase in brand search
Consider these Strategies for Retargeting
When using ad retargeting, it is important to strategically establish how to successfully convert visitors into customers. Listed below are a few tips to keep in mind.
Add a cap on ads to limit how much they are viewed; while the cap is somewhat dependant on the retargeting goal, typically we recommend a cap of 15 views a month
Set a timeframe for how long the ads can run since the prospect's last visit; again, this limit can be dependent on the selling process and cycle but often we find it's 30 days from the last visit
Study your Source Data or Google Analytics to determine:

Demographic or geographic targeting to improve relevancy
Which pieces of content are most popular in social shares to identify relevant ad content by platform
Who to exclude, including visitors who spend less than 15 seconds on your site
Which pages people are spending a minute or more to effectively redirect prospects back to these pages of interest
How to segment visitors based on their their site page views, using your personas and funnel tracks. In general, home page traffic is top of funnel (awareness); category pages are middle of funnel (searching for options); and product/service pages are bottom of funnel (ready to purchase
Shopping cart abandonment analytics for eCommerce sites
Retargeting Ads are best received if they include a campaign of 2–4 ads which are rotated with varying messages and calls-to-action

Utilize a burn code to disable pop up ads once a purchase is made, especially if it's a one-time purchase
Offer free trials and/or consultations to encourage trial
A/B testing for measurable and actionable results
Utilize email retargeting as an additional means of engaging and redirecting prospects
For marketers and sales teams, ad retargeting is an extremely beneficial way to grow business because it targets engaged prospects, builds brand awareness and increases customer conversion.


---