Updated

May 7, 2019

Publish Date:
May 7, 2019

Marketing and digital communications agency specializing in smart, meaningful content development.
Subscribe to the MZ Blog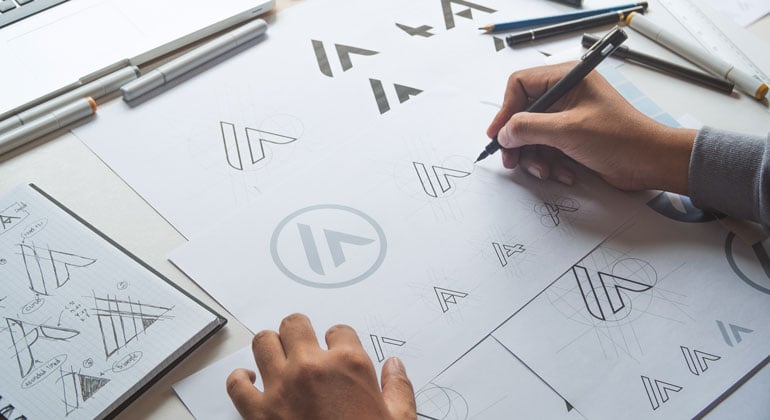 When you think of your favorite brands, what first comes to mind? If you're a devout iPhone user, it is likely the iconic Apple logo. If you've owned a few Fords, maybe it is their blue, oval emblem. Or perhaps you're a fashionista always on the lookout for the signature CK of Calvin Klein. No matter the brand, there's one thing for certain—we identify them by their logo.
Your logo is the "face" of your brand. It's often the first visual impression people have of you, and it's the repeated image they see going forward. Designing a logo that accurately reflects your brand requires careful thought and time. After all, a logo is a single piece of a whole communication strategy—the goal being to align your target market with your brand.
Connecting your company attributes to your target market attributes requires a well-developed strategy. We've broken down what you should consider when creating your logo.
Define your brand.
Essentially, who are you? What is your company's purpose and what's the story behind how you got here? Try to describe the character of your brand and identify your culture and core values. Distinguish unique benefits or features of your products, services and/or cause and what separates you from the others.
Define your target market.
Next, evaluate your target market. Identify demographics such as age, gender and location—are you a regional brand or global? How does your target interact with your brand and make purchase decisions? Research visual preferences and evaluate the success of competitor logos to see what is or isn't working in your market.
It's also important to address any challenges you face in reaching your audience. Are you trying to shift the perception of your company or enforce who you already are to them? If you're rebranding or updating your logo, conducting a target market survey is a great way to test how your current logo is performing and get valuable feedback.
The creation process.
Start by personifying your brand. For example, what words would you use to describe your company—are you creative, unusual, traditional, reliable, risk-taking or serious? Assign parameters based on your target market such as whether an elegant, bold or classic design is most appropriate. To gather inspiration and ideas, consider creating a mood board with text styles, words, colors, images and designs that express your brand personality.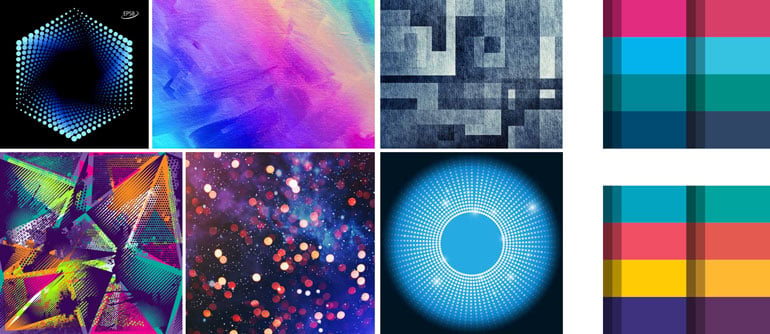 A page of a mood board created for Marcus Performing Arts Center showing color and texture.
Fonts
While you sketch ideas based on your brand personification, consider icons and logotype. The font should be matched to your brand's personality. Don't choose generic fonts such as Times New Roman, and avoid anything too trendy so your logo has longevity. It's always a good idea to perform a font study, checking out what new or unfamiliar fonts are available and suitable to support your brand's tone. Collect the ones you like, compare and share them with others.
Colors
Your logo will need to look good in grayscale and black white. It is best to begin without color in logo designs and add it later. Typically, best practice is to use no more than two colors in a logo, but your palette will extend beyond the logo. Three to six colors is a flexible range for early color palettes. As you explore color palettes that reflect your brand's style, review the words you used to describe your company. Experiment with colors that evoke those emotions.
Design
Keep in mind that simpler logos are more recognizable. However, don't throw away ideas that are complex—they may come in handy for interesting illustrations or other visual support beyond the logo. Getting feedback throughout the design process is also crucial. Refine ideas by consulting with your design team and colleagues.
Consider use on various applications.
You'll need logo versions to fit tall and wide applications and a color and single-color version. Decide how it'll look on each social media platform and on low-detail applications such as embroidery or pens.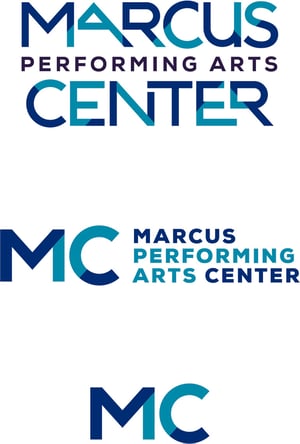 Variations of the new Marcus Performing Arts Center logo, designed by MZ.
Depending on your logo design, you may want to add an optional, shorthand logo that fits into a more compact space, which is useful for social media posting. Such logos, referred to as a "logomark," give you the flexibility to easily share your logo in a variety of digital formats.
Always remember—the primary purpose of a logo is to identify your brand. With a clear strategy you can effectively convey your brand and its strengths for years!
---