Date

December 2, 2020

Marketing and digital communications agency specializing in smart, meaningful content development.
Subscribe to the MZ Blog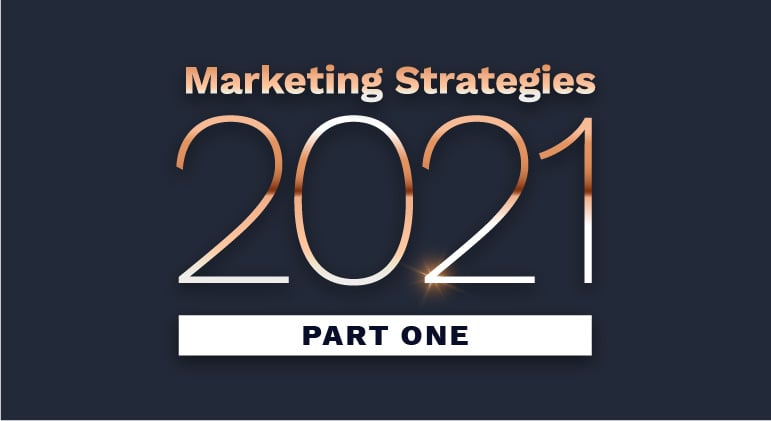 2020 has taught us all a few things about crisis management. And if there's one big takeaway, it's that to get through a crisis you need the essentials. Hence empty toilet paper aisles and shelves wiped clean of chicken and beef. Because when resources are scarce and budgets limited, candy and cookies aren't going to ensure your survival.
Likewise, as we go into 2021, it's never been more important to invest in the meat and potatoes of marketing—strategies proven to sustain a business over time. Strategies built on delighting and retaining customers, helping prospects, and reminding them that you're here for them. Because when everything's in upheaval, you need a strong foundation. There's no secret new marketing cure for this past year. Rather, it's time to optimize tried-and-true strategies for today's environment.
To help you prepare for the coming year, we'll share four high-impact marketing strategies that are indispensable for growing your business. These proven, yet often-overlooked strategies provide opportunities for high ROI and rewarding results.
Strategy #1: Collecting & Responding to Feedback
Asking for feedback is essential for B2B.
In order to grow relationships with customers, you need to check-in to understand where they are. The end of the year is a great time to start asking for feedback if you haven't already. This shows customers you value their opinion and are actively shaping your product or service to better suit their needs. It's also a great way to remind them of your solutions and uncover opportunities to upsell or cross-sell.
And while gathering feedback is essential for any organization, it's arguably even more so for B2B companies—where customer retention isn't an accurate depiction of customer satisfaction. Consumers can simply stop using a product or service when dissatisfied, but it's often not that easy for B2B clients. Whether bound by contract or tolerating a solution because their business needs it, once a better opportunity comes along they'll be gone. Know how customers feel before it's too late, and gain valuable insights for how to improve.
Gather ideas to shape your content strategy.
Checking-in on customers is also great for identifying any holes in marketing and sales communications and gathering ideas for thought leadership content. What questions and problems do they have? Ask about their interests, favorite social channels and preferred content type. They may bring up platforms and topics that haven't even crossed your mind.
When you do create content in response to their feedback, be sure to notify them of it and continue to build that relationship. You'll become their most trusted advisor.
Create a plan for collection and evaluation.
There are many ways to collect feedback, the most popular being surveys. Common survey types include:
Customer Satisfaction (CSAT)—customers rate their satisfaction with your products or service and support, exposing areas with room for improvement.
Net Promoter Score (NPS)—measures customer loyalty by asking how likely customers are to recommend your brand/product/service. Identify promoters and find ways to build loyalty with passive customers.
Customer Effort Score—gauge the amount of effort it takes customers to get issues resolved, requests fulfilled and questions answered. Gain valuable insights that can help reduce service costs and improve customer satisfaction.
Product Development—identify what customers desire for future solutions, how aware they are of your current offerings, and whether your development team is on the right track.
Usability—evaluate user demographics, the most important tasks they perform with your solution, how easy or difficult it is for them to use, what they like about your solution, problems they have and where they expect improvement.
HubSpot's Customer Service Software includes feedback tools to capture qualitative and quantitative feedback so you can understand your customers better. Select your specific goals and HubSpot will help you choose the most appropriate feedback tool and delivery method so you can increase response rates. Easily send out NPS, CSAT and Customer Effort surveys and gather and analyze data all in one place.
You can also gather valuable feedback from internal team members who work directly with customers, such as those involved in onboarding, training and customer service. These employees gain very useful insights over the years and by letting them contribute, you'll make them feel heard and valued.
Last, but certainly not least—respond.
Customers need to know you heard and appreciate their feedback—otherwise, the process can be more harmful than helpful. Did you know 43% of customers don't provide feedback because they think the business doesn't care? Follow-up promptly with customers. You have the opportunity to grow an authentic relationship or risk losing their trust. This could be done with a personalized thank-you email. And for clients that are dissatisfied in any way, let them know what steps you're taking to address their concerns, or offer to set up a meeting if needed to further evaluate the situation. Nothing delights clients more than a positive experience with your team that shows you genuinely care about their business and success.
Don't underestimate the results of this high-impact marketing strategy. Start asking for feedback today to effectively build relationships and fuel your growth into the years ahead!
---