Date

May 25, 2021

Marketing and digital communications agency specializing in smart, meaningful content development.
Subscribe to the MZ Blog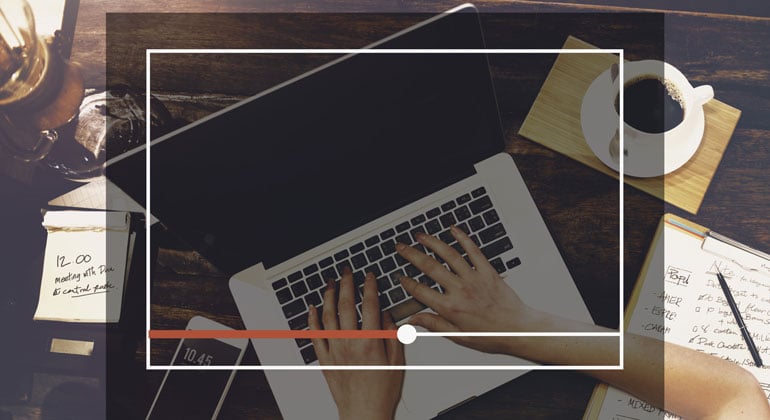 Live streaming. One-on-one sales videos. Short-form video marketing. As the demand for video increases across all industries, new opportunities are arising and best practices are evolving, from the type of content produced to length as well as creation do's and don'ts.
Vidyard conducted its annual Video in Business Benchmark Report, surveying customers from a sample including more than 760,000 videos. Here are some key takeaways.
Industries seeing a rapid rise in video production.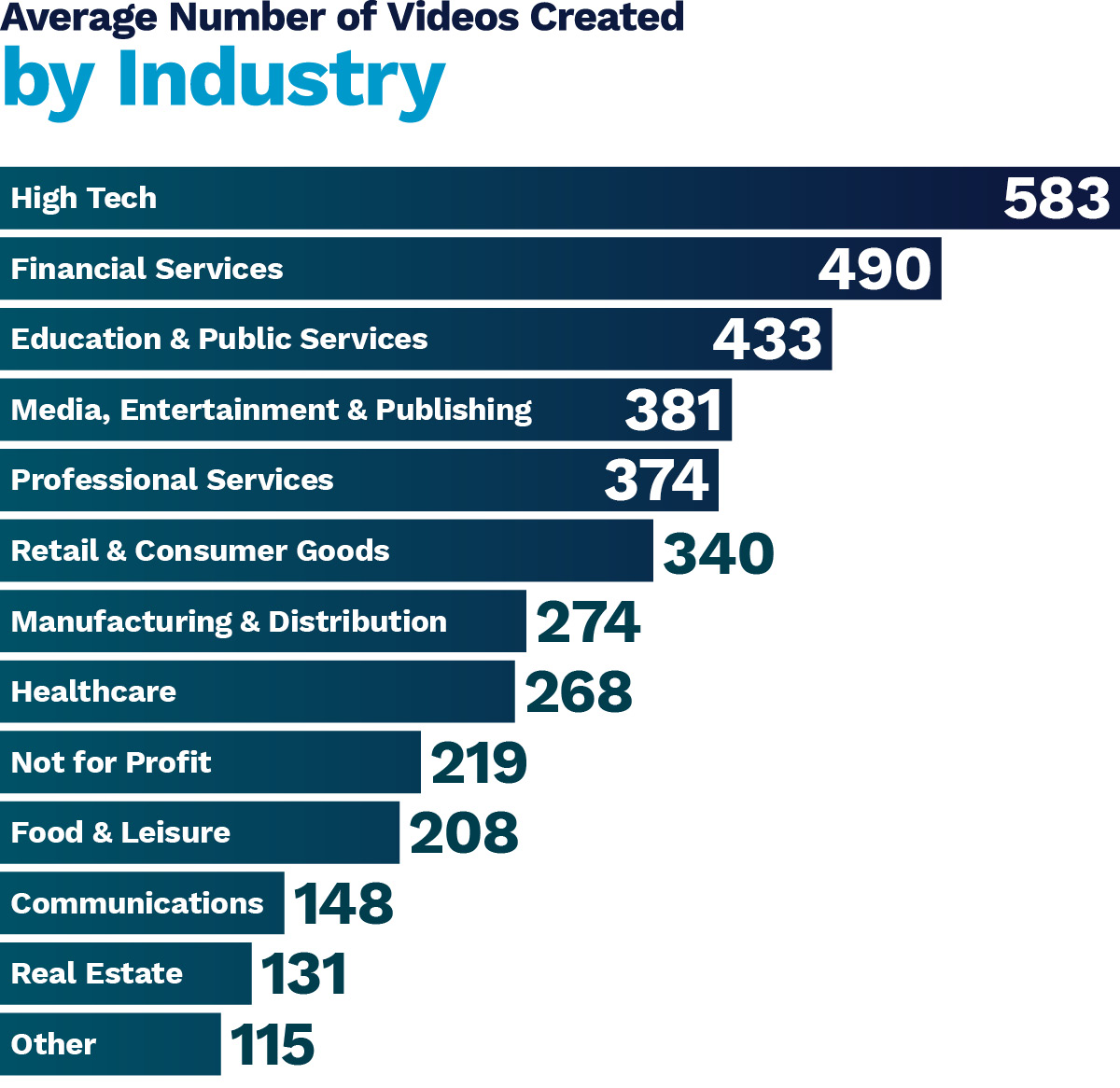 Adoption by High-tech and Financial Service Companies
High tech and financial service companies are leading the surge in video content as the shift to a digital-first customer experience increases. Financial services are seeing exponential growth, up 129% from last year, as more companies use video to bridge the gap between generational expectations. Video has proved to be an excellent tool for explaining complex financial products and concepts in a simple, easy-to-understand way. Popular video types within this industry include webinars, brand storytelling, product demos and customer testimonials, many of which are short-form, quick-hit communications.
SimpleNexus, a digital mortgage solutions provider, took a short clip from their SimpleNexus User Group Panel (SNUG) virtual event to create a testimonial video promoting their new RON solution. This is a great example of repurposing content creatively to put together an engaging video for another channel.
Adoption by Healthcare
Another industry that saw rapid growth in video marketing was healthcare, which went up 87%. Healthcare and fitness providers are using video to educate and connect with patients. As the self-care trend grows, educational videos are becoming very popular, including anything from diet and exercise tips to procedure or condition information that explains signs, symptoms and preventative measures. Home page welcome videos and physician profile videos are also being used to humanize staff and build trust, providing a strong case for why patients should choose them over another provider.
Meaningful Manufacturing Content
In manufacturing, video marketing is increasing and improving in quality. A decade ago, a typical manufacturing video simply showcased machinery at work. Today, more meaningful content is being created focusing on the people behind the processes and the solutions provided. Having engineering experts explain a product or process is not only a great sales tool but adds a much-needed human touch to a very technical industry. This trend will continue to increase as more buyers seek out video content to get to know the product, service, and company before speaking to a sales rep.
How company size and ROI affects video creation.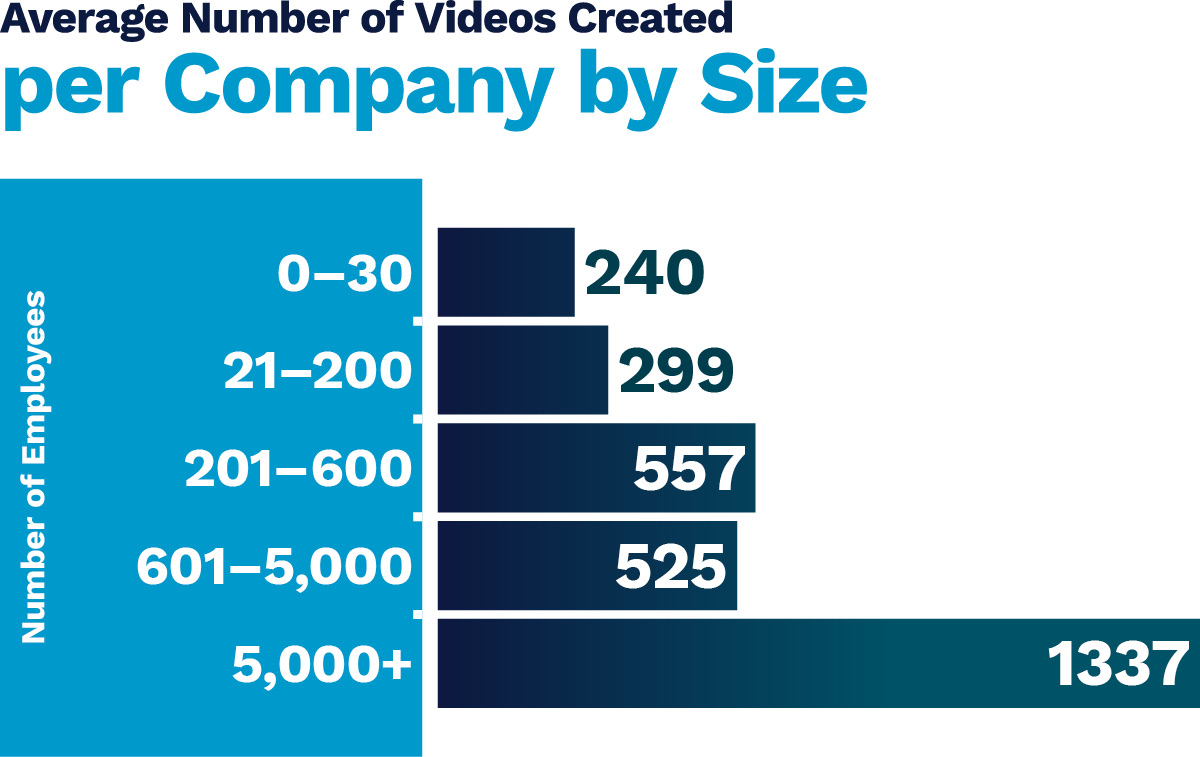 It's no surprise companies with more employees create more videos. What is worth noting is that the number of videos that large enterprises (5,000+ employees) created in 2020 was up 149% from Vidyard's 2019 report. Across all company sizes, video creation is up 135%, putting investment in video at an all-time high.
Measuring ROI
The biggest challenge businesses face is measuring ROI. Management needs proof that video is a valuable investment and marketing needs analytics to evolve and shape the best strategy. And when it comes to analytics, it's critical that context be taken into account so numbers aren't misconstrued. For example, a video with a high number of views shouldn't be considered a success if the goal for conversions wasn't close to being met. A better takeaway may be that the content is valuable for a different purpose, and more strategy needs to go into discovering what fuels conversions.
Regardless of company size, producing more videos and having the analytics to measure performance are essential.
The most popular types of video content.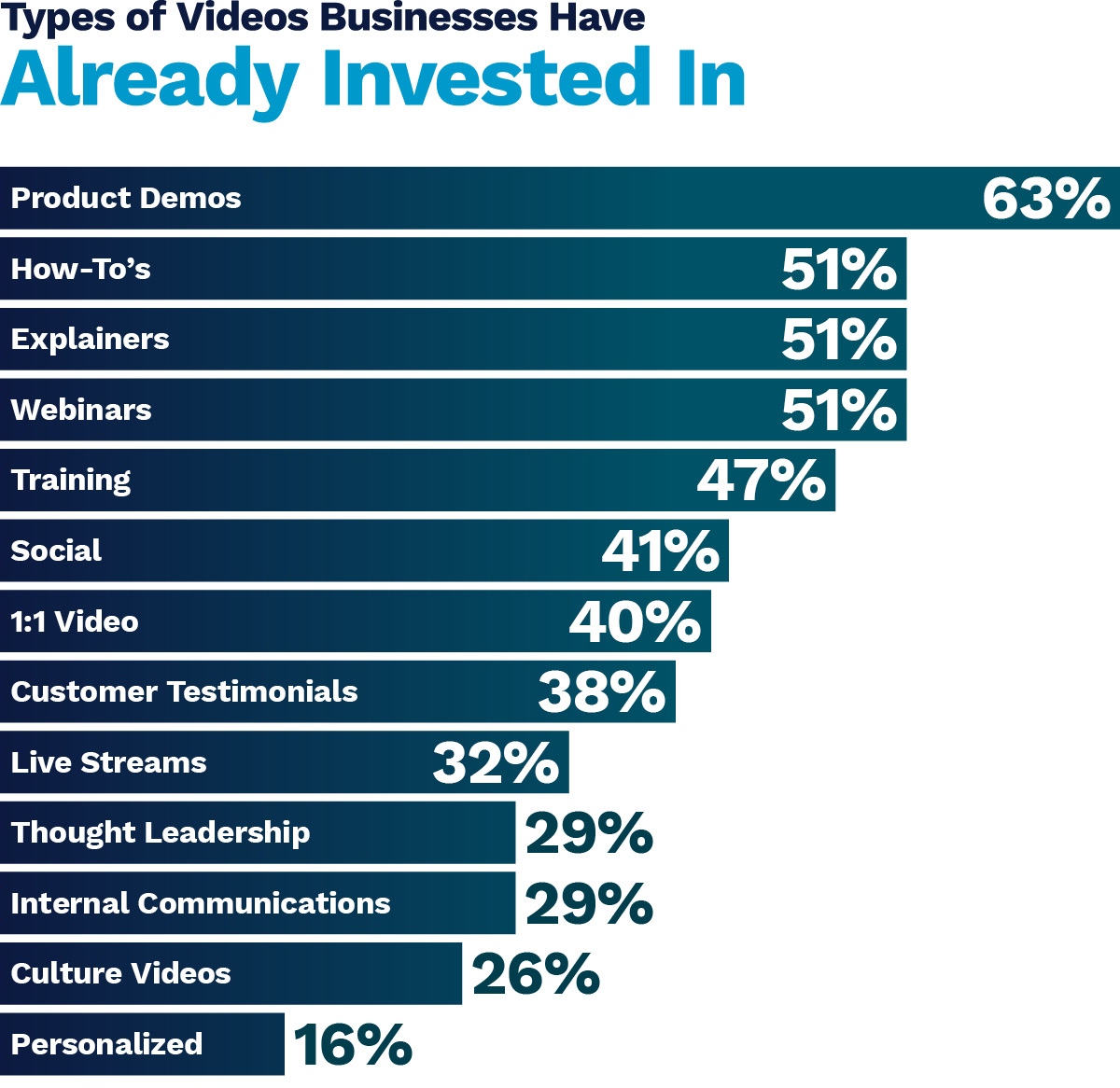 The overarching content theme revolves around creating a self-serve experience—both externally and internally. Buyers in today's business world can make a purchasing decision before even talking to sales. And when they do talk to sales, video is now a key communications channel. The number of Vidyard respondents who reported creating more one-to-one personalized sales videos grew from 7% in 2019 to 40% in 2020, representing a 471% increase year-over-year.
Employee Recruiting and Training
While the rise of video creation can largely be attributed to increased customer demand, another factor that can't be overlooked is the need for employee and HR material. With many working from home, video content is critical for staying connected, training, dispersing information, and boosting morale. Nearly half of Vidyard's survey respondents are using training videos within their organizations. And this year, 29% of companies have already invested in video for internal communications purposes. When finding talent is difficult, video can introduce a candidate to your organization, share the working environment and culture. That may be key to getting a candidate to submit a resume.
Engagement drop-offs throughout the length of a video.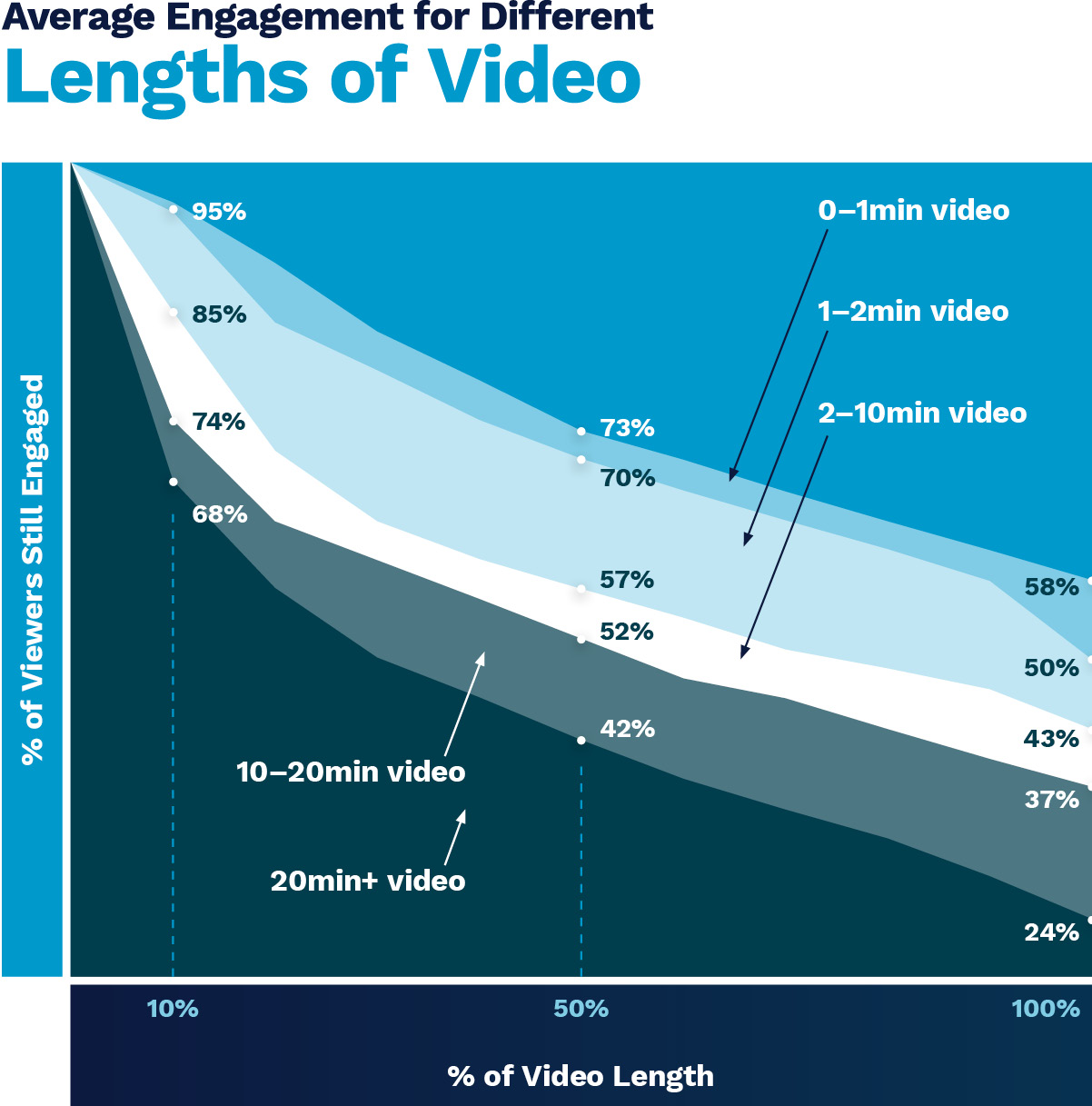 The chart above shows the percentage of viewers engaged throughout a video depending on its length. As expected, viewers drop off the longer it gets, so the more concise of a story you can tell the better. It's important to remember though, engagement isn't solely dependent on length. There are many other factors—the content type, such as an ad versus a tutorial, the platform it's being shown on, and the actual relevancy of the content to the viewer. So always let content drive creation, focusing first on the goals of the video. If it's relevant and engaging to your audience, the length is secondary.
The first few seconds of your video are critical.
What you can gain from the statistics above is that it's critical you capture their attention during the first 10 percent of the video to minimize drop-off, and it's even more important when it's a longer video. Be clear at the start about what you will be covering, including a promise of the benefit they'll receive from watching. Switch things up as well throughout it, showing B-roll footage, close-ups, and more. Even if the only footage you have is of the person talking, jump cut to close-ups of them every 10 seconds or so to create more visual interest.
Understanding the data behind how different industries are using video is valuable for building effective strategies. Let us know if we can help enhance your video marketing efforts!
---