Updated

February 4, 2020

Publish Date:
February 4, 2020

Marketing and digital communications agency specializing in smart, meaningful content development.
Subscribe to the MZ Blog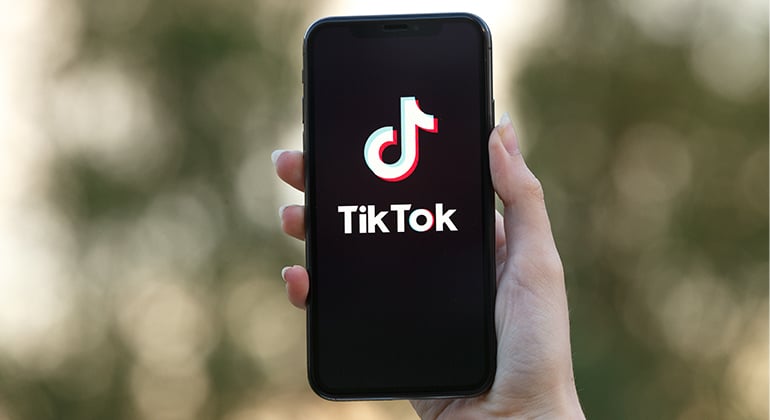 Did you know TikTok now has over 1 billion downloads? It's been the fastest growing social network in the past year, garnering more new downloads than Facebook and Instagram. But what is it about this unique app that has users glued to their phones in a video-sharing frenzy? Even businesses have started experimenting with it.
Here's a definitive guide to understanding what TikTok is, examples of how brands are using it, and what marketers can expect going forward.
What is TikTok?
TikTok is a social app where people record, edit, and post short looping videos. It includes the usual like, follow, hashtag and share features, but what distinguishes it most is the special effects that can be applied to videos—from sound and visual effects to musical overlays—and how easy it is. The content is also extremely digestible, with videos ranging from only 15–60 seconds in length.
It's no surprise the platform has become the go-to for people seeking unique, entertaining content. In fact, marketers should keep in mind the average user spends 52 minutes a day on it!
Who Uses TikTok?
In 2017, Chinese tech company ByteDance acquired the lip-syncing app Musical.ly (which was well-known in the U.S.) and then merged it with its own app, TikTok. So it's no surprise China is its largest audience (there the app is called Douyin), with over 400 million active users. TikTok is also doing extraordinarily well in the U.S., where it's been downloaded over 123 million times.
The majority of TikTok's user base comes from Gen Z and millennials, with 66% of users under the age of 30. However, as its popularity grows, the user age demographics are broadening.
How Brands are Leveraging TikTok
The majority of content on TikTok is comedic—from funny lip-syncing videos to silly dances and skits. Many brands have embraced this light, playful tone and are finding memorable ways to reach new audiences. Here are three main ways brands are leveraging the app.
1. Creating Challenges
People love responding to challenges—there seems to be a new one trending every week! And the great thing about them is that they can be created by anyone. All you have to do is record yourself (or someone else) attempting your challenge and mention what hashtag people should include in their response video.
For example, Crocs joined TikTok after the viral Shaving Cream Challenge, which challenged people to fill a Croc with shaving cream and then jam their foot in—which has pretty amusing results.
To capitalize on their newfound popularity, Crocs and their brand ambassador Post Malone created the #ThousandDollarCrocs challenge, which is a reference to the rapper's lyrics. People were challenged to post a video of how they would customize or enhance $1,000 Crocs, even if it's just simply embodying Croc's motto, Come As You Are. They increased their number of followers by 18% within the first day and their hashtag has over 2.8 billion views now.
Other brands that have created trending challenges include the NBA, Chipotle, The Washington Post, HP, and Guess.
2. Influencer Marketing
Influencers dominate TikTok, having significantly more followers than companies. As a result, brands are creating influencer partnerships using TikTok's Creator Marketplace. The marketplace helps match advertisers with verified influencers based on data such as follower count, content creation topics and audience analysis.
One of the first companies to leverage the marketplace was Mucinex, with its #TooSickToBeSick Halloween campaign. Influencers posted 15 second videos of themselves waking up looking like zombies, sick from a cold or flu. It then shows them taking Mucinex and cuts to a scene where they're transformed to looking "so sick"—dressed up and ready to celebrate. All videos with that hashtag received an astounding 400 million views during the 5-day campaign.
Chipotle recently had great success with influencer marketing too. They just ran a campaign capitalizing on the biggest day of the year for meal deliveries—the Super Bowl. Called #TikTokTimeout, they partnered with influencers including Zach King, Addison Rae, and David Dobrik (who currently have a combined 55+ million followers) to create posts promoting their free Sunday delivery deal on orders over $10 throughout February. Furthermore, all videos have Justin Bieber's latest song "Yummy" as the soundtrack. For every team timeout in the game that led to a commercial break, a video was premiered.
This was a bold move since many people watch the Super Bowl specifically for the commercials. However, relying on Justin Bieber's and influencer's popularity—and the fact many Gen Z viewers go on their phones during commercial breaks—the campaign ended up doing astoundingly well. A recent report shows the campaign reached over 95 million people and generated 2.5 million engagements.

3. Paid Advertising
Companies can bid on in-feed video ads that are targeted by age, gender, and geographic location. CRM lists can be added as well to create custom audiences. Other features include being able to set a budget and schedule, choose how your budget is paced, and select an optimization goal for either Conversions, Clicks or Impressions.
Since the platform is still young, it's far less ad-saturated than older social networks. Which also means the biddable ads come at a higher cost. Most ads you'll see on the platform are from well-known companies such as Nike, Apple, and GrubHub. As TikTok develops more ways to woo advertisers—such as self-serve ads and more granular segmentation options—we'll likely see prices go down as more companies start to leverage the app, especially those with a Gen Z target audience.
What to Expect Going Forward
Increased E-commerce Capabilities
Retailer Kroger was one of the first brands to test out TikTok's e-commerce feature, creating a challenge called #TransformUrDorm which targeted college students—a significant audience on TikTok. Their challenge generated over 854 million views and allowed users to explore Kroger products in-app with direct links to their e-commerce site. Kroger's social media manager Casey Smith stated they saw an "increase in users' likelihood to shop at Kroger in the next three months." Going forward, other brands are finding unique ways to leverage the e-commerce feature too as it improves and evolves.
More Industries Getting Onboard
So far fashion, foodservice and retailer brands are having great success on TikTok, but other industries are finding creative ways to join the hype. TurboTax just launched their first challenge this year for the Super Bowl, with the hashtag #W2Step, which quickly became trending. The challenge supports their current marketing campaign and song, "All People Are Tax People". People were encouraged to show off their dance moves to the song, which was featured in their Super Bowl commercial as well.
Facebook and Other Competitors
TikTok is now Gen Z's most beloved app, much to Facebook's dismay. In response, they released a similar video-sharing app called Lasso to increase their declining popularity with teens. While Lasso hasn't gained nearly as much ground as TikTok, it'll be interesting to see how Facebook and others will find more ways to compete in the upcoming years.
If your target audience is Gen Z and millennials, it's safe to say TikTok is a platform you should consider. As for others, TikTok's broadening user base—paired with the fact many industries currently face little to no competition on it—means it's definitely a platform to keep an eye on!
---