Date

June 8, 2020

Marketing and digital communications agency specializing in smart, meaningful content development.
Subscribe to the MZ Blog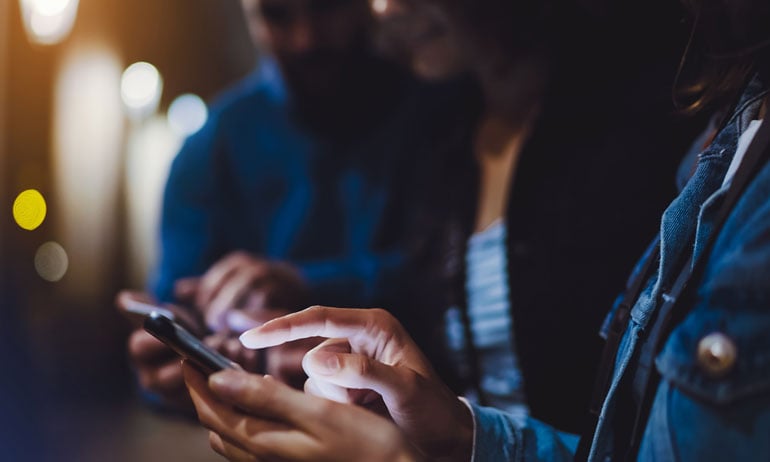 You've probably heard it before. "Everything" is becoming digital. The role of the internet, smartphones and social media in our lives has grown exponentially over the past decade, revolutionizing marketing—from artificial intelligence in chatbots to enhancing online experiences with augmented reality. What none of us expected though was a worldwide pandemic and being forced to actually "go digital"—in many cases completely.
While this uncertain time poses many challenges for businesses, opportunities have risen too as a result. After all, the digital landscape was always growing. What's changed now is that every company needs digital solutions to connect with their audience and stay relevant—or risk competitors stealing market share. It's not a matter of spending less or more, but spending smarter. By redirecting marketing funds for events, trade shows, travel and entertainment to a digital strategy, you can build a foundation for long-term success.
As companies look to grow their digital capabilities, one primary factor must be kept in mind—the tools and content created need to be truly interactive to be effective.
Why creating interactive digital touchpoints is key.
The lack of in-person engagement has left many people looking for digital alternatives, including ways to interact with companies. And let's not forget, increasing digital engagement has always been essential. A whopping 91% of buyers desire interactive content over traditional, text-based material. Just as customers prefer to self-educate with inbound content, they want digital applications that they can drive with a click or swipe. Dynamic and engaging tools—such as surveys or polls, embedded calculators, 3D product demonstrations, or digital tours—provide a personalized experience and are much more memorable.
Here are a few examples of how you can make digital experiences more interactive.
Have breakout sessions during video conference calls.
Today, transitioning to online methods such as web conferencing instead of in-person meetings is simply a necessity—not a solution. People attend conferences and trade shows because they want a personalized and interactive experience, which a slide show or lecture fails to provide. To make up for this lack of engagement, companies need to make video conference experiences more interactive.
Including breakout sessions is a great way to encourage communication among attendees, especially when it's a large group. Zoom has a breakout room feature that allows the meeting host to split the meeting into separate groups for private small group conversations. During the breakout session, the meeting host can switch between groups at any time to listen in and answer questions. When the host ends the breakout session, all groups are alerted they have a minute to wrap-up before returning to the main meeting.
Many video conferencing platforms also have a "hand-raising" and chat feature. Before you begin, explain to attendees how these features work. Encourage using them to ask questions and share helpful information and links within the chat. These interactive elements encourage participation and communication among attendees for a more active and enjoyable experience.
Create a navigable sales presentation.
Static slideshows provide a canned approach, forcing presenters to go through the presentation in a linear order—which can mean spending too much time on content that the prospect may not even be interested in. And engaging buyers is even harder today with digital sales meetings instead of face-to-face meetings where emotions can be quickly noticed.
To prevent a prospect from passively or distractedly watching, engage them by allowing their needs to drive the presentation with an interactive PDF. This way, the presenter can quickly pull up the best information based on the prospect's unique questions and interests, providing a much more engaging and personalized experience. It'll help the buyer feel more involved in the process and connected to the brand.
The PDF file can also be sent to prospects after the meeting so they can explore the presentation themselves and easily find the information they want—rather than scrolling through a long slideshow.
Here's an example of a digital sales presentation we created for Hartland Controls that allows the presenter to quickly jump to relevant topics without clicking through a number of slides.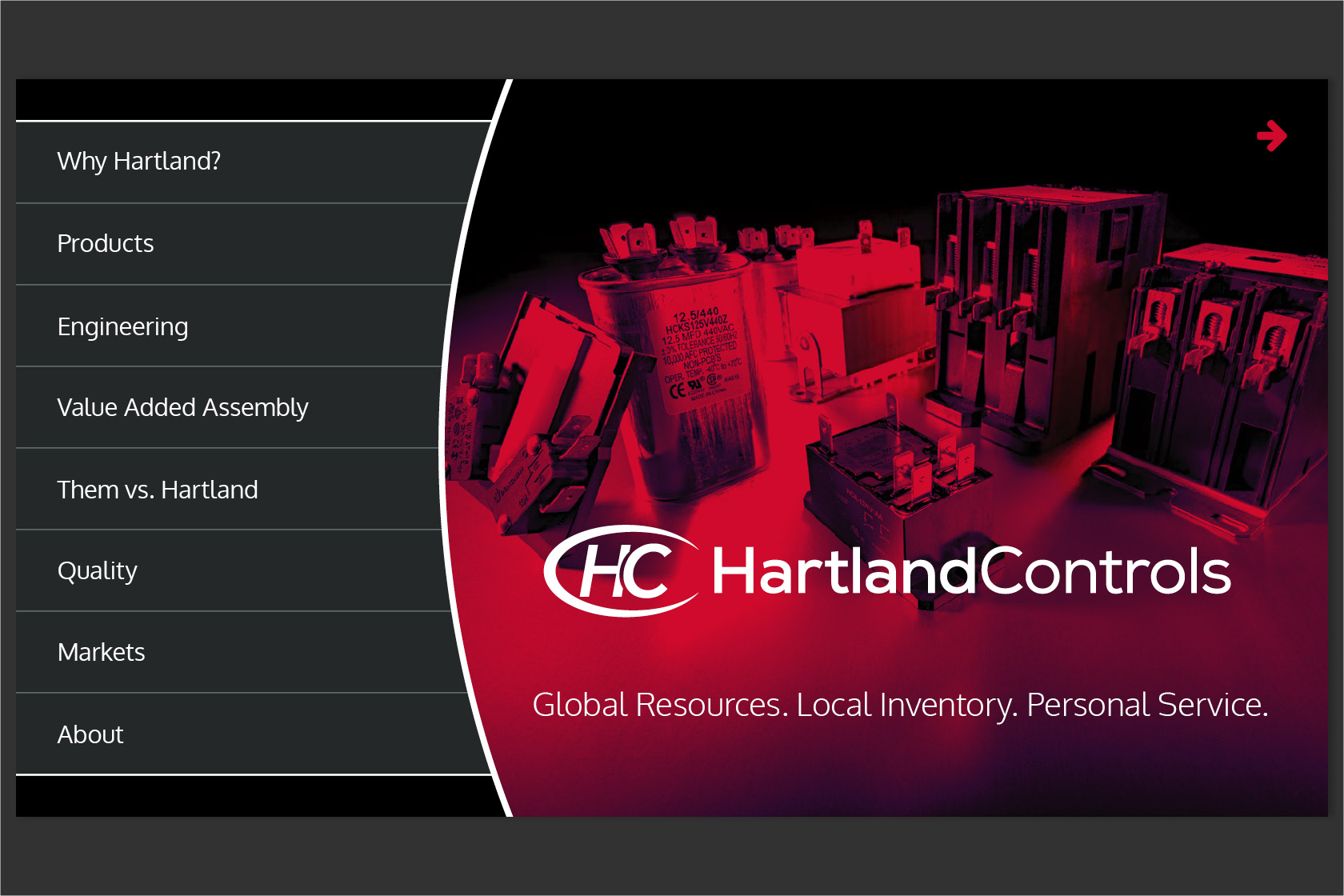 Presentation main menu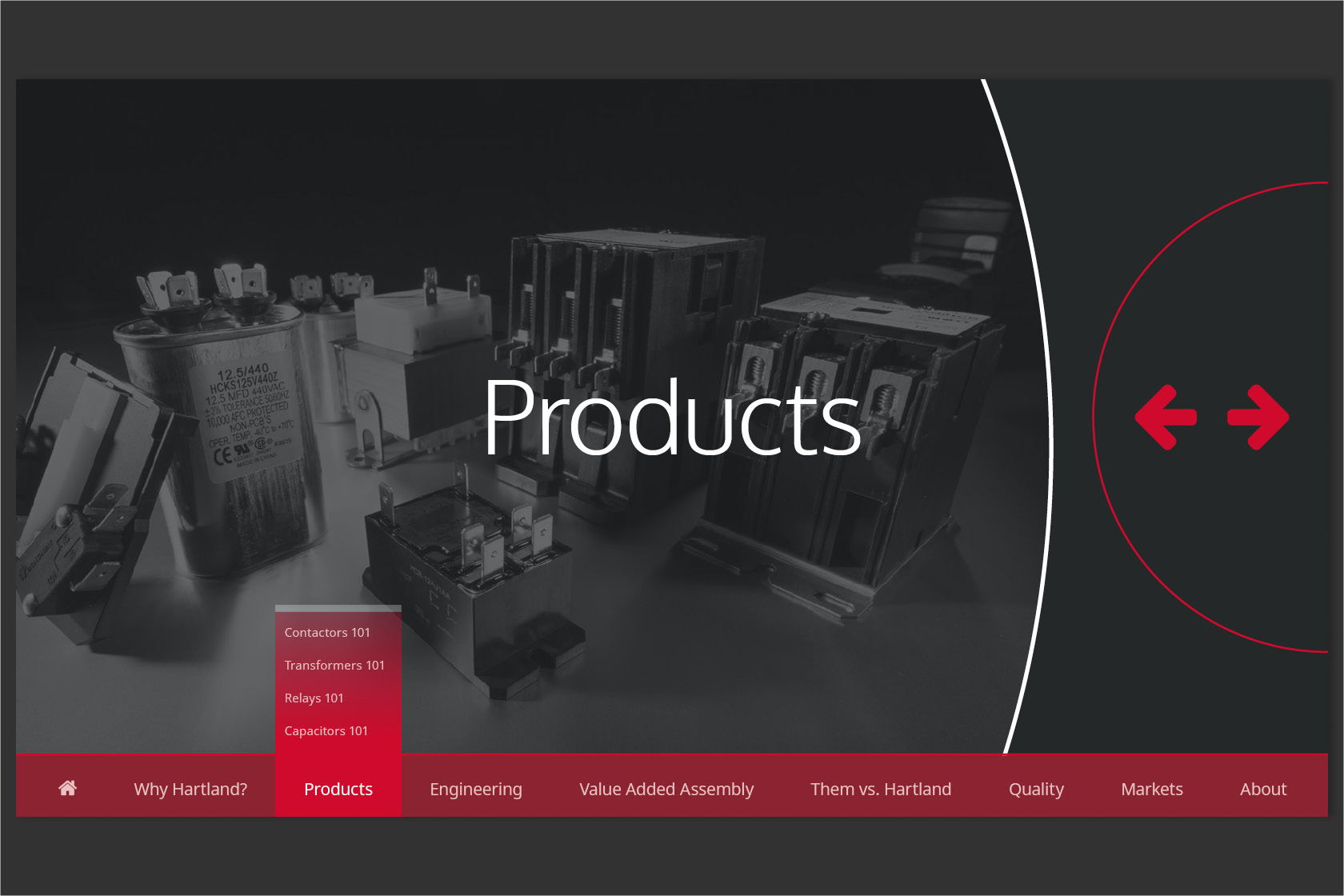 Bottom navigation enables the presenter to jump to any section easily.
Provide an immersive online experience.
What existing content do you have that could become interactive? For example, maybe your company has many impressive case studies across different markets. Demonstrate the breadth of your solutions by organizing this information into a digital tool that lets prospects explore your content in a memorable and personalized way.
We helped Generac Industrial Power group do that by creating an interactive, online tool called Generac City. Viewers can take a virtual tour of different commercial, industrial and mission-critical facilities that rely on Generac power systems. Users can dig deep into specific markets to learn more and view flagship case studies. HTML5 based, this digital tool also works offline for use in sales meetings with no internet connection. Available to customers on the website as well, Generac City is a great example of providing an immersive digital experience.
Distributors nationwide use this interactive online sales tool to demonstrate the broad range of markets served by Generac's Industrial Power group.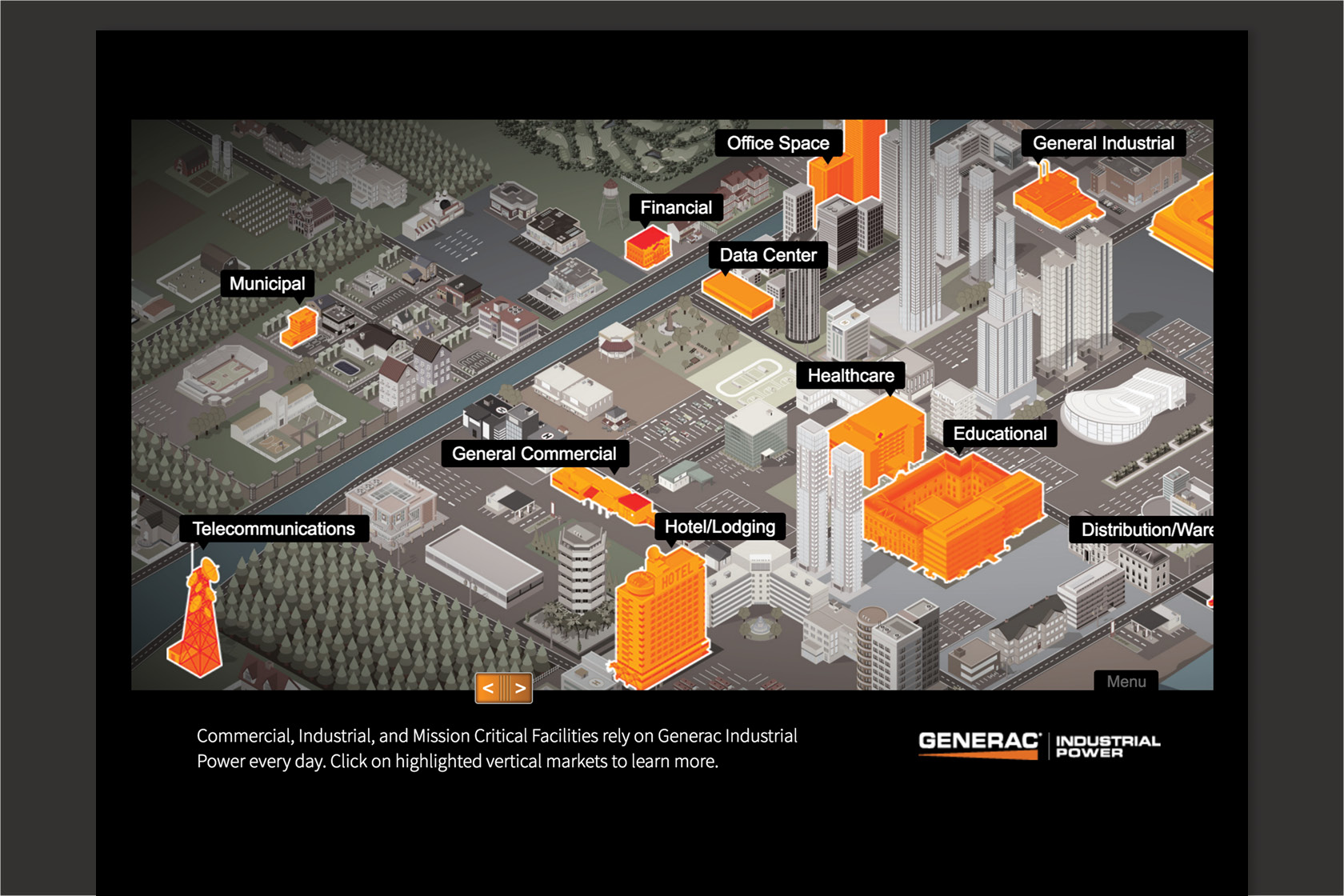 Users can explore the city and click on any industry, which opens a listing of locations and case studies.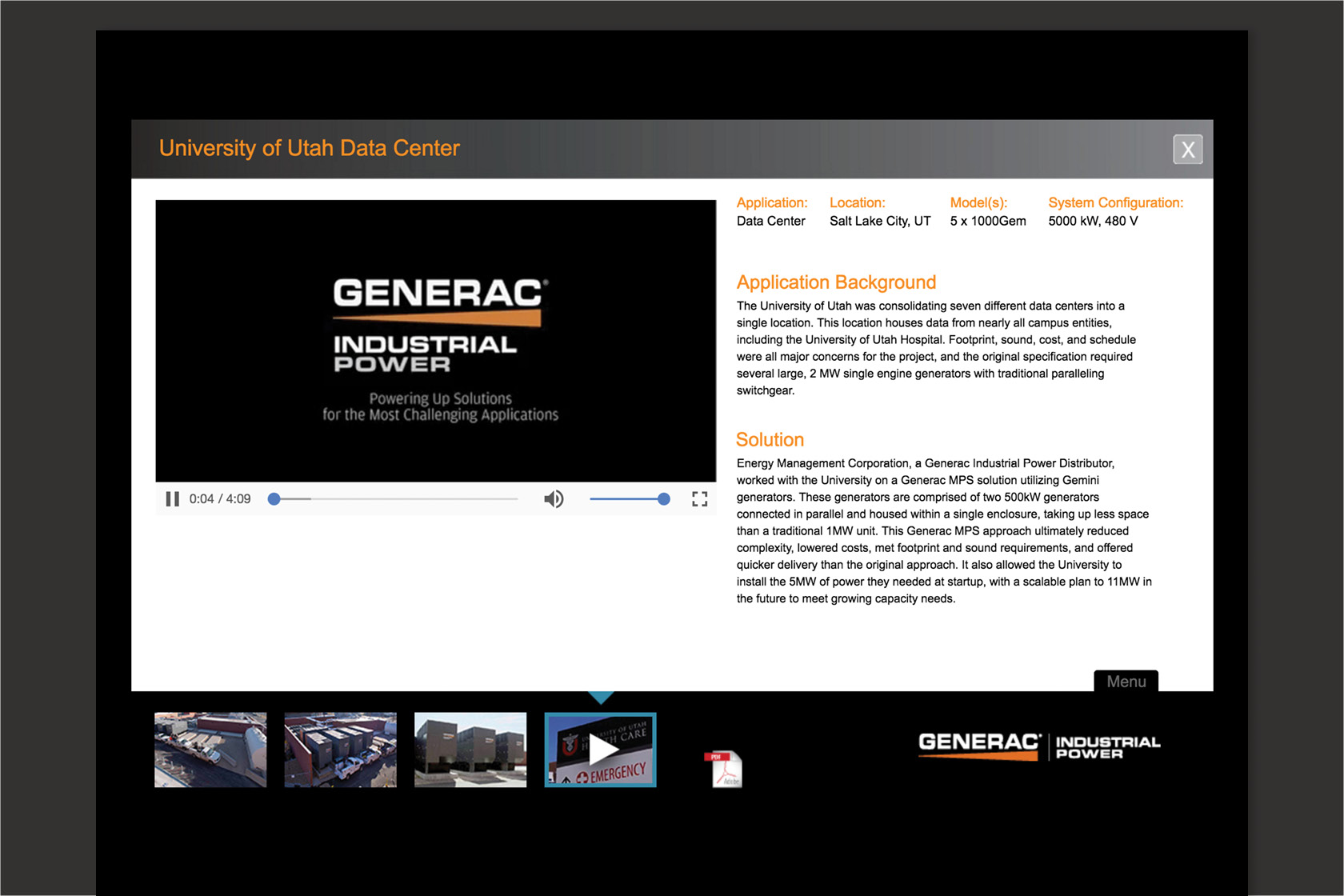 Select a case study to view a video, visuals and summary.
Add interactive elements to your eBooks.
Creating eBooks has long been a popular content marketing strategy since they're relatively easy to create. Because of that, however, there's an abundance of similar looking, poor quality eBooks that fail to engage, educate or leave any kind of lasting impression. Move beyond static, text-filled pages by including interactive elements throughout your eBooks. Embed multimedia content, such as videos, quizzes, and widgets—like a calculator that enables viewers to input personal data to calculate prices, ROI or other metrics. This type of content can also easily be repurposed to increase engagement across other platforms.
With companies and customers currently constrained to digital engagement, it's essential to start developing content that users can interact with online. These types of applications are also a great way to enhance in-person meetings and events, which the world will eventually return to. As we go forward, one thing's for sure. The digital advances being made now are setting the stage for a far more digital age post-pandemic.
---