Date

May 11, 2021

Marketing and digital communications agency specializing in smart, meaningful content development.
Subscribe to the MZ Blog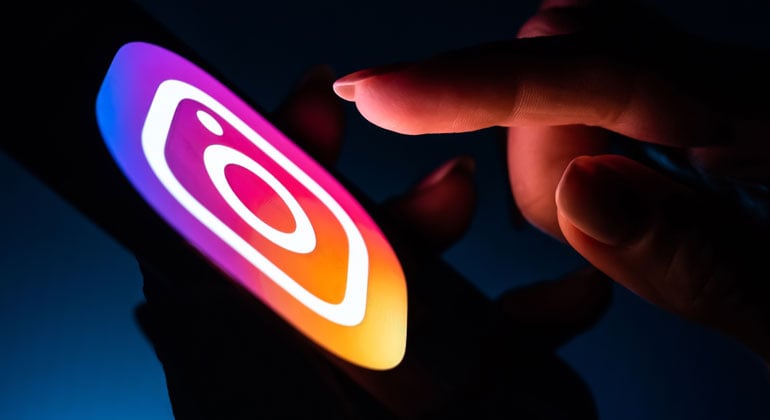 Did you know B2B companies have higher engagement rates on Instagram compared to the other social networks? Some companies may brush away Instagram as simply being a lifestyle platform, but remember, business professionals are consumers too. In fact, 81% of people use Instagram to help research products and services—and 36% of those people are B2B decision-makers.
Instagram is a great platform for building brand awareness and connecting with prospects and customers through memorable and interactive visual content. And it's a valuable HR tool as well. Posts that highlight smart solutions, employee achievements, and reflect a fun and inclusive workplace culture attract potential employees and delight existing ones.
Here's everything you need to know about setting up an Instagram Business account, along with creative strategies to help ensure you get the most out of your posts.
Setting up an account
Sign up.
Download the app and sign up for an account using your company's desired email address, password, company name and username. If your business already has a Facebook page, you can sign up through Facebook and it will automatically use that account information.
Switch to Business.
Once the account is set up, you'll need to change it to a business account. Open the menu icon (
) in the top right corner and follow this sequence: Settings > Account > Switch to Professional Account. The option to change to a Creator or Business account will pop up, choose Business and then select which category best describes your company.
You'll then have the option to connect this account with your business's Facebook Page. It's recommended to choose this option so you have full access to Instagram's business tools which will enable additional analytic, workflow, and management capabilities.
Upload a profile image.
Use your company logo so the account is easily recognizable. It will be displayed as a circle at 150 x 150 pixels, so set up the image size and resolution accordingly to ensure nothing important is cropped out and the logo isn't blurred.
Write a bio.
Keep it short and sweet, such as your company's tagline or a brief descriptor. At minimum, include a link to your website and contact info. You can only include one link in your bio at a time though, so if relevant, consider temporarily linking to an upcoming event or product or service you're promoting, and include the website URL in your bio description instead.
Notice the category label you selected when creating an account will automatically show up in your profile. If you wish to hide this, go to Edit Profile and then Profile Display, and toggle the option to hide it.
Post content.
Before promoting your account, you need to create a page worth following—and that means having original and engaging content. We recommend starting off with nine posts, plotting out images and/or videos that will look cohesive together in a grid. It's important for the first posts to help paint a picture of who your company is, for those unfamiliar with your brand.
SimpleNexus does a great job of maintaining a fresh and consistent look and feel throughout its page that reflects the brand's friendly personality and smart technical innovations.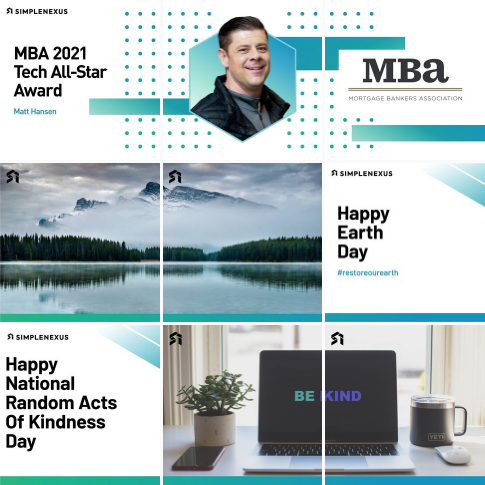 To ensure all your images show up well, stick to Instagram's size and resolution guidelines. The thumbnails displayed on a page are each 161 x 161 pixels. However, an image will be larger when opened or displayed in someone's feed. Instagram uploads photos at a max resolution of 1080 pixels wide—so a good rule of thumb is to ensure images are a minimum of 1080 x 1080 pixels for the highest resolution. The aspect ratio can be anywhere between 1.91:1 and 4:5.
Promote the page.
Once you've published posts, it's time to start promoting! Let your followers on other social media channels know you've joined Instagram. For example, you can make a Facebook post promoting your page and username, like the post created below for Unite Our Nation: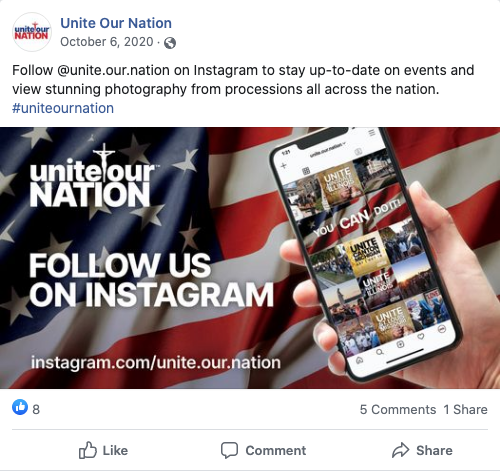 Following other people and companies is also a good way to build awareness and grow your following, but use a strategic approach—who you're following should reflect your brand. Only follow those related to your industry, customers and target audience.
Seven creative Instagram B2B strategies and examples
Announce innovations.
Whether it's a product launch or a new feature or service, keep followers updated on specific customer pain points your solutions are solving. And remember, Instagram is a visual platform—capture attention with striking photography or an engaging video.
GE does a great job of taking an emotionless product and making it curious and abstract with sharp photography. Paired with compelling copy that addresses a unique customer challenge, the post reflects the innovative problem-solving GE is known for.
Promote events, content offers, and more.
Instagram is the perfect place to promote any type of content or event—such as eBooks, blog posts, videos, webinars, or conferences. And images for these posts are easy to cross-promote across other social channels, streamlining your content creation process.
Using an intriguing image, Slack promotes their timely and relevant guide for working remotely. The link to download the guide was in their bio profile for easy access. Putting the link there also led users to view their entire Instagram page, encouraging further interaction.
Ask a question.
What better way to engage your audience than to ask for their opinion? Besides, great ideas can come from simple conversations. Show customers you value their input and proactively seek insights. And don't forget to like and/or reply to comments—when users see brands actually interacting with people in the comment section, it encourages much more engagement.
Leveraging content from its other social channels, HubSpot shared a Twitter post, along with different responses it received. All while encouraging Instagram followers to add their insights as well.
Highlight company culture.
This could include pictures from company events, employees of the month, new buildings and locations, core values or quotes. What does your company do to foster a community environment? Summer cookouts? Rec areas? Volunteer activities? Celebrating funny holidays? This content encourages employees to follow your account and attracts new talent by proving why your company is such a great place to work at.
While everyone was working from home, Salesforce ran a fun and timely campaign where they shared videos of their team's favorite recipes every week.
Customer spotlights.
There are many creative ways to highlight customer case studies and testimonials on Instagram, including quotes, videos, and photography. If you have a website page or downloadable PDF that goes into more detail, include the link and call-to-action in the description.
Mailchimp regularly posts partner case studies which include various images, videos and quotes to swipe through, with a link to the full story in its bio.
We're hiring.
Instagram is a huge network with over 1 billion active users every month. And given 67 percent of Instagram users are between 18 and 24 years old, if you're looking to fill internships or entry-level positions, it's extremely useful for broadening your reach.
Black Knight encourages viewers to check out their intern program with a group photo of past interns and friendly copy.
Keep things interesting.
Share intriguing insights, smart tips, funny anecdotes and relevant news. Instagram Reels and Stories are great ways to interact with your followers using videos and polls, and there are multiple editing tools that enable you to add special visual and audio effects, stickers, hashtags and more. If you want a story to be visible for more than 24 hours, you can add it to your page under Story Highlights. This is ideal for promoting upcoming events, new innovations, interactive surveys and company activities.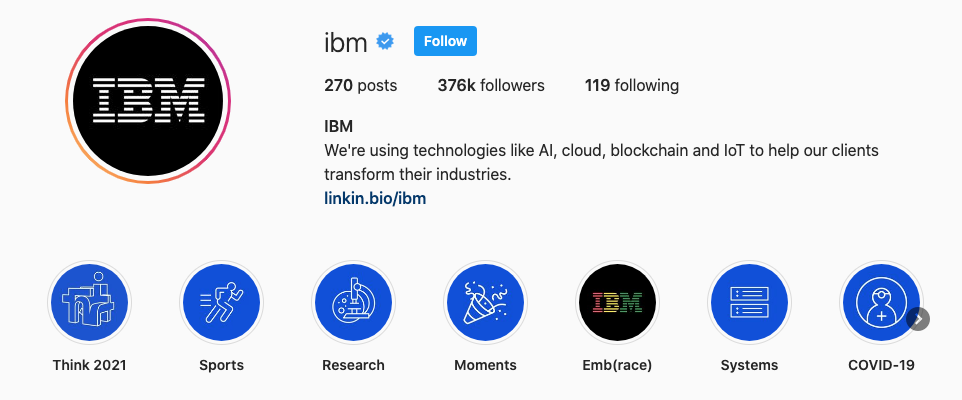 IBM has many Story Highlights on its profile page. Categories include promoting their Think 2021 event, the impact of their solutions in the sports industry, interesting research, special moments, accomplishments and more.
Instagram is a highly valuable channel for building engagement with your audience. Use these tips and strategies to start leveraging the platform for your business today.
---