Date

January 10, 2023

Marketing and digital communications agency specializing in smart, meaningful content development.
Subscribe to the MZ Blog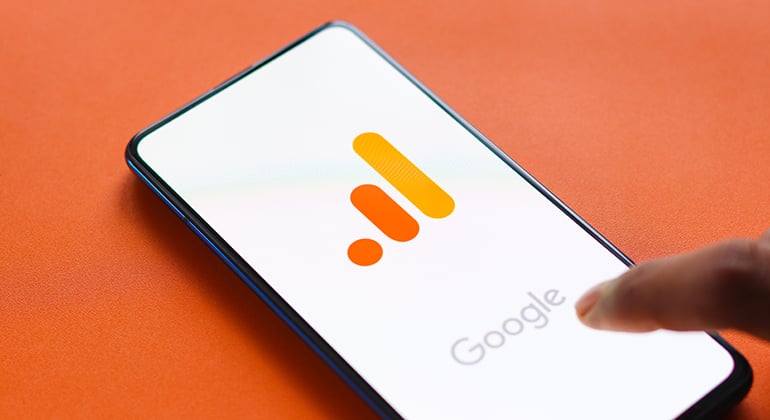 If you haven't made the transition to Google Analytics 4 (GA4), the time to do so is approaching. GA4 will be completely replacing its predecessor, Universal Analytics (UA), starting July 1, 2023. Since GA4 has a different data collection model, interface and reports, this has technical and strategic implications for your website. Starting the migration as soon as possible will give you time to become accustomed to all the differences—and you can reap the benefits sooner.
What is Google Analytics 4?
Google defines GA4 as the next generation of analytics. Did you know 90% of mobile time now is spent using apps, not the web? Google knew Universal Analytics failed to account for this change in user behavior, leading to the development of GA4 which tracks both web and app engagement together to provide a more holistic understanding of the customer journey. Furthermore, improved machine learning features and changes to data collection better meet today's privacy and technology landscape.
Here we'll cover the four biggest changes GA4 brings for marketers.
Collecting user data as events.
Universal Analytics grouped data into sessions such as pageview hits, event hits, and e-commerce hits. GA4 tracks all of these interactions as an event instead, with the ability to add parameters. Event parameters provide more flexibility in describing data and since each is named in accordance with its specific function, the data is less generic. Overall, there are four event types.
1. Automatically collected events—events triggered by basic user interactions such as a session start, page view, ad click, and first visit. No additional coding is required to collect these events.
2. Enhanced measurement events—get further insights into user engagement such as scroll depth tracking, file download, video start, and video progress. These events are also automatically collected but the feature needs to be turned on within your web data stream in GA4.

Source: Analytics Mania
3. Recommended events—Google recommends events based on which business vertical you're in and the data you already collect. For example, events could include when a user makes a purchase, signs up, selects content, shares content, searches your content, or begins a tutorial.
4. Custom events—events with a name and set of parameters that you define. This enables you to collect data specific to your business, such as internal link clicks or page timer goals.
With enhanced measurement events, GA4 offers more granular measurement out of the box so marketers don't need to wait for developers to set up custom events for everything. To get the most out of GA4 however, setting up recommended and custom events are highly recommended. This requires some implementation work, including Google Tag Manager being set up in advance which gives you the ability to add and update tags at any time.
New data setup organization.
Adding GA4 as a new property within Google Analytics is the first configuration step, followed by adding data streams which can be a website or app. This is a departure from Universal Analytics, whereas data from each property was filtered and configured within Views.
Ultimately, the exact migration steps depend on how your organization currently collects and uses data, so start this process as early as possible to smooth out any hiccups before the July deadline. The GA4 support page provides instructions and resources to guide the migration and developers can visit the Google Analytics Developer Migration Center for helpful resources.
Another important factor to note is that the conversion setup is changing. Instead of creating goals, events can be marked as a conversion. Goals from UA can be migrated to conversion events, or you can create a conversion by navigating to Configure and turning on the "mark as conversion" toggle for an existing event. GA4 also introduces modeled conversions which estimate conversions that can't be observed directly due to privacy or technical limitations. Google's model identifies trends between conversions and generates attribution reports and predictions.
Behavior reporting is also going away which included metrics for bounce rate, pages, and average session durations. Universal Analytics relied on these metrics to indicate engagement, whereas in GA4 you'll need to group conversion measurements such as new users, engaged sessions per user, views per user, and more to monitor engagement with your content.
Marketers can also take advantage of GA4's free BigQuery raw data exports. Previously, marketers had to upgrade to the expensive GA 360.
A one-stop reporting shop.
GA4 provides insights into user behavior across both your website and app to help you better understand the customer journey. This puts all reporting in one place, with different reports than what you're used to seeing in Universal Analytics properties.
In addition to Realtime reports, reports are grouped into collections. Default collections include Life Cycle and User. Life Cycle reports provide insights into the customer journey, including user and traffic acquisition, engagement, monetization and retention. User reports show demographics and tech data to help you understand users' ages, interests and preferred devices.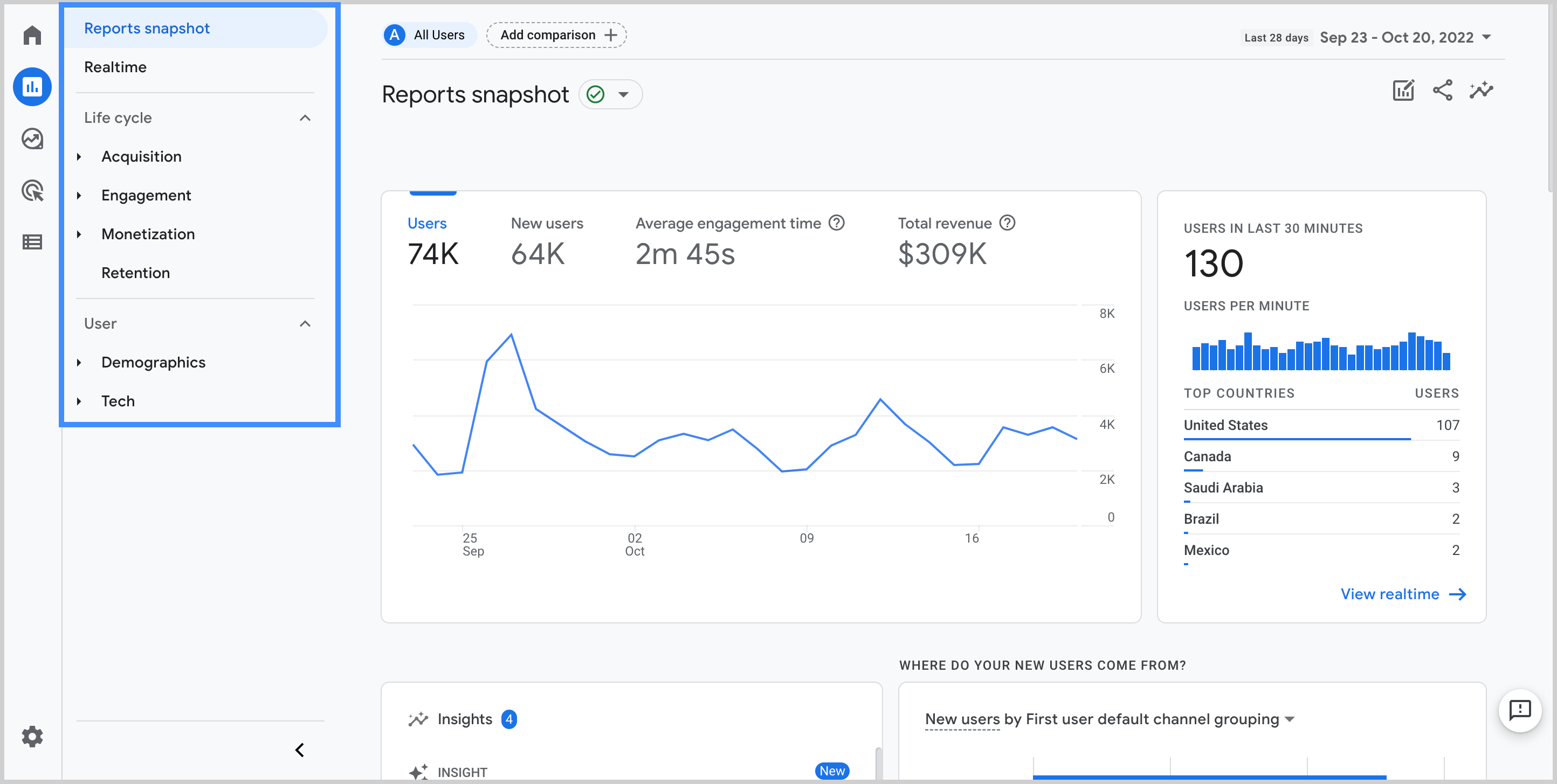 Source: Google Support
Reports can be filtered to view subsets of data, compared side-by-side, and shared and exported. While Universal Analytics had many different standard reports available out of the box, leveraging the full capabilities of GA4 requires setting up custom reports that provide more details.
An end to third-party cookie tracking.
Data privacy is an ever-growing consumer concern and cooking tracking practices continue to come under scrutiny. The European Union's GDPR legislation cracked down on third-party data collection in 2018, and Safari and Firefox now block third-party cookies by default. Chrome is looking to completely phase out third-party cookies by the end of 2024, and GA4 is another step in that direction.
By removing support for third-party cookies and combining first-party cookies with 'Google Signals', GA4 balances the need for consumer privacy and marketing insights. Google Signals is a feature that aggregates data only from users who have consented to Ads Personalization within their Google account. The data provides a holistic view of how users continually interact with your site and app from different browsers and devices. Using predictive metrics and AI-based insights as well, GA4 looks to fill in the gaps left by impending cookie restrictions.
GA4 also enables more granular management of privacy controls, including on a country-by-country basis to help organizations with a global presence. The collection of location and device data can be disabled based on city, browser, device models, device brands and more.
We hope these insights are helpful as you begin to reshape your analytics strategy. To learn more about Google Analytics 4, visit the Help Center for a complete step-by-step guide.
---