Updated

April 3, 2018

Publish Date:
April 3, 2018

Marketing and digital communications agency specializing in smart, meaningful content development.
Subscribe to the MZ Blog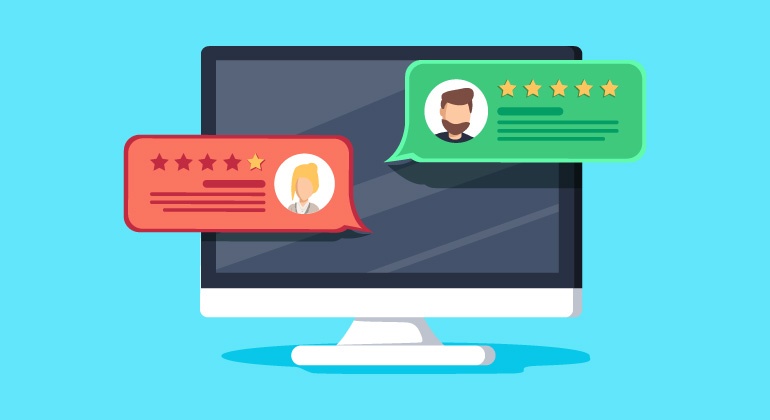 Today's internet throws your business into the public spotlight—with consumers brazen and poised to critique your show. The result? A plethora of online reviews framing your brand reputation.
Client reviews are no laughing matter, considering 88% of people say they trust reviews just as much as personal recommendations. But don't let the fear of a few bad reviews stop you from embracing this platform. Online customer reviews open up many opportunities for improved customer service, expanded visibility and increased sales.
Do customer reviews actually affect my sales?
Undoubtedly. In fact, people view customer reviews as 12 times more trustworthy than a company's own product description. This directly influences their path to purchase, with each negative review costing a business about 30 customers. And it's not just about losing clients. Businesses with more online reviews and higher satisfaction scores are ranked first in search engines, gaining coveted foot traffic.
How can I use online reviews to my advantage?
Acquiring and responding to customer reviews improves your business' visibility, customer service and sales. There are several steps you can take to achieve these competitive advantages.
Increase search engine visibility
Prompting your clients to leave a review should be your standard practice. Did you know about 71% of consumers will leave a business review when asked, compared to only 1 out of 10 when unprompted? Tastefully remind customers to leave a review by reinforcing how valuable their feedback is for growing your business to meet their needs.
Having a presence on popular online review sites will increase foot traffic across your sites as well. In order to build an effective profile, find out which sites your clients are on. Notable B2B ones include G2 Crowd, FinancesOnline, SaaSGenius and TrustRadius.
Service customers in real time
Real-time responses build your authenticity, spot and prevent potential brand crises and allow you to capitalize on opportunities where clients may be ready for an upsell. Monitor your online reviews and social media mentions so you can promptly provide helpful and relevant responses.
Another important note is that bad reviews aren't necessarily bad for your company. After all, consumers suspect censorship if all of your reviews are positive. The key lies in how you respond to them. Timing is everything in these cases. You should be prompt, admit any mistakes, correct any inaccuracies, highlight your strengths and provide restitution if warranted. Keeping the tone personal rather than sounding like a corporation will also help build authenticity.
Use case studies to close more deals
Reviews allow the clients to tell their stories, and businesses can use really positive ones as compelling case studies. This is a powerful B2B tactic, with case studies having a 65 percent effectiveness rating. Case studies open new account opportunities, provide proof points during final customer validations and can be used for upselling and cross selling to existing clients.
The importance of listening and responding to customer reviews can't be stressed enough. This new "word of mouth" advertising reaches a substantially larger number of people with maximum effect. Start using it to your advantage today.
---