Updated

March 1, 2019

Publish Date:
February 26, 2019

Marketing and digital communications agency specializing in smart, meaningful content development.
Subscribe to the MZ Blog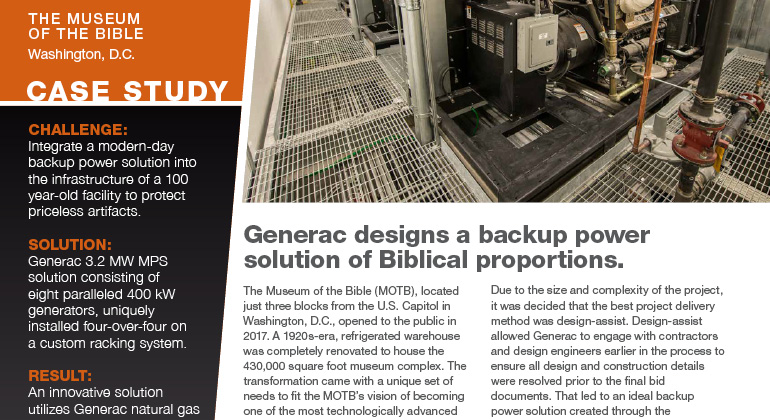 Everyone loves a good story—especially original ones about overcoming a relatable challenge. That's what makes case studies so impactful. Seeing how your business is helping others succeed is tangible proof your company provides intelligent solutions.
Going beyond a great story.
Not only are case studies a compelling story, they delight your current customers and provide a brief, relevant overview of your products and services. And since they're about a customer solving a problem with certain products or services, that means they'll include keywords that rank high in SERPs (Search Engine Results Pages).
When it comes to writing and designing case studies, we've found there's certain techniques that can make them as compelling and effective as possible. Here's a case study example we wrote and designed for Generac Industrial Power. They designed a powerful, innovative backup power solution for a newly renovated museum—a great story that would resonate well with prospects. Here's the tips and tricks we used to tell their story.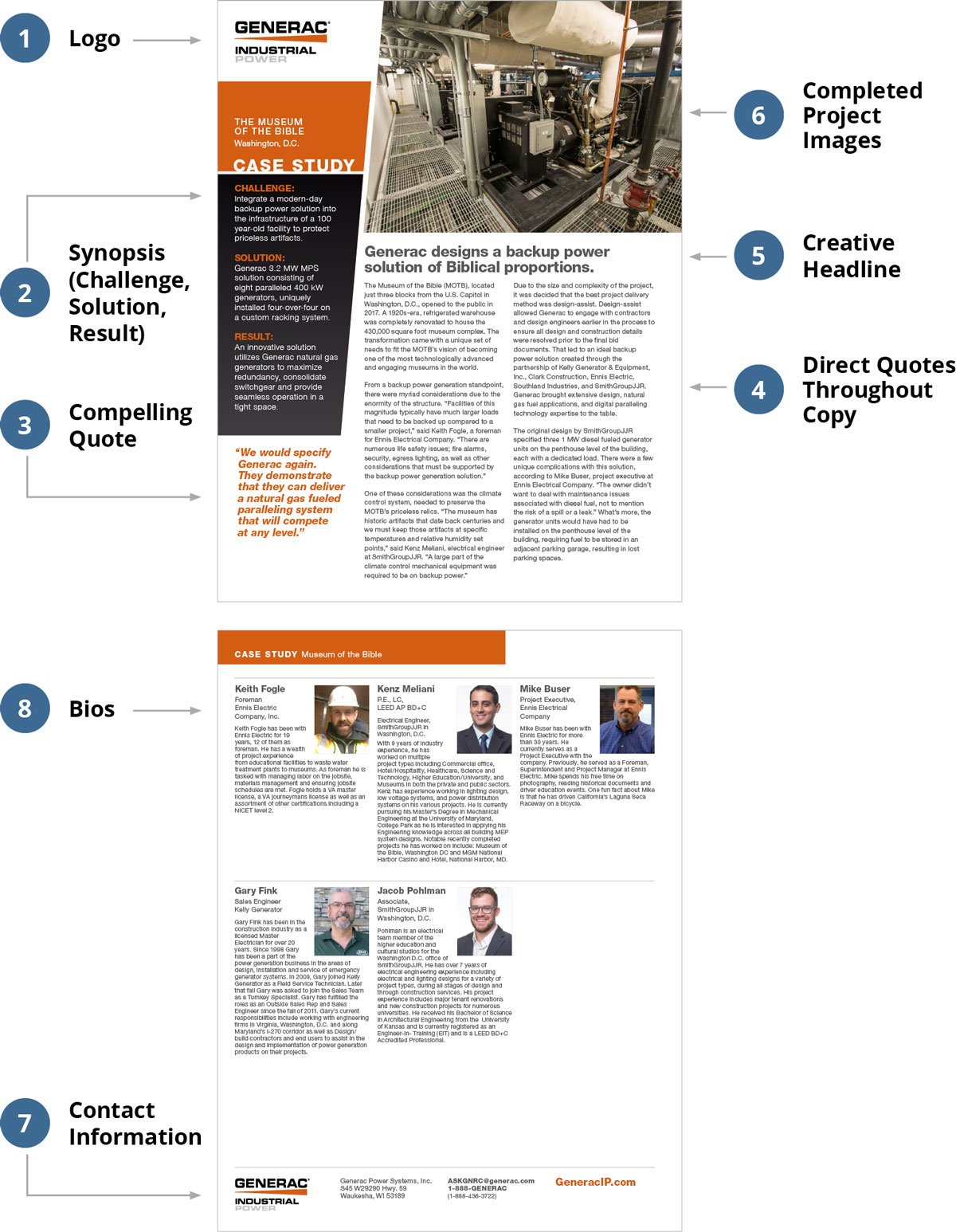 1. Use your logo and design elements consistently.
As with any collateral, maintaining a consistent image is crucial to building a recognizable brand. If you haven't already, create a template for your case studies to streamline the creation process. The template design should reflect color and design elements consistent with your logo and brand.
2. Include a clear synopsis on the first page.
We always highlight the challenge, solution and result on the first page. These descriptions should be kept at 1–2 sentences. This gives readers a quick overview of what the case study is about and what the key takeaways are.
Using headers and bullet points to break up big chunks of content is also a great strategy to make the content more easily digestible, like we did for our clients Capital Data and Kornit in the examples below.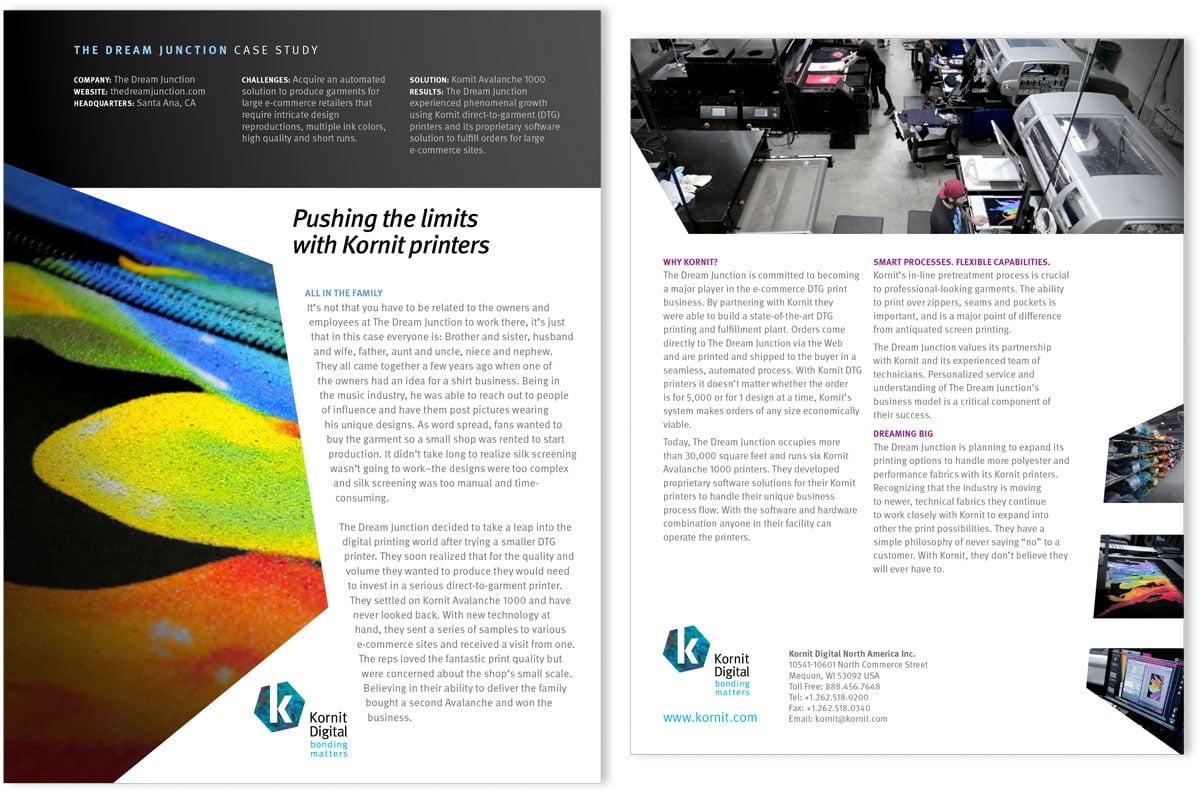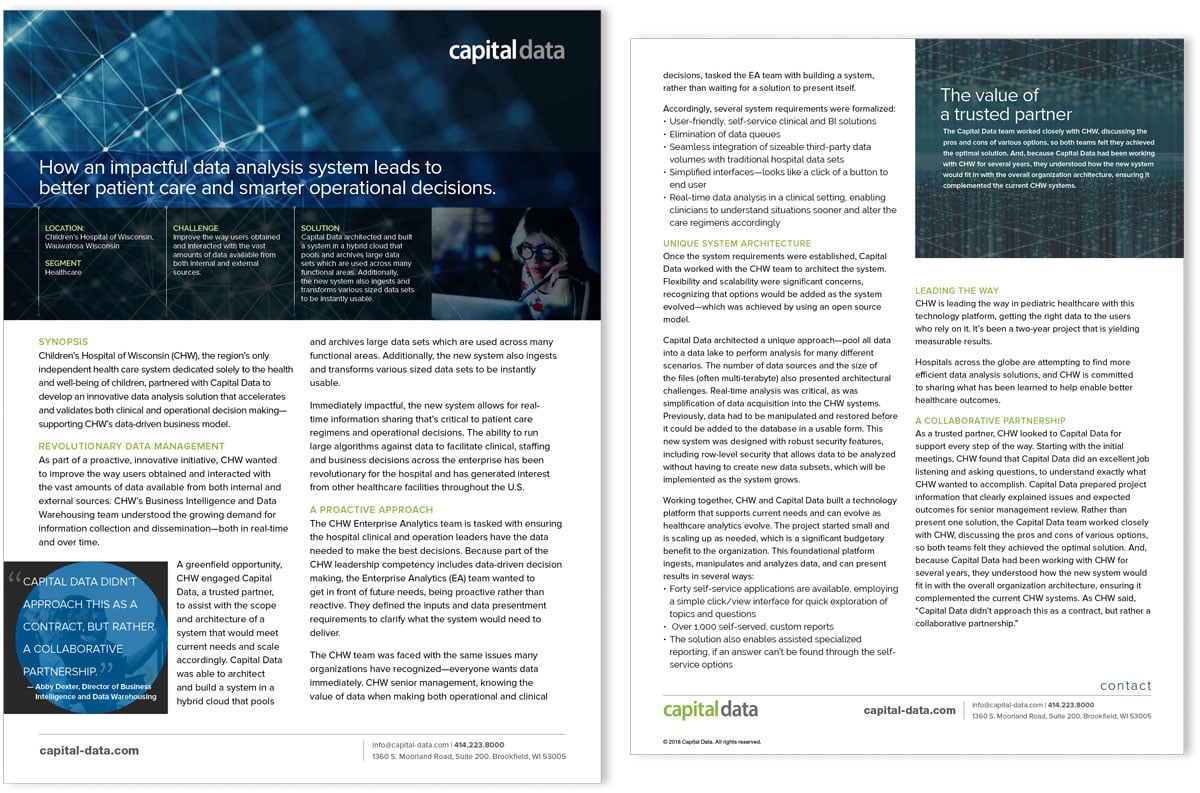 3 & 4. Emphasize and include quotes.
Including direct quotes throughout your case study does helps to personalize, validate and shape the story. Remember, interviews don't have to be done in-person. Setting up a call is just as effective, which is what we did for Generac. For the interview or call, always do research beforehand and have a list of questions ready. Reading any of the company's previous case studies is helpful to get a feel for writing style and to formulate questions.
For the Generac case study above, we chose a compelling quote that highlighted the key takeaway and promoted the company's solution.
5. Develop a creative headline.
Headlines are often overlooked—but that's what your viewers will read first and decide from there if they should continue. Brainstorm something creative that will grab their attention while describing the concrete takeaway.
6. Choose visuals wisely.
Images grab attention and evoke emotion—and no story's complete without them. Case studies are typically text-heavy and visuals are a great way to break up content and simplify a complex topic. When possible, include photos that enhance your story or highlight major results, such as a team of workers, before and after shots, or people profiting from your solution.
7 & 8. Add a bio page to showcase project personnel.
One tactic is to include a separate page at the end with short biographies and pictures of the key personnel involved. This is a good way to feature stakeholders and personalize the case study by bringing it to life so readers can put faces to those in the story. Always have contact information in the case study, too.
Be sure to promote and repurpose your case studies creatively.
Case studies are great marketing and sales tools that can be promoted and repurposed across your website, social media, videos and sales presentations. Here are examples of how Generac promoted the above case study on social media.
If you serve many industries or have accumulated a large amount of case studies, organizing them into a sales presentation can be a very effective way to showcase your success across a broad range of markets. See how this tool we created for Generac is an effective visual and interactive way to present case studies across the numerous industries they serve.
We hope these tips will help you write and design compelling case studies that help build your business.
---