Date

August 26, 2020

Marketing and digital communications agency specializing in smart, meaningful content development.
Subscribe to the MZ Blog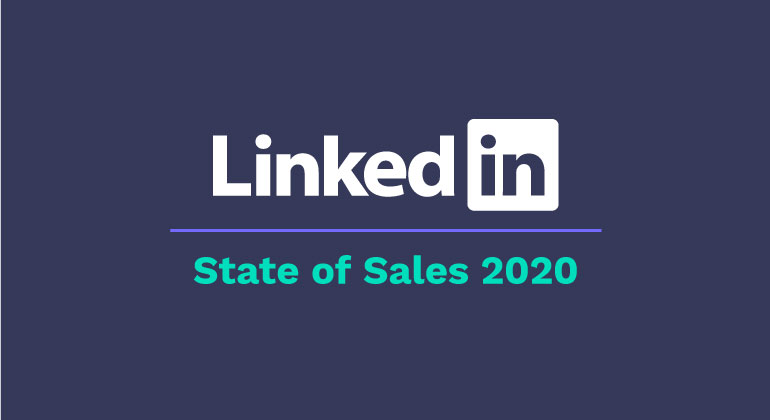 The pandemic has had a huge effect on sales in the B2B world, resulting in less responsive buyers and longer sales cycles. Digital sales tactics such as video conferencing and virtual events have gone mainstream—but what is here to stay and what trends are just temporary?
LinkedIn has published a State of Sales Report which shows the short and long-term effects COVID-19 is having on sales organizations. Here we take a look at those findings and how sales teams can adapt for the years ahead.
Achieving trust with buyers is the first step to closing deals.
While always critical, trust has become even more important during this time of uncertainty.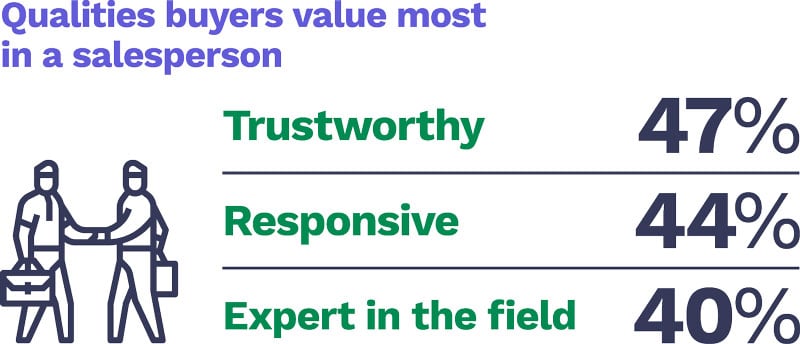 Building trust digitally.
Buyers want a trustworthy and honest approach that puts them first. Since face-to-face meetings have been eliminated or significantly reduced, digital touchpoints have become a large part of building trust throughout the customer journey.
Trust starts at the first interaction a buyer has with your brand before a salesperson reaches out. Since today's customers are very proficient at researching a solution online and evaluating pros and cons themselves, your website and digital content are more influential in the selling process than ever before.
Thought leadership content will play a big role in differentiating companies and engaging prospects during this difficult time. Hosting relevant webinars or virtual events and creating helpful eBooks, whitepapers, or videos will prove your credibility and expertise and position you as a trustworthy voice in your industry.
Virtual selling needs to be more engaging.
With virtual selling now the new norm, sales teams need to find creative ways to stand out.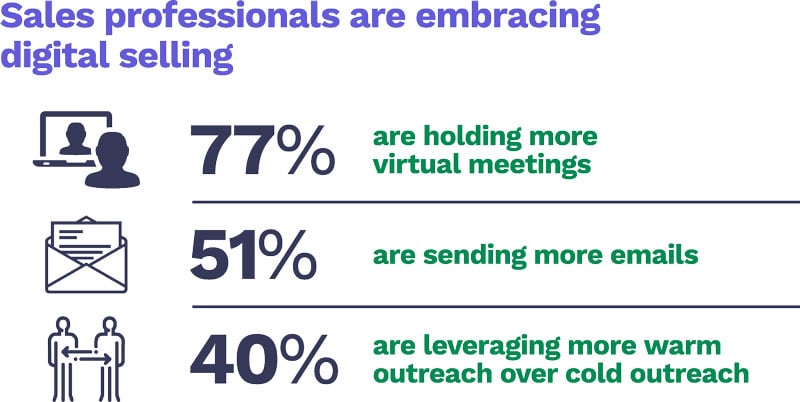 Create content prospects can interact with.
Virtual sales meetings provide an even greater risk of the prospect passively or distractedly watching. Using digital tools, such as an interactive sales presentation that lets their specific needs drive the presentation, is a great way to engage them and provide a much more personalized and memorable experience.
Since customers are also receiving more emails than ever now, it can be easy to get lost in the clutter. Be helpful, empathize and provide value. Video emails are a great way to stand out and hook viewers. Even including the word "video" in a subject line can increase open rates.
For example, during a campaign, MZ included a GIF CTA in an email that sent people to a landing page of our videos. The click-through rate increased more than 30% versus the previous email's CTA button.
Buyers desire a seamless, personalized approach.
Success depends on how well a salesperson is able to understand a customer's challenges and pain points to quickly offer a helpful solution.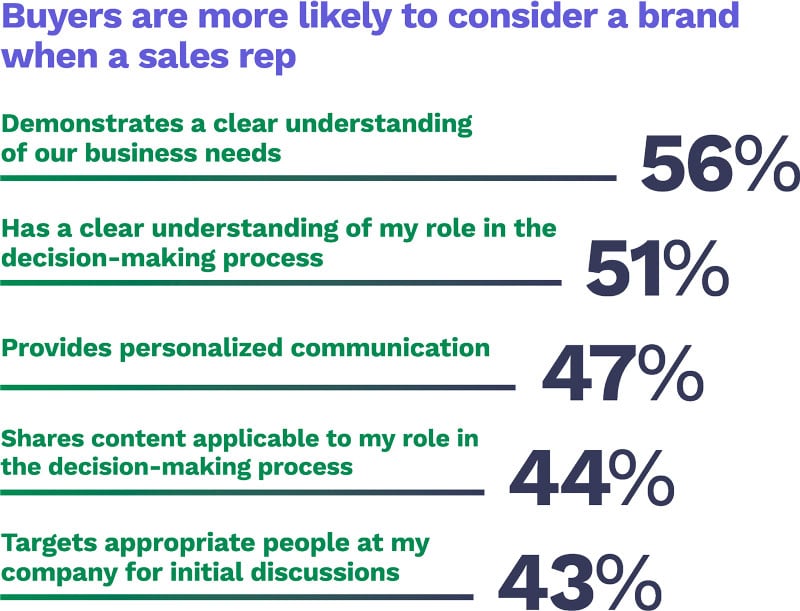 It's a great time to focus on account-based marketing.
When both marketing and sales work together to identify target accounts and create personalized campaigns, the right leads will be targeted and provided with the right materials at the right time. To do this, you first need well-defined buyer personas. Accurate personas will help you reach out to prospects without annoying them, avoid poor leads, leverage the platforms your prospects prefer, and create targeted content that speaks their language.
Know your different personas and each role they play in the decision-making process. What are their demographics and what platforms or channels are they active on? How do their key responsibilities relate to their pain points, needs, and challenges? Evaluate what objections they may have to your solution, along with their goals so your communications are empathetic, speak to their desires, and are truly helpful.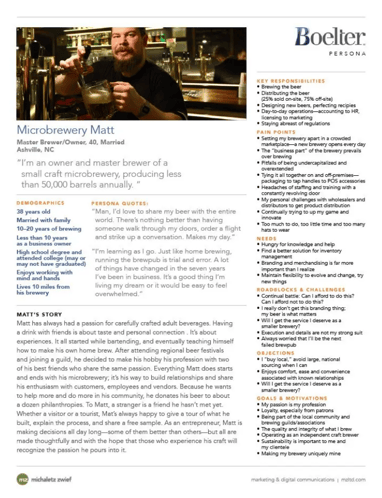 The rich personas MZ created for Boelter Foodservice describe the story, responsibilities, needs, roadblocks and goals of each persona to ensure effective communications.
Marketing leads and data usage correlate to sales performance.
What do top-performing salespeople do differently? Two major findings were that they receive better leads from marketing and are more likely to consult data.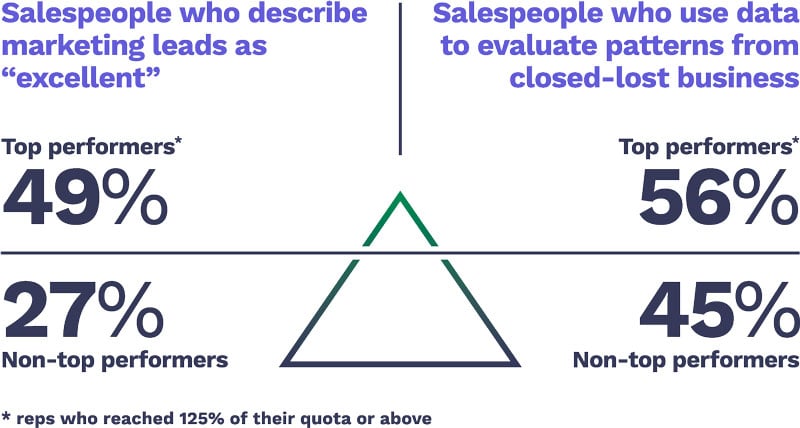 Align with marketing and gather useful data.
Communication between sales and marketing teams is crucial for creating content that attracts high-quality leads and nurtures them effectively. Data is becoming an integral part of strategies as well. More sales professionals are leveraging data to prospect and measure success, with 56% using data to select accounts to target and 49% to select industries to target.
Software such as HubSpot's Marketing and Sales Hub provides useful data to help evaluate what's working and what's not—such as sales reporting, email tracking, predictive lead scoring and marketing asset analytics that help teams capitalize on opportunities, improve workflow efficiencies, and evaluate the effectiveness of campaigns.
Integrated sales technology is essential.
Technology is continually becoming more essential to the sales process to improve workflows and build customer relationships.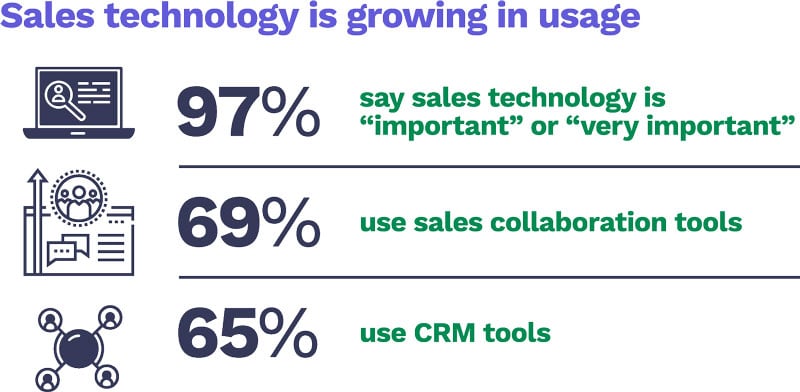 The right CRM will boost efficiency.
A CRM helps sales teams efficiently manage all customer and prospect relationships and interactions on one platform—making it easy for the entire team to view the status of every customer relationship and gain valuable business insights.

Integrating a CRM with your website and any marketing and sales software you use is imperative in order to boost efficiencies, so sales can spend more time selling and less time on repetitive, manual tasks. HubSpot's free CRM and marketing and sales tools integrate seamlessly. Remove friction from the sales process and get detailed reports on sales activity, productivity and individual performance so you can save valuable time on administrative tasks.
Intelligence tools are influencing more sales strategies.
The amount of companies using sales intelligence tools has significantly increased this year.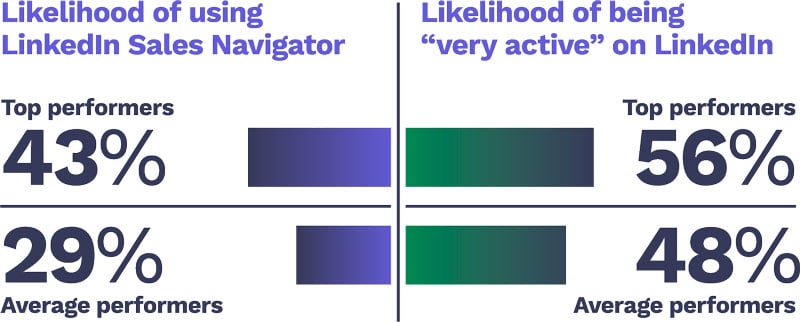 LinkedIn products topped the list.
Among those who reported using sales intelligence tools, 74% use either LinkedIn.com, LinkedIn Premium, or LinkedIn Sales Navigator. Top sales performers (reps who reached 125% of their quota or above) are significantly more likely to use LinkedIn Sales Navigator and be "very active" on LinkedIn.
LinkedIn Sales Navigator is a paid tool that helps sales reps leverage LinkedIn's extensive network to target the right buyers, understand key insights and personalize outreaches. Depending on which package you buy, benefits can include CRM integrations, advanced search options, lead recommendations, automated lead generation and other workflow efficiencies.
Need help learning how to use LinkedIn Sales Navigator? We'd love to show you how.
---