Updated

March 26, 2018

Publish Date:
August 4, 2017

Marketing and digital communications agency specializing in smart, meaningful content development.
Subscribe to the MZ Blog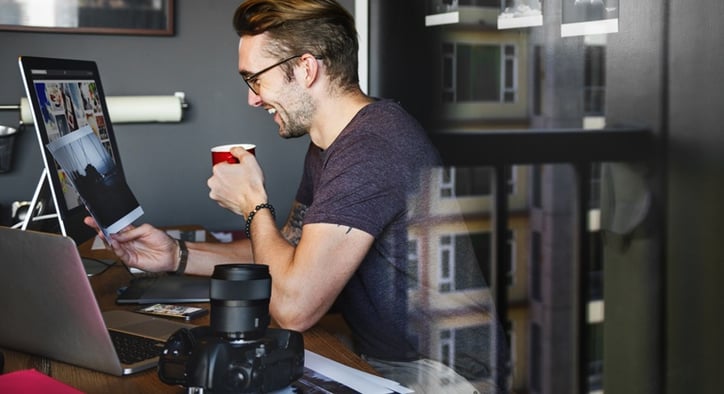 Our in-house camera fanatics are sharing 6 top-rated photography websites to get the latest and greatest on everything from educational tutorials to equipment reviews and comparisons to smart videography tips. Keep in mind, these sites are valuable for all–whether you are an amateur, hobbyist or professional photographer.
Digital Photography Review offers novices and professionals a resource both pre- and post-purchase for cameras, lighting, lenses, phones, printers, off-camera monitoring devices, recording equipment and more. You will find plain language, comprehensive reviews of products from a technical standpoint, build quality and usability.
The side-by-side product comparison tool allows you to select up to four products and receive an in-depth buying guide on features, benefits and even image quality. The ability compare the image quality of up to four products is invaluable as you are able to move across the image simultaneously on each product to see the actual differences. The no-nonsense online tutorials make learning easy and hands-on.
Imaging Resource provides camera news and reviews for a variety of cameras and lenses. This site is very technically oriented—readers seeking more real-world photography or consumer-oriented content might find Imaging Resource too dry. However, the reviews are highly detailed and concise.
The Lens Blur feature of lab-tested lenses is a unique, interactive demonstration of a lens's sharpness that communicates more quickly and accurately than large amounts of editorial content.
FStoppers is a great resource for articles and inspiration for just about any kind of photography you can think of. The shared content is current and relevant. The original articles and video content are compelling, informative and inspiring. If you like photography, you'll find something interesting on the homepage of FStoppers.
With such a wide variety of photographic interests, be aware of which categories you choose to browse; some areas of the site are not for everyone.
The two most simple keys to a good photograph are composition and lighting. However, natural light will not always be suitable and the using strobe lighting is an ideal solution. The natural instinct for most is to put the strobe on the camera and set it to automatic, but this is usually not the best way to utilize a strobe light.
Strobist is an excellent resource for lighting, teaching understanding of lighting and how to manipulate it for beginners as well as providing tips and ideas for any skill level. This is typically done through "behind-the-scenes" case studies that not only teach the techniques, but demonstrate them in real-life projects. Lighting 101 is a great place to start and the site's author, David Hobby, has a variety of videos on Lynda.com.
A Canon-based site, The Digital Picture provides in-depth, hands-on reviews and extensive standardized testing, including comparison tools, making selecting a lens or camera body a less "blind" process. Want to know which zoom lens is sharper in the corners at a specific focal length and aperture and on a specific body? Use the comparison tools to find out. Looking for some basic recommendations on SLR photo gear? This site has an area dedicated to that as well. There is even a large collection of articles to help you become a better photographer.
Want to know what's new in all things Canon? Canon Rumors started as a rumors site but now features rich product reviews and industry news. This is a helpful site for a quick scan as it contains a large preview of each post on the home page. If you want to dig deeper, the articles have rich, interesting and relevant content.
As marketers, it is important to realize how high-quality product photography can leave a powerful first impression, give potential customers the confidence to buy, and add value to your brand by creating an emotional, personal connection. As hobbyists, a common question our photo nerds get is, "Which camera should I buy?"
---