Date

August 10, 2022

Marketing and digital communications agency specializing in smart, meaningful content development.
Subscribe to the MZ Blog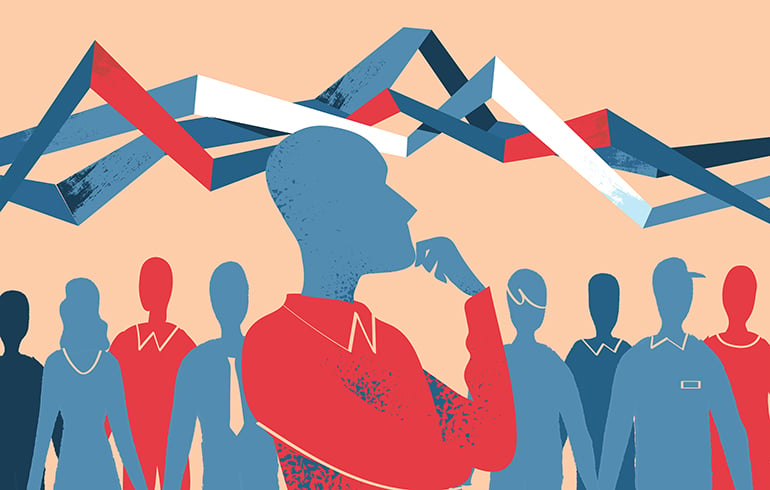 What type of content interests today's buyers? What channels have marketers been using more and which strategies deliver the best results? Rapid changes have taken place over the past few years, from how people communicate to how they search for and explore solutions. We know determining how to effectively reach and engage your target audience can be challenging with continually evolving platforms and buyer preferences.
HubSpot collected data from more than 1,600 B2B and B2C marketers around the world and across industries to assess the state of inbound marketing. Based on the report, we've examined important trends to be aware of and gathered useful tips and insights to enhance your marketing strategies.
1. An active social presence is a must-have.
Wondering what the #1 marketing channel is today? Well when marketers were asked which channel they are focusing most on in 2022, the majority—44 percent—responded with social media.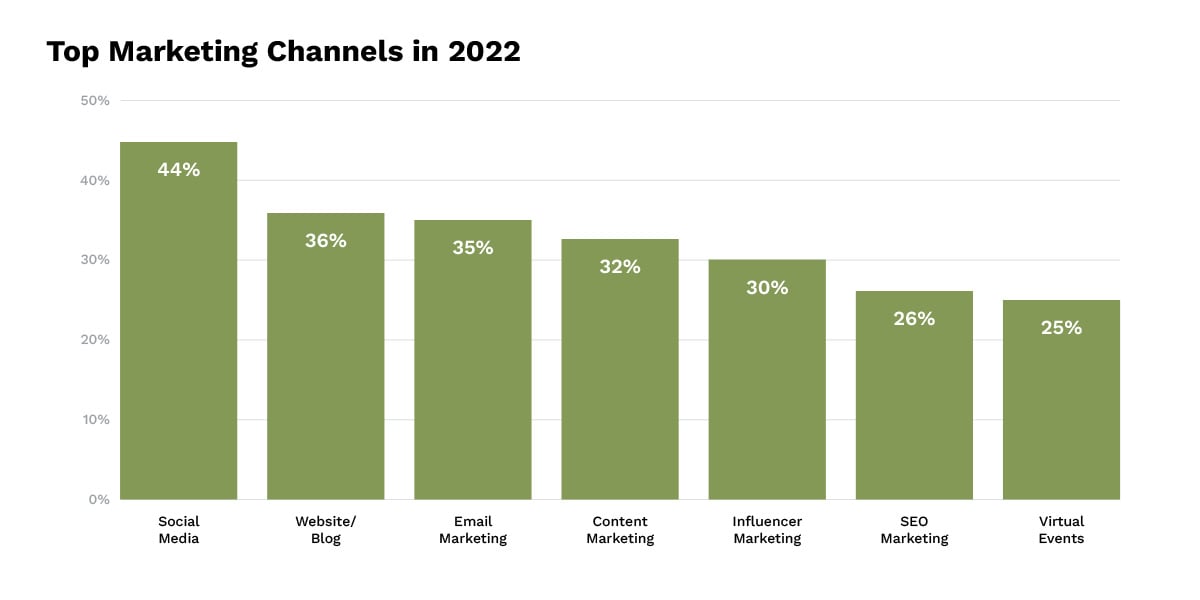 What's more, HubSpot has found social media is now the most effective channel for acquiring new customers, followed by SEO and then physical events and trade shows.
Developing a social media strategy as an afterthought is a huge mistake, and not just in the B2C realm. At the end of the day, B2B professionals are consumers—they browse channels like Facebook and LinkedIn throughout the day, make decisions based on brand familiarity, and want to do business with forward-thinking companies that communicate with customers on today's most popular platforms.
Businesses without an active social media presence are not only missing an opportunity but falling behind the competition. Even established brands risk losing market share to startups that engage their audience daily, promising to be the new and improved solution to their problems.
Brand awareness and social media go hand in hand.
So how are companies leveraging the influence of social media? Over the past year, increasing brand awareness has become the primary goal. Advertising products/services have dropped in focus, falling behind objectives to foster relationships with prospects and customers, improve service and drive website traffic.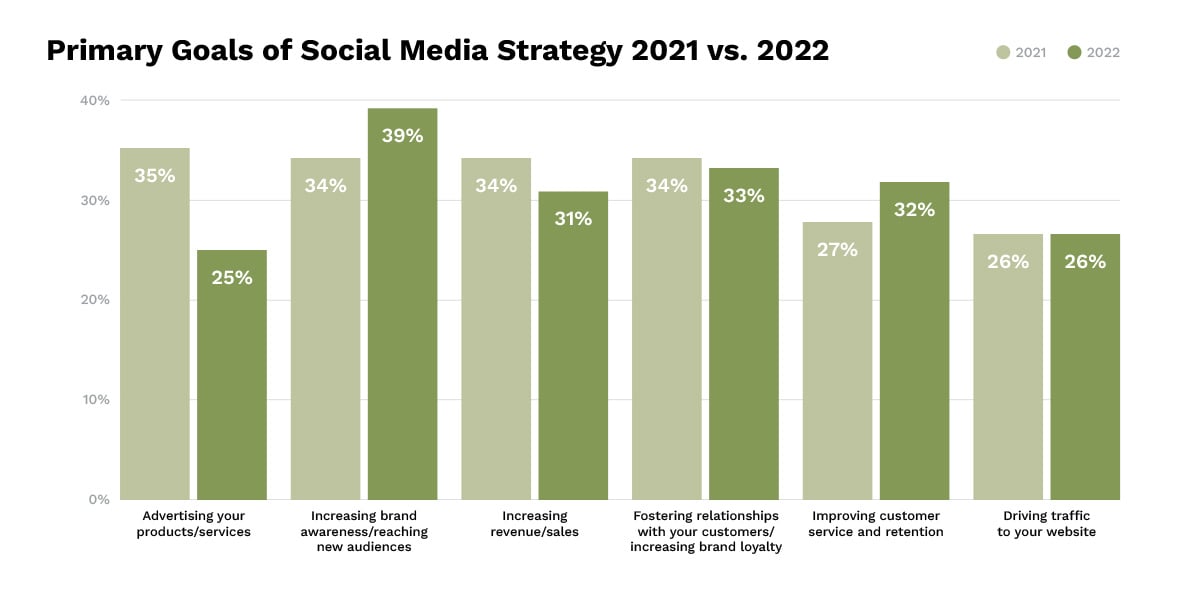 That's because social media is integral to reaching new audiences. And building trust starts with building credibility. Become familiar with customers on the networks they frequent and create helpful and relevant content so they associate positive memories with your brand. This can be done by sharing brand stories, interactive posts, and expertise on hot topics within your industry.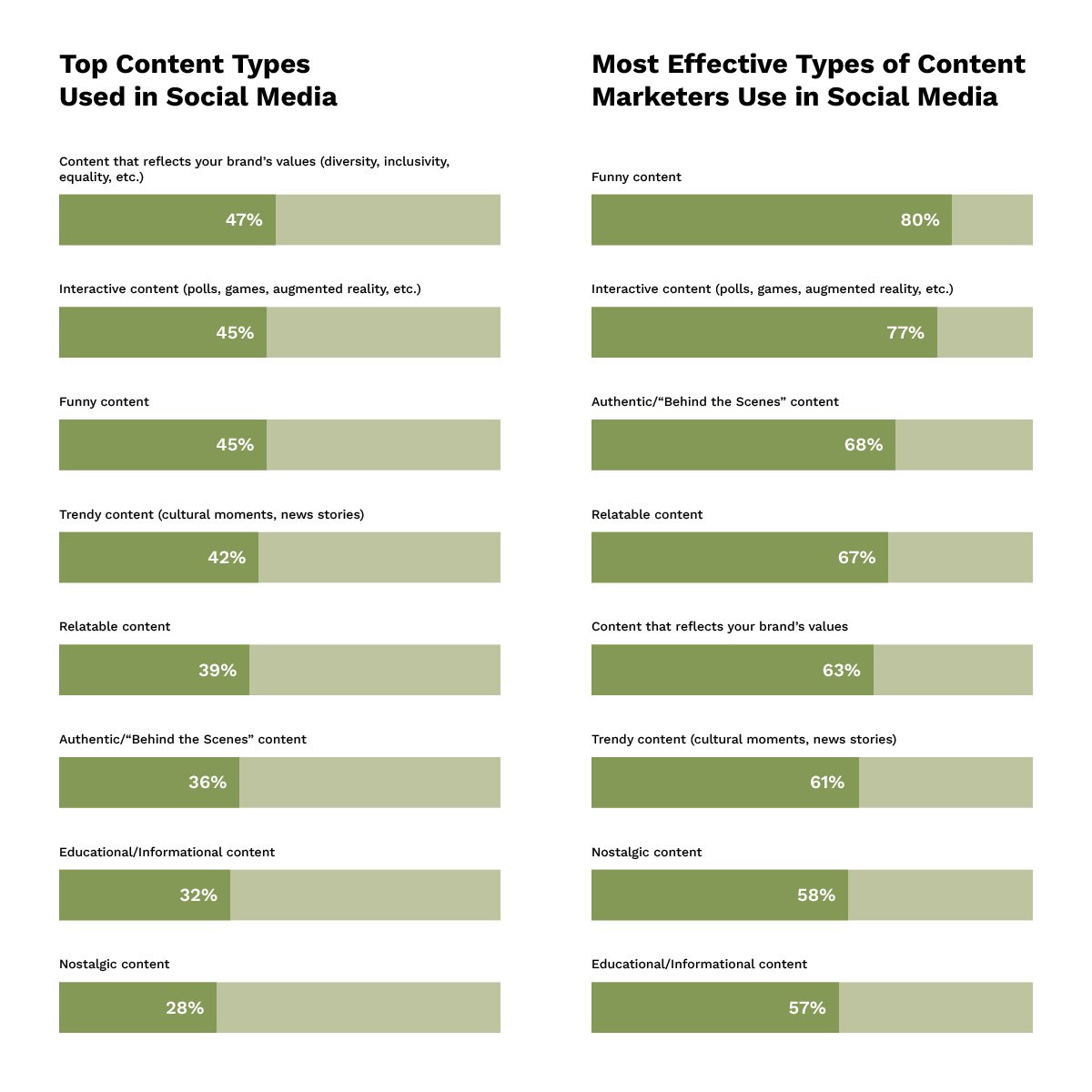 2. Interactive and authentic content is being prioritized.
Customers want to be engaged. Whether sharing their opinion through a poll, taking a short quiz to assess their needs, or flipping through an online eBook. Marketers have increased investment in interactive content, which is also an excellent tool for collecting valuable audience feedback, information and analytics to move prospects down the funnel and refine content strategies.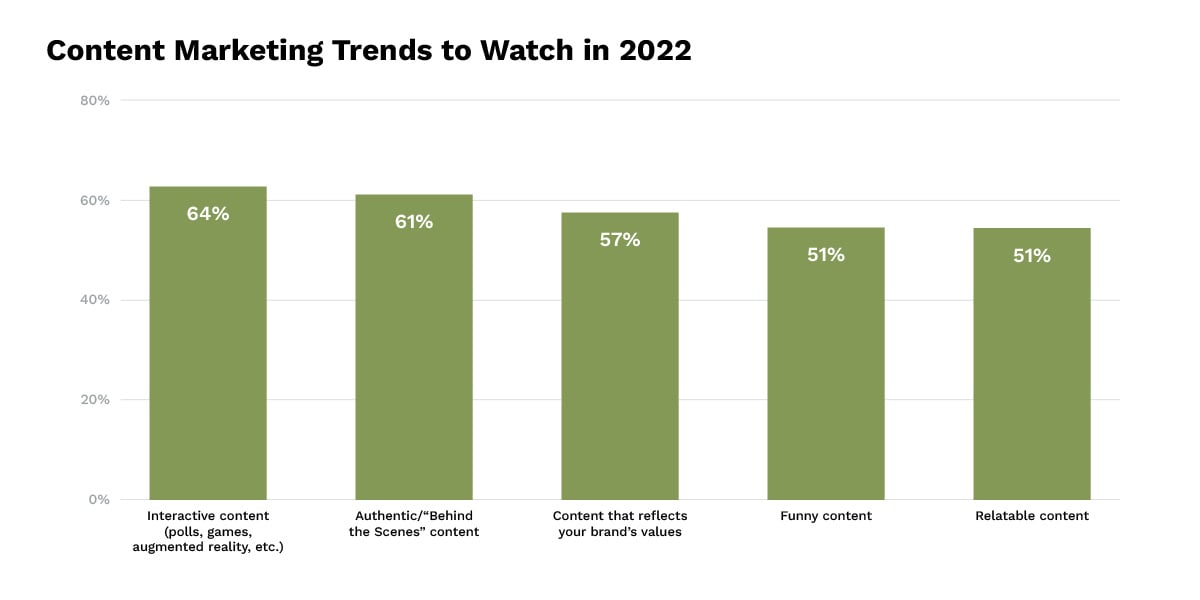 Customers want to connect with the people behind the brand.
Authentic content has become just as important. People work with those they trust. The pandemic put an even bigger focus on leadership and corporate social and environmental responsibility. Client testimonials and behind-the-scenes videos about employees and company culture go a long way.
Create content that enables your customers to get to know your team, product and services in the most authentic way possible. Host webinars and Q&As, join Twitter audio chatrooms and incorporate live video into your strategy as well as pre-recorded videos from employees that give prospects a glimpse into your subject matter experts' take on timely industry topics.
Build stronger client relationships through interviews.
Put your customers in the spotlight with video testimonials. This is a great way to not only give your brand credibility, but also an opportunity to get to know your clients better, have genuine conversations around your products or services, and show your appreciation. Clips from the interviews can be used as testimonials, as well as supporting content within eBooks, promotional materials and more.
A smart way to streamline the creation process is to take advantage of an event your clients already attend—eliminating the need to arrange multiple dates at different times and coordinate resources. For example, at your next user conference, check ahead of time if certain clients would be available for a 15-minute conversation-style interview while they are there to discuss how they leverage your product/solution. You'll collect valuable messages that speak to the value of your organization and partnership, and give them the opportunity to answer questions their peers seek to know. All packaged up the way customers want to consume it. Which leads to our next point.
3. Video is once again the most popular marketing tool.
People continue to consume video content more than any other type of media. And marketers are embracing it—one in three have made it their top investment for 2022. Not surprising considering 76% said video is the most effective media type for achieving goals.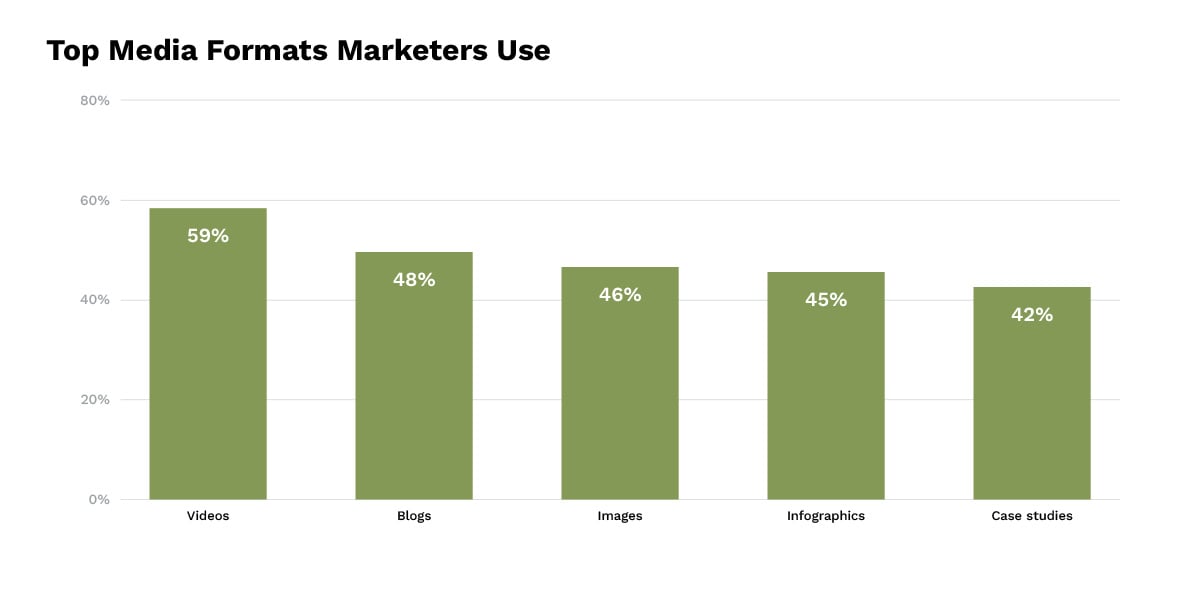 Focusing on short-form videos can be rewarding.
With video creation and consumption at an all-time high, creating content that stands out is essential. HubSpot discovered that short-form video has the best ROI compared to all other media formats and both B2B and B2C marketers are finding success with TikTok. In addition, 51% of marketers plan to increase their investment in short-form video content throughout 2022.
Brush up on best practices.
What worked before doesn't necessarily work anymore. It's important to stay on top of video best practices for different platforms regarding optimal length, format, content and when to post.
For example, HubSpot found that the evening is actually the best time to post on social media, with 6–9 PM being the most popular time on Facebook, LinkedIn and Twitter. What's more, 53% of marketers now optimize photos or videos for visual search engines—and 49% of marketers find it to be one of their most effective strategies.
Optimal video length is another shifting factor. Data over the past year shows that businesses have increased investment in videos either under 1 minute or over 30 minutes.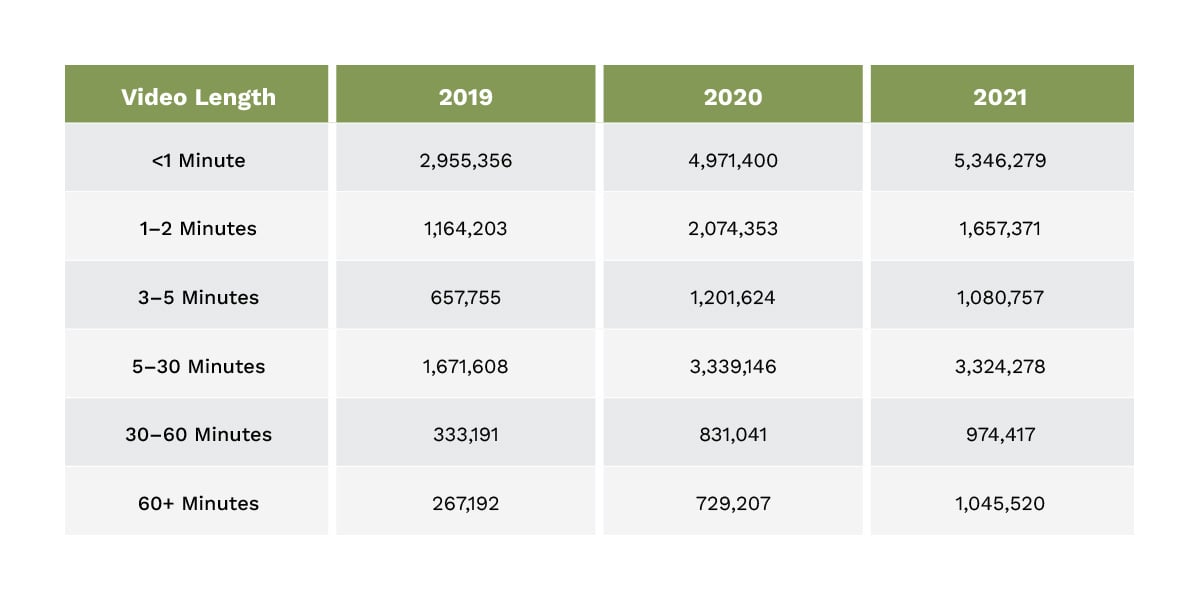 Whether ads or product teasers, brands have transitioned to keeping videos under the one-minute mark to meet customers' declining attention spans amidst the content clutter. The growing popularity of Instagram Reels and TikTok is also likely a major contributing factor. The rise in long-form content suggests higher demand for webinars, fireside chats and other virtual events.
Navigating the changes and challenges in today's environment doesn't have to be overwhelming. We hope these tips help you find practical ways to start creating content that reaches your audience where they're at with content that sparks action, conversations and ultimately business growth.
---