Date

February 21, 2023

Marketing and digital communications agency specializing in smart, meaningful content development.
Subscribe to the MZ Blog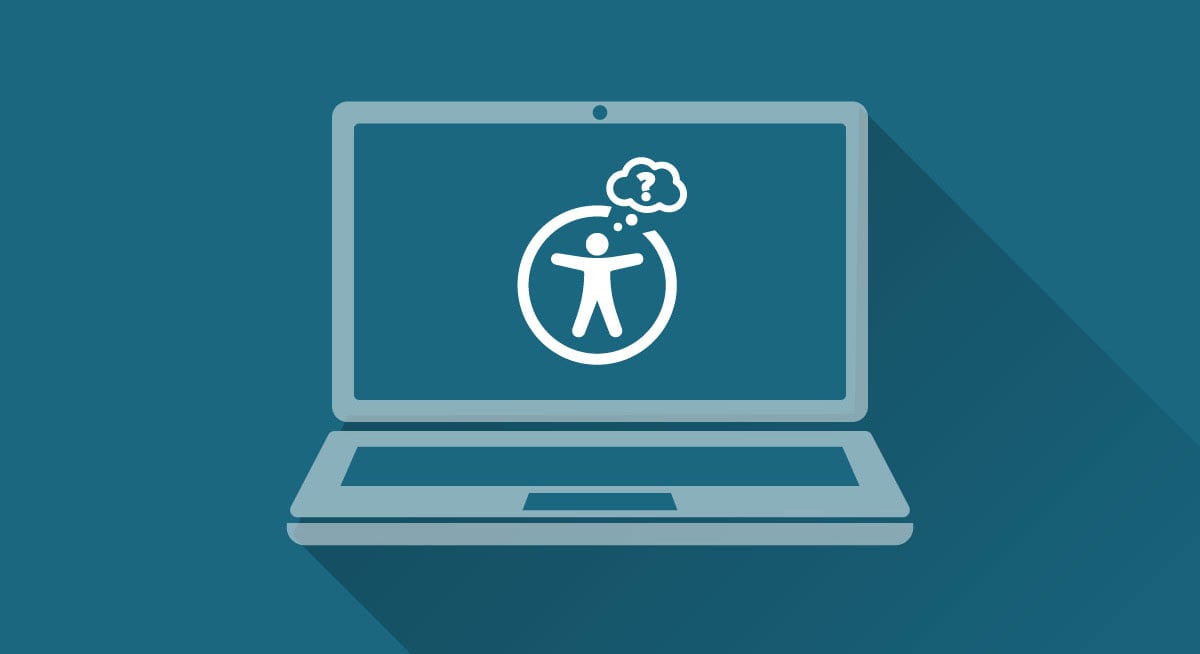 Whether for finding information, purchasing a good or service or logging into a portal, websites have become a major part of everyday life. As a result, web accessibility has come under increased scrutiny. Last year the US Department of Justice reaffirmed all websites fall under ADA III and issued guidelines for businesses to make their website accessible to people with disabilities.
How does ADA compliance affect websites?
The Americans with Disabilities Act was passed in 1990 to protect people with disabilities from discrimination in many areas of public life such as employment, transportation, public accommodations and communications.
All websites are considered places of public accommodation and ADA requires equal access to information. Today, websites provide information for a variety of purposes—from educating prospects and serving customers to providing resources for partners and employees.
Regardless of company size, if you have website content that's inaccessible for someone with a disability, there could be serious legal consequences. In fact, 85% of ADA lawsuits are filed against small and medium-sized businesses. And the average website lawsuit settlement comes to $35,000.
There is no definitive legal standard for ADA compliance online, but the Web Content Accessibility Guidelines (WCAG) 2.1 is frequently referenced by the DOJ in rulings as the goal for website accessibility. Therefore, websites that are WCAG 2.1 Level AA compliant are unlikely to face a lawsuit.
Common web accessibility pitfalls.
There are numerous website components where accessibility needs to be taken into consideration. The WCAG 2.1 points to four basic principles: Perceivable, Operable, Understandable and Robust. To summarize, all information must be perceivable to any user, meaning it must be visible to at least one of their senses. The interface must be operable, taking into account different disabilities (e.g. consider vision or hearing impairment). Written content and graphics must be comprehensible and navigation and links should operate in predictable ways. Lastly, content must be robust enough to be interpreted by assistive technologies such as screen readers.
Here are some common compliance pitfalls to consider.
Lack of keyboard navigation—all site functionality needs to be accessible using a keyboard for people who cannot use a mouse.
Relying on color alone—screen readers don't communicate text color, putting those who are blind or color-blind at risk of missing important information. This is often problematic on forms if you're using a red outline as the only error indicator.
No text alternatives—alt text is required for all non-text content, such as pictures, maps, illustrations, videos, graphs and charts.
Not using an accessible font—font face and size must be legible and WCAG 2.1 guidelines call for a zoom capability of 200%. There also needs to be enough color contrast between the text and background, the standard being 4.5:1 for small text or 3:1 for large text.
Improper use of headings—common mistakes include using a heading as simply a style element (resulting in incorrect heading orders on a page), or using formatted text instead of headings. Proper heading tags must be used to provide a clear hierarchy of content (i.e. Semantic Web) to search engines and assistive technologies.
Unclear links—hyperlinks and call-to-action buttons must have descriptive anchor text and operate in predictable ways, which is why standardizing the design and functionality across your site is crucial.
No video captions or transcripts—all videos need captions (subtitles) that don't obscure or obstruct relevant information in the video. A transcript must also be accessible if audio is required to understand the content. If visual information is required to understand the content, a descriptive transcript is required.
Auto-play videos—if a video auto-plays you must provide controls that allow users to pause or playback. It's typically best to have only user-initiated videos. Autoplay can conflict with assistive technologies such as screen readers and text-to-speech software and could trigger seizures or other physical reactions or confuse those with cognitive disabilities.
Problematic interactive elements—users need to be given enough time to read interactive content. A simple solution could be adding a time delay before the element disappears in case they hover off accidentally. Additionally, every element needs to be compatible with assistive technologies.
Inaccessible forms—hidden form labels such as placeholder text within the form field are not visible to a screen reader. Labels should be above each form field and use inline instructions as necessary for clarification. A typical CAPTCHA test is another feature that excludes many people with disabilities, though Google's reCaptcha is accessible. Other ways to secure your forms include requiring email confirmation or adding a hidden field called a honeypot to catch robots.
While some simple steps can be taken to start improving website accessibility, such as adding closed captioning to videos, ensuring proper use of heading tags, and adding alt tags to all media files, you will most likely need expert assistance. There are tools available to test the accessibility of your website and recommend adjustments. We recommend using AccessiBe, an AI-powered solution that provides an audit to determine if your website is ADA and WCAG-compliant, and streamlines the process of developing an accessible website through automation.
It's time to get started.
Adding accessibility features not only helps ensure everyone is able to use your site effectively but improves the overall user experience as well. You'll serve customers, employees and other users better and reduce the risk of a costly ADA lawsuit. Keep the above considerations in mind and take advantage of helpful auditing and accessibility tools as you work towards creating a website experience that's enjoyable for everyone.
---