Updated

January 10, 2022

Publish Date:
October 14, 2020

Marketing and digital communications agency specializing in smart, meaningful content development.
Subscribe to the MZ Blog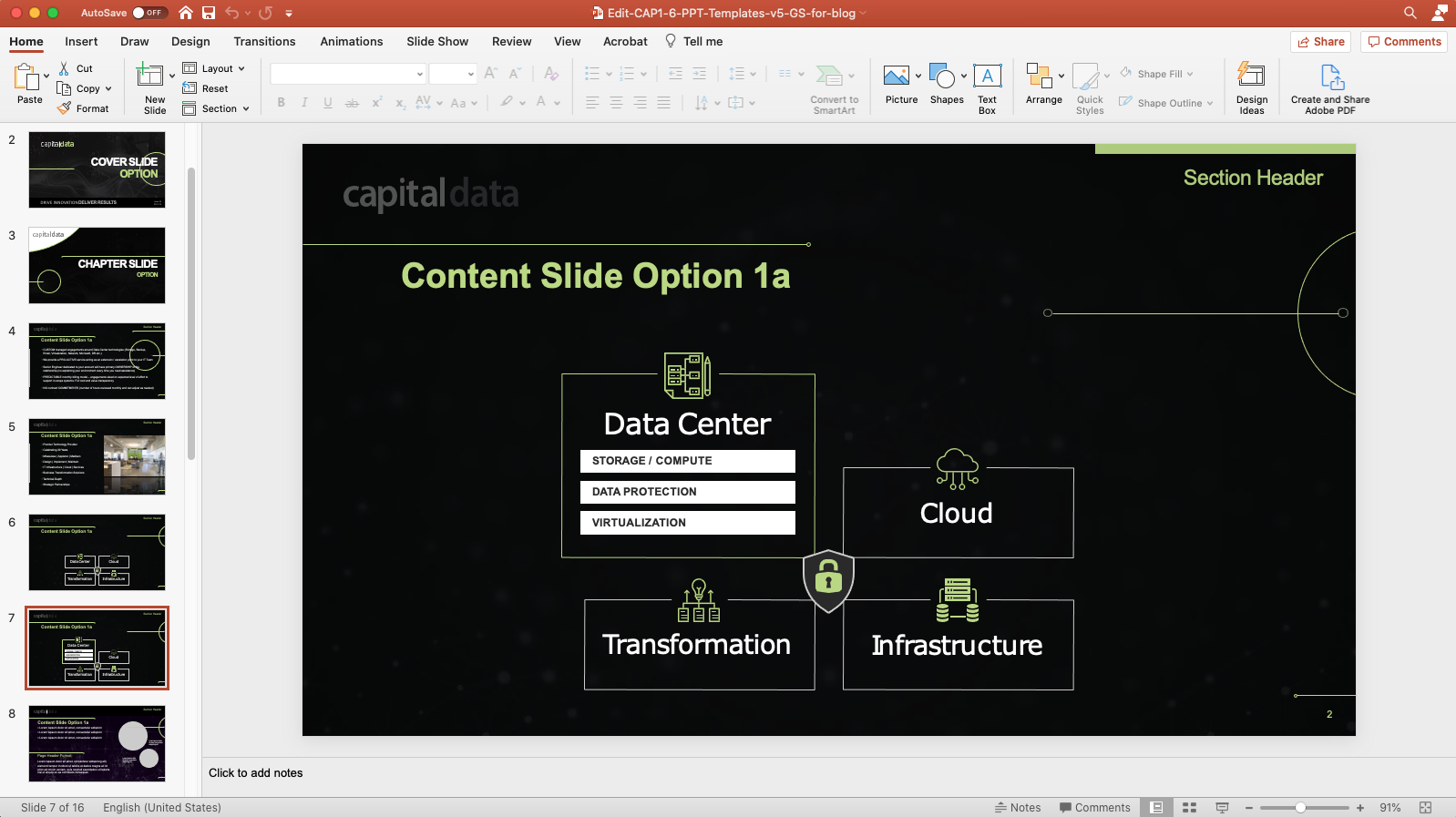 One of the first presentation tools available, Microsoft PowerPoint has been the go-to software for decades. Easy to use and full of pre-made templates, it's no surprise 30 million PowerPoint presentations are created each day. But in a world where the majority of presentations you see—and maybe even create—are the "same old PowerPoint", how do you stand out?
Microsoft has added smart new features throughout the past few years in response to PowerPoint's previous downfalls—forcing presentations to follow a linear order and a lack of interactive, immersive features. With the advanced tools and helpful add-ins, now you can take your presentations to the next level—and save a great deal of time while doing so.
Here's a guide to helpful features and the best add-ins, along with tips to help you create more engaging and professional presentations.
Tools to Help You Present Better
Zoom in and out of slides for an interactive presentation.
A slideshow that only presents in a linear order can result in spending too much time on a topic irrelevant to the prospect—and not enough time on their specific needs. Like Prezi, you can now jump to different sections in your PowerPoint presentation by zooming in and out of slides. This way, the audience's questions and interests can drive the presentation for a truly personalized experience.
The Zoom feature is under the Insert tab. There you can create a thumbnail slide with links to slides in a specific section (Summary Zoom), add links to sections on a current slide (Section Zoom) or add a link to the current slide you're on (Slide Zoom).
Tip: Don't overuse Zoom. Too much movement can confuse the viewer and presenter, and leave everyone feeling dizzy. Use only where helpful, such as creating a Summary Zoom slide with links to different presentation sections. You can also uncheck the "Zoom Transition" box under the Zoom Tools tab and select a different transition, such as Fade. Otherwise, if you plan on jumping around the presentation a lot, a navigable PDF presentation is a smart alternative.
Import vector graphics and edit each element.
Import your own vector graphics (.SVG files)—often the file format for logos, icons, and graphs—which can be enlarged infinitely without reducing quality. These graphics are perfect for presentations since they'll look sharp no matter the screen size. And if you don't have time to design an icon, choose from a library of free ones under the Insert tab. They are all vector graphics so you can scale and edit as necessary to fit your needs.
Tip: You also have the option to convert an SVG file to a shape which enables you to select individual pieces within the graphic to modify each element separately. This can be useful in many ways. For example, maybe you inserted a bar chart icon and want to change one of the bar's colors. Or you inserted a logo but want to remove the tagline. To do this, select the graphic, go to the "Graphic Format" tab, and click Convert to Shape in the top left corner. You may get a pop-up alert asking if you want to continue, click Yes. Now individual "pieces" of the graphic can be edited or removed.
Use Morph transition to create the appearance of linked slides.
By using the Morph transition, you can create a continuous visual sequence. Essentially, when the morph transition is applied to an object, the object seamlessly morphs into the object on the next slide. When set up right, you create the illusion of transitioning between objects instead of slides.
For example, if you have images of your different products on the first slide and want to "expand" a product to go more into depth, you can create the illusion of clicking on the product to expand it without the viewer even realizing you changed slides. This is done by duplicating a slide and then changing the desired object's size, shape or location on the slide. Then, when you're in presentation mode, if you advance to the next slide the background will stay the same and the object will simply morph to where it is on the next slide.
Tip: Enhance your business presentations by using this feature to create a carousel effect, move in and out of points on a map, create an interactive timeline, add attractive design effects and more.
Insert 3D models and create custom animations for them.
Choose from PowerPoint's stock library of 3D models or insert your own. If you want to browse the library, go to the Insert tab and then select 3D models which opens a window where you can select a category or search for a model. If you want an animated model, choose the animated category. After inserting a model, it can be rotated and tilted to any view you want. If importing your own 3D model, simply drag and drop it into your presentation and adjust as needed. You can also add a custom animation to your model with tools under the Animations tab.
Tip: If you're using the same 3D model on more than one slide, add the Morph transition to the object to bring it to life. This is a great way to rotate to a different side of the model during the presentation without the viewer even realizing you transitioned slides. It gives the model a "live" interactive effect.
Record your presentation to create useful resources.
For slideshows that won't be presented live—such as pre-recorded webinars, product or software demos, and employee onboarding presentations—guide viewers through your slides by adding audio narration. PowerPoint now lets you record presentations, including audio and digital ink gestures, without installing an add-in or plugin.
If you are using Office 365 for Windows, there is a Recording tab in the ribbon. For macOS, the Record option will be under the Slide Show tab and won't include as many features, such as video recording.
Before recording, make sure your microphone, camera and slides are set up correctly. If you only want to record part of your slide deck, go to Slide Sorter (in View tab), and right-click on any slide you don't want to include and select Hide Slide. Select Use Subtitles and adjust any settings if you want live closed captioning.
When you're done recording, you can present the recording in Slideshow view or save the presentation as a video file.
Tip: Since separate audio files are saved to each slide and are replaceable, you won't need to re-record the whole presentation if you make a mistake. However, remember to stop speaking during slide transitions because audio and video won't be recorded then.
Easily reuse slides from other presentations.
Want to include a slide from a previous presentation? If you're using Windows, you can do this without leaving the PowerPoint application. Simply select Reuse Slides under the Home tab, which opens a sidebar on the right. There, you can view recent PowerPoint files (including any shared with you) and search for any file not already listed. Select a file and then choose the slide/s you want to insert. If you want the slide to convert to the formatting of your current file, uncheck the box "Use source formatting."
Tip: If you're using macOS, the process isn't quite as seamless. When selecting Reuse Slides, it will import all of the slides from the file you selected, and then you have to delete all unnecessary ones. If you plan on reusing a lot of the slides this won't be a problem, but if you only want a certain one, simply copying and pasting that slide to your current presentation is much faster.
Free and Paid Helpful Add-ins
Insert web pages so you never have to leave your presentation.
LiveWeb is a free add-in that enables you to insert and display live web pages within your PowerPoint for a completely seamless presentation. This way, you never have to exit presentation mode—no more switching back and forth between a browser and your deck. No coding is required, and the web page automatically refreshes every time you visit the slide.
Get more recording features and analyze viewer interactions.
Air Deck is a paid add-in that makes adding audio and video narration easier with an intuitive interface. Each slide can be recorded separately so you can work at your own convenience. Other helpful features include embedding the presentation on your website and tracking viewer activity, such as who viewed your presentation and how long they spent on each slide. Provide the ultimate interactive experience by letting viewers see the length of each slide's recording, play or pause audio, jump between slides and more. Different pricing options are available based on your needs and you can download a free trial to see if it's right for your organization.
Generate and imbed Quick Response (QR) codes.
Easily imbed QR codes into your presentations with the free QR4Office generator. QR codes are square barcodes that when scanned by a QR reader (such as a smartphone's camera) quickly perform the encoded function—whether that's opening a URL, saving a phone number to a contact list, downloading a document, displaying an image or more. A big benefit of putting QR codes into your presentation is that they work even without an internet connection since the code is stored within the document. With QR4Office, you can even customize the code's size and color to complement your slide.
Convert to HTML5 to enable viewing on other devices.
Post your PowerPoint presentation online by converting it to HTML5 format so people can view it on tablets and mobile devices. You can do this with free add-ins like iSpring free or paid add-ins such as HTML5Point, which provides high-speed conversion and ensures all fonts, rich media content, transitions and special effects are maintained and optimized for all browsers.
Take advantage of these often overlooked PowerPoint features and helpful add-ins to create presentations that stand out and reflect your brand. By following our tips you can ensure your presentations are both professional and impactful.
---