Date

June 25, 2020

Marketing and digital communications agency specializing in smart, meaningful content development.
Subscribe to the MZ Blog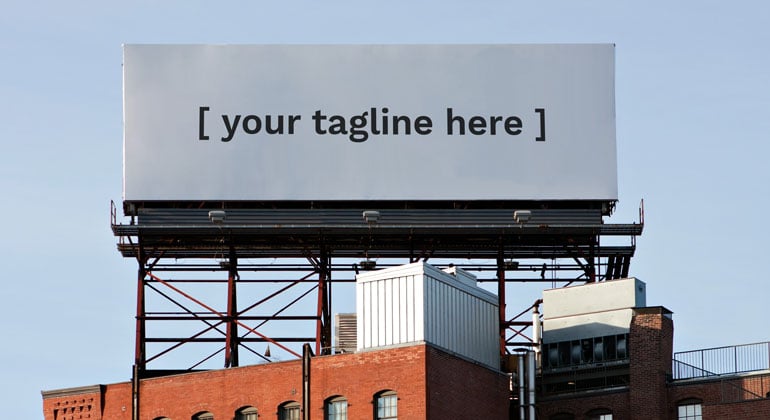 There's no shortage of memorable taglines within the B2C world. Want to set a new workout goal? "Just do it." Going to the store? "What's in your wallet?" Craving something tasty and convenient? "I'm lovin' it." Companies like Nike, Capital One and McDonald's created iconic taglines that establish the essence of their brand in seconds. Nike motivates and inspires. Capital One increases value. McDonald's is the place to be happy.
In the B2B marketplace, there are fewer memorable taglines. Some have argued they don't provide enough value, which can be true in some cases. For example, it may be difficult for a tagline to encompass a company with a wide product or service offering. And many big brands, even B2C, don't have taglines, such as Amazon, Google and Facebook. The reasons? These brands are so well-known, a tagline would simply clutter their brand identity. Equally, their names communicate clearly. Amazon is huge. Google helps you "see." Facebook is the place to meet.
For lesser-known brands, the opposite is true. A tagline can help eliminate guesswork for prospects when company names are unfamiliar and non-descriptive of what they do—common in the B2B world. When there's not much differentiation in your market, it's also a great way to quickly and clearly communicate your purpose and unique value proposition. Often, the reason many taglines fall short is because they are not distinct and lack authenticity.
More than a catchy statement.
A tagline should define your brand in a nutshell. It's that "special something" your company has to offer, distilled to a few impactful words. A tagline is not to be confused with a slogan, which is typically longer and unites a communications campaign. Think "Like a good neighbor, State Farm is there." In many ways, a tagline is the verbal equivalent of your logo—the primary words associated with your brand that shape customer perceptions. Over time, a great one can become the most memorable component of your brand identity.
Taglines can also help create positive feelings, trust and attitudes towards the brand internally. It can be a rally cry for employees, reminding them why the company is special and how it impacts their role. For example, GE replaced their classic "We bring good things to life" to "Imagination at Work." This captures the spirit of the brand and communicates the benefit of buying from GE, as well as working for GE. It's also a great example of evolving a classic tagline effectively as business divisions became more diverse without shifting core positioning.
3 attributes of an effective tagline:
Message clarity.
A tagline can't do everything. It's easy to get tangled up trying to say too much—what your company does, what you stand for and all the reasons why a customer should choose your brand. A tagline should be the most important takeaway you want to resonate in the minds of your customers. Too many ideas in one statement results in complexity, which causes confusion. A tagline shouldn't need to be explained.
Customer benefit.
Even if a tagline needs to be descriptive of what your company does, there's still a better way to say it than "Computer software provider." Why should a customer choose you over the others? Don't be "me" focused, and avoid overused words such as "quality" or "trusted." Those are expectations, not differentiators. Customers see and hear those words every day—their impact is lost. Instead, speak to buyer desires that evoke emotional connections.
Real-world application.
A broad tagline can result in people forgetting about the product or service you actually provide. If it solves customer pain points, your tagline should resonate. Think simple, strong, engaging and friendly. That makes it memorable.
The creation process.
There's no secret, one-way roadmap to developing a powerful tagline. There are many influential factors, but here we'll share our insights from times we helped clients develop an effective tagline.

Example 1: Info-Pro
We engaged with Info-Pro—a mortgage tax escrow service provider—on a brand prism exercise. We collaborated to uncover the foundation of their brand, points of difference, and value propositions that would lead their communications. The Info-Pro purpose is to "put people first, helping everyone work more efficiently, accurately and confidently." They guide customers through complex tax procedures and automate manual processes. The tagline we developed, "Make work less taxing," captures the essence of the brand promise. It's memorable, and most important, applicable to everyday customer and employee challenges.

Example 2: Hentzen
Hentzen formulates and manufactures Industrial, Defense and Aerospace coating solutions. Their custom liquid and powder coatings aren't cookie-cutter solutions—each is tailored to meet demanding performance specifications and application requirements. Known as a problem-solver, the company has resourceful personnel, innovative laboratories, and nearly a century of expertise. The tagline, "The formula for performance coatings," truly communicates their scientific approach to perfection.

Example 3: Diversatek
Diversatek is the parent company of Diversatek Healthcare, AEL, and Sunlite. The three businesses—though very different in who they serve—help make the medical marketplace better for clinicians and ultimately the patients they serve. The tagline effectively communicates the corporate focus on healthcare solutions with a forward-thinking, strong commitment.
---