Updated

March 18, 2022

Publish Date:
June 30, 2020

Marketing and digital communications agency specializing in smart, meaningful content development.
Subscribe to the MZ Blog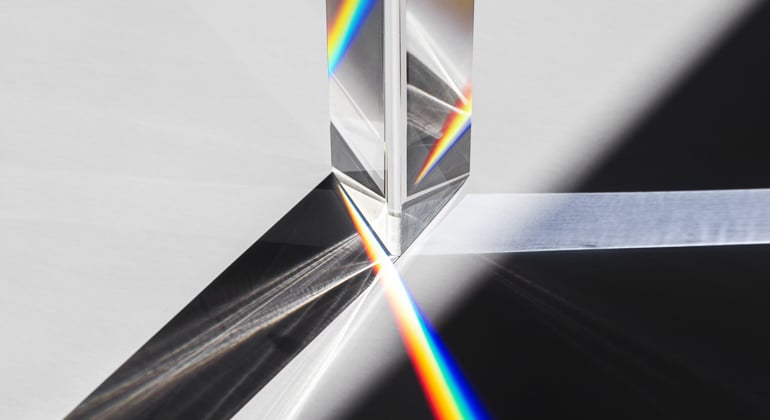 The influence of branding is largely understood and practiced in the B2C world. For B2Bs however, it's often argued pricing, availability and quality are the main decision factors, so less focus is put on building a brand identity—which is a costly mistake. After all, emotional variables affect everyone's decisions. Many B2B marketplaces are getting very crowded, and competition is steadily increasing.
Building familiarity and clearly establishing why you're the better choice is what will set you apart. It won't only improve sales and customer loyalty but will help you build trust with stakeholders—from shareholders and employees to partners and distributors. It all starts with good branding. And successful branding starts with developing a strong brand identity prism.
What is a Brand Prism and why is it important?
Jean-Noel Kapferer created the Brand Identity Prism in 1986, concluding that there are six elements of a brand that shape its overall perception—just like the sides of a prism.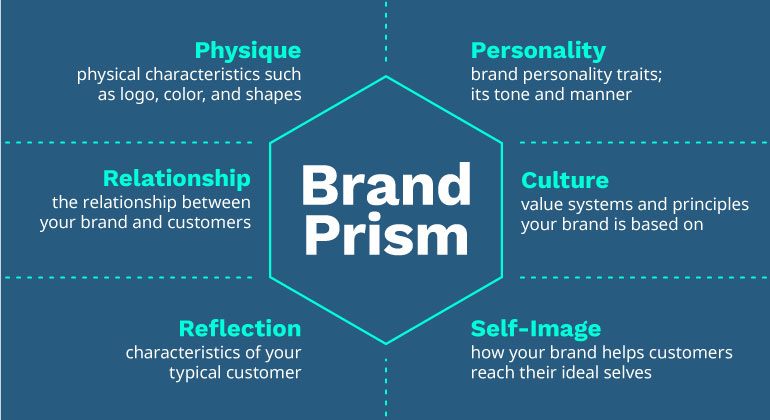 The idea is that these six aspects are intertwined, and when aligned correctly, work together to establish and strengthen your brand image. Each one is crucial for projecting a consistent, genuine image to prospects and customers. They lay the groundwork for your branding efforts, resulting in effective communications that build customer trust and loyalty.
Here are recommendations and best practices for building a brand prism, based on the process we take to help clients uncover and strengthen each aspect of their brand.
Start with research
Research is the key first step—no matter how well you might know your brand. Through input meetings, competitive analysis, and target audience evaluation you can uncover valuable insights and get everyone on the same page.
Evaluate your company and its branding with input meetings.
Getting the right people involved in your organization (and if you're working with an agency) through input meetings is essential—and it's a great way to see if your team is in sync.
Face-to-face brainstorming enables you to dig deep into your team's insights and understand different views and ideas that could lead to new or missed messaging opportunities.
Ensure a variety of team members from different functional areas are included. Prepare questions in advance to guide the discussion and encourage team members to go with their first thoughts. You'll get the best results when you allow for open conversation.
Here are examples of questions that will help start a good brand discussion:
What's your current impression of the brand?
Do people recognize your brand, talk about it, have a reason to remember it?
Why does your brand exist? What purpose does it serve? How has its purpose evolved, due to business opportunities and/or market condition changes?
What are the company's strengths, weaknesses, opportunities, and threats?
Are there negatives that need to be overcome?
Do your associates understand your customers' businesses and pain points?
What do you look for in employees? What are "must-have" qualities?
What are your marketplace goals?
Analyze your competitors' branding and marketing.
You likely have already evaluated your competitors but go a step further now and pay more attention to their branding.
Have you analyzed each competitor's website? How is their brand visually reflected—from their logo and color palette to images and the design of their website and communications.
Verbally, what tone and manner are they using to shape their brand personality? For example, is it warm, inviting, technical or impersonal?
Do an SEO comparison as well. What keywords do they rank for, what ads are they running and how do you compare to them? How do their main messages and selling propositions differ from yours?
Spend time understanding your competitors, so you carve out your unique niche.
Develop your buyer personas based on new findings.
This may require interviewing some customers and/or sending out a survey. Use the research you've gathered through meetings and the competitive analysis as well to further develop your personas.
Ensure your understanding of their needs, pain points, and goals are accurate so your communications present your solution to them in the most effective way possible. This is a critical step to determine the Self-Image and Reflection aspects of a brand prism.
Some important things to consider when building out your personas include:
What are customers getting from you—what's most important to them?
Is your product/service high value or commodity?
How do you help customers reach their ideal self?
Why do prospects agree to meet with you?
What objections do prospects have?
The 6 Brand Prism Elements
Brand Personality
Think of what personality traits you would use to describe your brand. Is it Dreamer, Joker, Seductress, Rebel, Hero, Leader, Mother, Friend, or Other?
Think about your customer personality traits as well, and the type of personality they are looking for from a brand that's offering your solution. This may require using focus groups or other research methods.
When you determine your brand personality it will lead to the tone and manner of your brand verbally and visually throughout all communications—and should be reflected by your company from the inside out.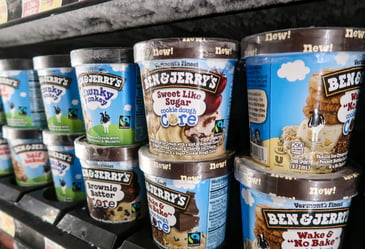 Example: Ice cream brand Ben & Jerry's set itself apart with a very bold and fun brand personality. With crazy flavors, cartoonish product packaging and whimsical copy, its brand personality is evident at every touchpoint.
Brand Culture
Great branding only goes as far as the people behind the brand. Anyone can talk the talk, but can you walk the walk?
Your brand culture is apparent to everyone—from how you treat your employees to how your employees treat your customers.
A company's customer service is a true testament to their brand culture, which is crucial in today's world where customer experience is becoming the lead differentiator.
Ask yourself: What are your company's core values? How do they relate to your mission, vision, and purpose? Get the team involved—Internal alignment is crucial. How are your values the same as your target audience?
If your company is or intends to go international, it's important to remember the values or attributes displayed in your country may conflict with others, and require different marketing approaches.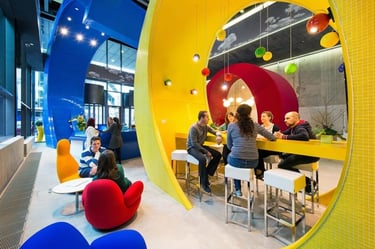 Example: Google promotes a flexible and creative working environment, with many unique employee perks—such as free meals, nap pods, swimming pools, and diner booths instead of conference rooms. The collaborative and fun Google culture has become crucial to its success in developing creative solutions and retaining employees in a competitive environment.
Customer Self-Image
How does your company help customers reach their ideal self? This is where having well-developed, accurate personas come into play.
When you understand how customer emotions are tied to their needs, pain points and goals, you can see how your brand affects their self-image. For example, perhaps you're a software company targeting CEOs who are striving to innovate their company and leave behind a legacy. If you can show them how your software will have a demonstrable impact on their company—subsequently making them look good to the board—you'll be the brand that resonates with them.
For customers who come over from your competitors, evaluate why they weren't satisfied there—how did that competitor fail to meet their needs and wants? What does your company need to do (or already does) differently to fulfill their expectations and build that emotional connection to your brand?
Brand loyalty is built by companies that continually help customers reach their ideal self.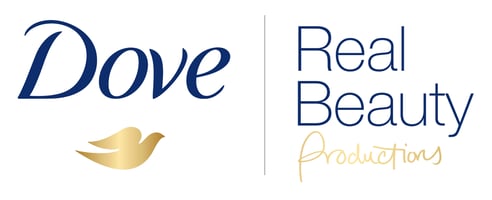 Example: Dove promotes itself as the brand of "real beauty," stating: "Beauty is not defined by shape, size or color – it's feeling like the best version of yourself. Authentic. Unique. Real." Dove strives to take the judgement out of beauty and boost customer's self-esteem to help them reach their ideal self-image.
Customer Reflection
Not to be confused with your customer's self-image, reflection is how your brand portrays and connects with its main target audience.
While most companies have numerous buyer personas, the "go-to" stereotypical customer is who they show in promotional content such as commercials and ads.
Does your company accurately present what your customer looks like and the connection customers have to your brand? This includes any visuals of your "customer" on your website and communications as well.
How does your brand reflect the same values of your audience? Accurate reflection requires determining the key, core message of your brand regardless of different personas.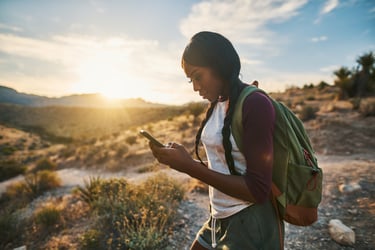 Example: Apple sells to everyone, but associates its brand with adventurous and energetic people in commercials and advertisements. Apple's advanced products are always depicted as simple to use, no matter the user.
Brand Relationships
When looking at the relationship between your brand and customers, think of it as social roles.
For example, a ridesharing service, such as Uber, would have the typical brand relationship of driver/passenger. However, Lyft decided to redefine that relationship to friend/friend, with their original tagline "your friend with a car." Lyft passengers are encouraged to sit in the front seat and the driver often has water and gum available and a choice of playlists ready, treating you like a friend.
Think of the stereotypical relationship roles in your industry, and how you redefine those. What is the customer getting beyond your product or service? How does your brand personality play into this?
The relationship your brand has with its customers should be considered at every touchpoint—from your website and communications to phone calls, emails, and in-person experiences.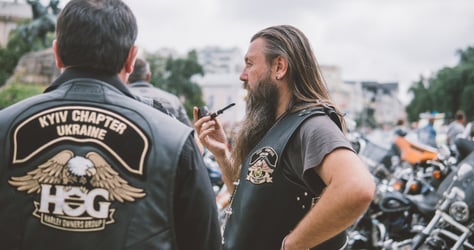 Example: Harley-Davidson forms deep customer relationships, becoming a lifestyle choice for many. It created a community between employees and customers—the "brotherhood" of riders.
Physique
Overall, how do you want people to describe your visual branding—and why? The physique of your brand is images that come to mind when people think of it—such as colors, shapes, logos and fonts.
These physical elements should reflect your brand personality and give a unique visual image to not only the tangible but intangible benefits of your solution.
There are many aspects that create this physique—from serif to sans serif fonts, soft or angular shapes, and bold or subtle colors.
Is your current color palette limiting? Do a color study to broaden it. Look around your industry as well to see if there are common colors used—would it be valuable for your brand to have colors that stand out?
Identify photography styles and art direction treatments that reinforce your branding. Use of stock photos is common, but work with your creative team to develop interesting and unique photo treatments to complement your brand image.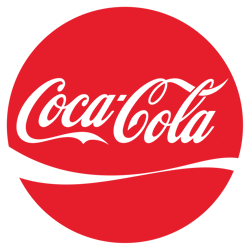 Example: Coca-Cola's iconic bold color and scripted font reflects the brand's happy and playful personality. From product packaging to online advertising its brand physique is consistent in all communications.
Aligning these six elements is crucial for projecting a genuine image to prospects, customers, and shareholders in a consistent manner, at every touchpoint. A strong brand is what will set you apart as competition grows, and prove value beyond price or quality.
---