Date

November 11, 2020

Marketing and digital communications agency specializing in smart, meaningful content development.
Subscribe to the MZ Blog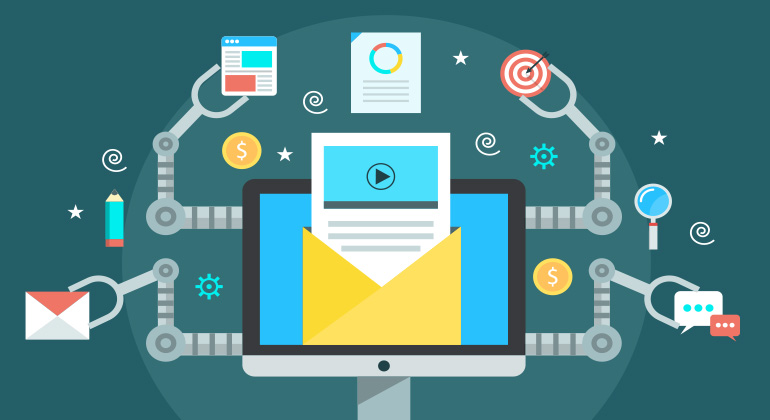 Being a marketer in an increasingly digital world can be intimidating. Customers demand relevant content, accurate information and quick responses—wherever they are and whenever they need it. With floods of online content and an ever-growing list of social platforms, it's becoming more difficult to attract and engage the right prospects and keep up with the channels they're on.
What marketers can relax in, is that while the channels used to reach customers evolve and advance, tools have been created to simplify the tedious tasks they face every day.
What is marketing automation?
As the name suggests, marketing automation is using software and tools to automate manual marketing tasks. This often includes setting up workflows that are automatically triggered when a prospect or customer takes a specific action, such as filling out a form.
By automating time-consuming manual tasks, marketers are freed up to focus on what matters most—building customer relationships and strategizing effective opportunities for growth.
Which marketing tasks should I automate?
There are many different marketing tasks that benefit greatly from automation. Whether to send and track emails, schedule social posts, bid on ads, or collect customer data, countless software options are available with many different features. Here, we'll walk you through the most popular types of automation and factors to consider.
Email
A thank-you email after registering for an event. An order confirmation right after a purchase. We've all been the recipient of email automation. It's one of the most popular forms of marketing automation, enabling you to reach the right people at the right time with already prepared content—saving time and effort. Platforms such as HubSpot and MailChimp enable you to send trigger- or time-based emails.
Trigger-based emails are sent in response to specific actions customers take such as filling out a form, visiting a certain web page, or opening an email. Time-based emails are sent at a predetermined time. Creating email sequences streamlines your email marketing efforts and helps ensure every lead opportunity is taken advantage of.
Here are examples of valuable automated email sequences to set-up.
Welcome emails—Acknowledge and welcome blog subscribers and new customers to establish the relationship.
Lead nurturing emails—Move leads down the funnel by providing relevant content for each stage, based on their behavior and engagement with your website, social accounts or other content and communications.
Re-engagement emails—Re-engage cold leads after a set time to remind them of your value. This helps win some back and determine which to remove from your list.
Customer milestones—Check-in on customers, offer milestone or birthday gifts, gather valuable feedback and more.
Campaign emails—Based on a specific campaign, typically includes promotional emails, reminders and follow-ups.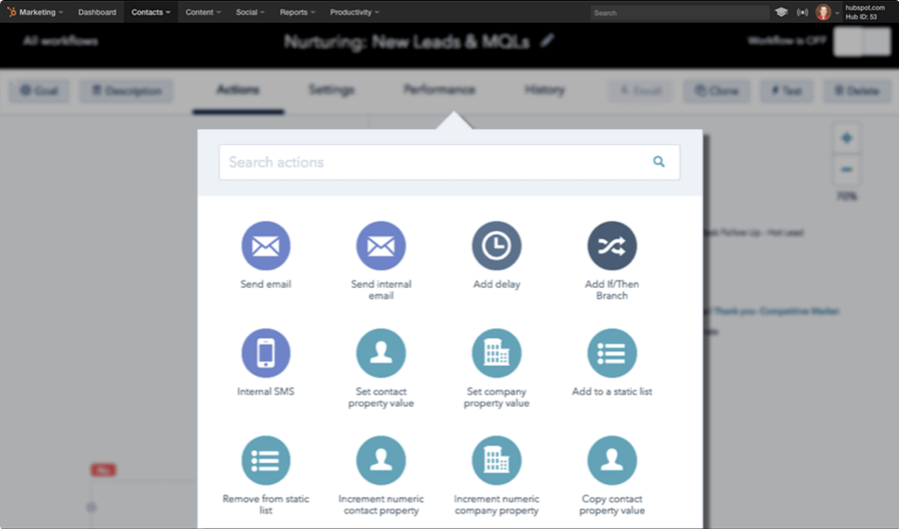 HubSpot users can create automated email workflows.
To create effective email sequences, first, qualify your leads based on where they are in the marketing and sales process. Then organize them into lists within your CRM and create different sequences based on what would be relevant to each list. To learn more about optimizing emails, read our blog on email best practices.
Social Media
It's time-consuming to manage all of the social accounts for an organization. There are also many risks to handle, from legal and compliance to brand image and reputation. Social media automation platforms enable you to manage all accounts on one platform—including scheduling posts, monitoring social activity and viewing valuable analytics. This way you can dedicate more time to creating relevant content and interacting with your audience.
Besides bulk scheduling, many platforms provide useful analytics such as interaction and post performance metrics so you can gauge the effectiveness of your content and strategy. In addition, monitoring tools that show any posts, comments, pages or reviews where your brand has been mentioned are critical for maintaining your brand image and responding in a timely fashion.
Platforms such as Hootsuite let you see social media activity and post engagement from all of your social accounts on one dashboard. This way you can respond to comments or messages faster. Another benefit of Hootsuite is that you can collaborate with team members on messages, and assign tasks and monitor progress.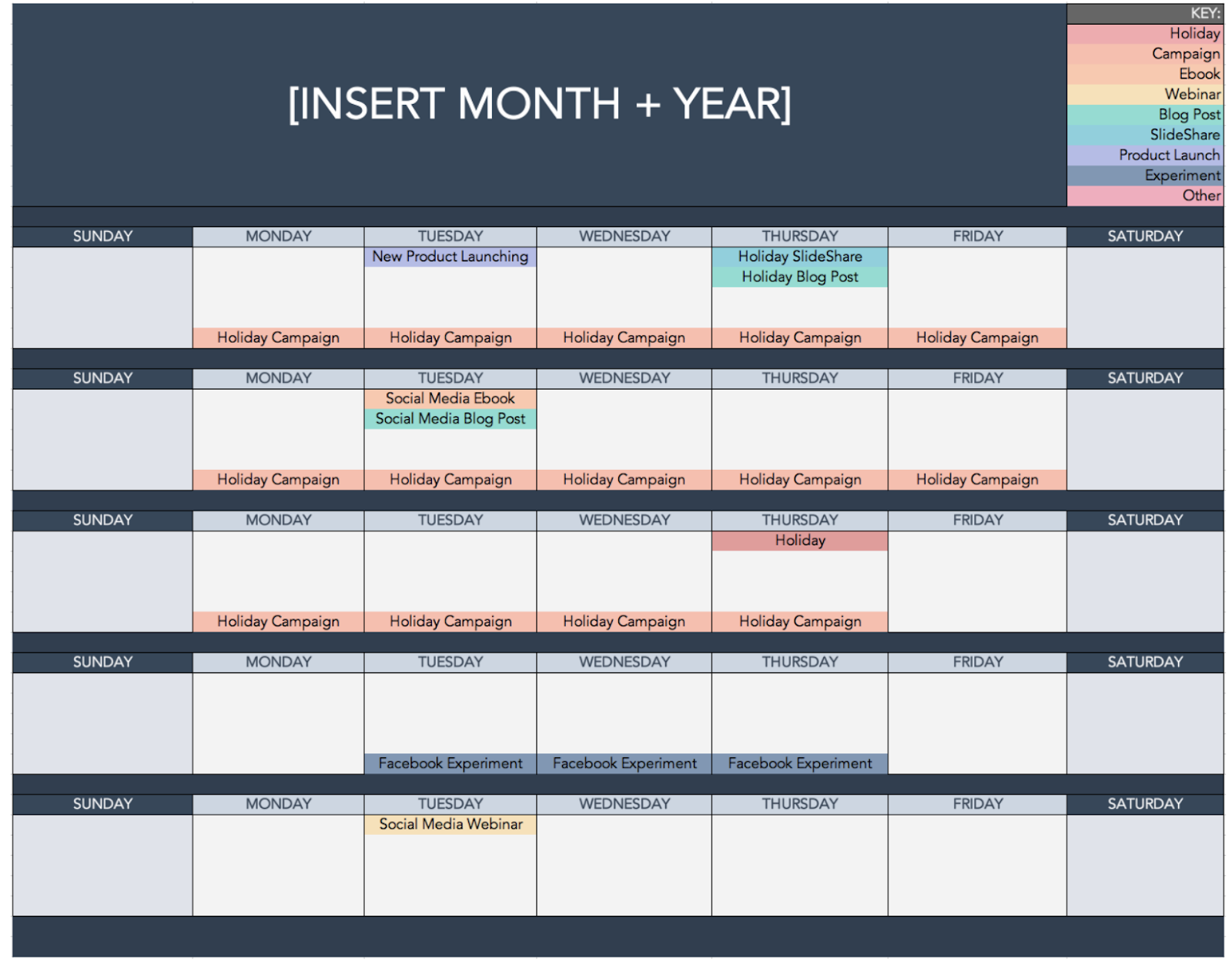 HubSpot also offers social media planning and scheduling calendars.
Advertising
When you see a digital ad related to a search query or web page you've visited, you've been met with automation. Digital advertising automation comes in many forms, but each ultimately serves the same purpose—enable marketers to spend more time on creative work by eliminating repetitive manual tasks and using data to reach the right audience. There are two main types—bid automation and content automation.
Google Ads Smart Bidding takes the guesswork out of setting bids to meet your performance goals. Users input data regarding their target market, budget, and goal, and Google Ads will automatically set your bids to meet that goal. There are various goals to choose from such as increase site visits, increase visibility, meet a target return on ad spend (ROAS) or maximize for conversions.
Google Ads Smart Creative uses machine learning to show ads with the right content to the right audience. You can set up different ad types in Google such as Responsive Search Ads, Dynamic Search Ads, or Retargeting Ads based on your strategy.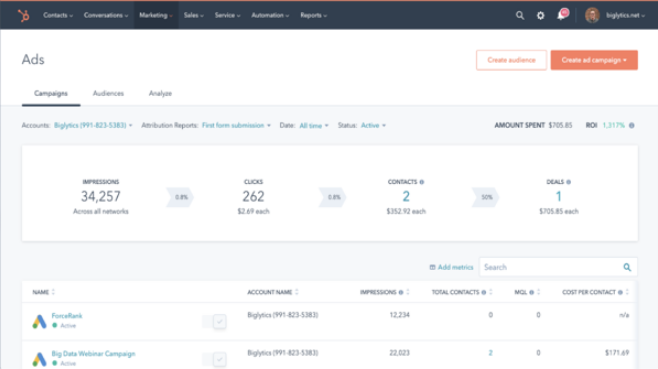 Integrating Google Ads with your CRM gives you the ability to track the effectiveness of your ad campaigns.
Many social networks also have ad tools for their platform. With Facebook Automated Ads, you're able to create up to six versions of your ad—such as different call-to-actions, headlines, or images—and over time, Facebook will automatically determine the most effective version to display. Facebook also suggests a recommended audience based on data from people who have similar interests related to your business page, visit your page, like people near your business location, and more. A budget is also recommended based on your goal and you'll receive notifications about ad performance and leads.
LinkedIn also has an all-in-one advertising platform, Campaign Manager, where you can create ad campaigns and evaluate their performance. By setting campaign objectives like Brand Awareness or Website Visits, LinkedIn determines which ad formats, budget types, and bid types are available. After creating your ads and launching the campaign, you can view metrics and analytics on the Account Overview page to measure results.
Chatbots and Messaging
Artificial intelligence in chatbots and other "live" messaging tools is advancing, as customers desire more self-service options. Having a chatbot on your website is a smart way to prevent visitors from having to wait on an associate for simple questions—such as service options, product features, and setting up an appointment. All while collecting valuable data that can give you greater insights into their needs. Furthermore, if the chatbot doesn't have the answer it can direct the prospect to one of your relevant, content-rich downloads—and request an email address beforehand for automatic lead generation.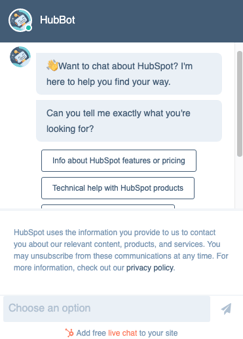 HubSpot enables you to add free live chat to your site.
Earlier this year, LinkedIn introduced Conversation Ads which are messages that go straight to people's inboxes and provide a choose-your-own-path experience. This is done by setting up conversation sequences—essentially a decision tree that includes messages with 2 or 3 CTA options, each leading the user down a path based on which CTA they select. All you have to do is set up message sequences for your audience based on objectives such as downloading an eBook or registering for an event, and LinkedIn does the rest. It's an effective way to provide personalized interaction with a large audience at their convenience—without having to be present.
Bring everything together in your CRM.
Regardless of which automation tools you use, each needs to integrate with your CRM so contact data is automatically added or updated. Having a CRM system where you can effectively organize contacts, streamline a variety of tasks with workflows, and manage and monitor your team's activity will save you an immense amount of time in the long-run. The HubSpot CRM integrates with HubSpot's email, social media, and advertising automation software so everything you need is all on one platform.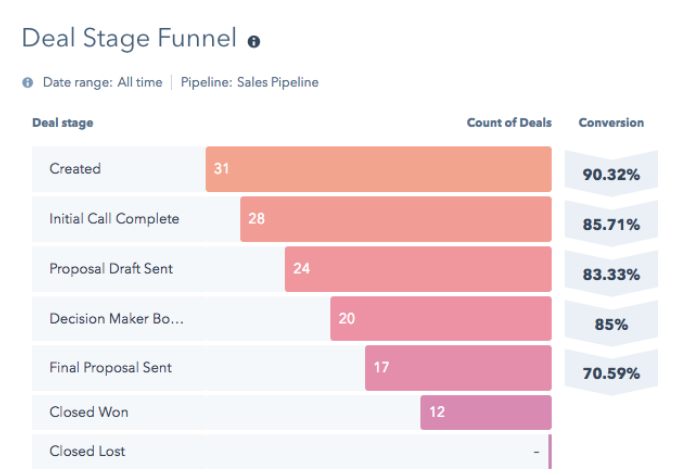 You can put marketing and sales data in one place with HubSpot. With features such as the Deal Stage Funnel, it's easy to find weak points and opportunities in your sales process.
By automating these repetitive tasks, you can focus more on building customer relationships and developing creative and effective marketing materials. And then you'll be able to meet customers where they are—with the right content at the right time.
---