Updated

May 20, 2022

Publish Date:
February 27, 2020

Marketing and digital communications agency specializing in smart, meaningful content development.
Subscribe to the MZ Blog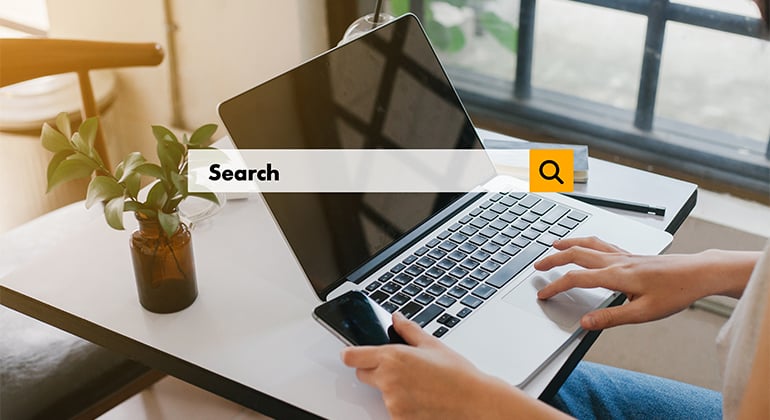 Today search has become all about human-friendly, topic-based content. We search the way we talk and now we even search using our voice. Keeping up with how all of these changes affect SEO is a challenge for every inbound marketer. But while Google's algorithms constantly evolve, there are basic on-page SEO elements that always need to be optimized.
Here's an example of how we optimize each SEO element on a web page, along with descriptions of best practices.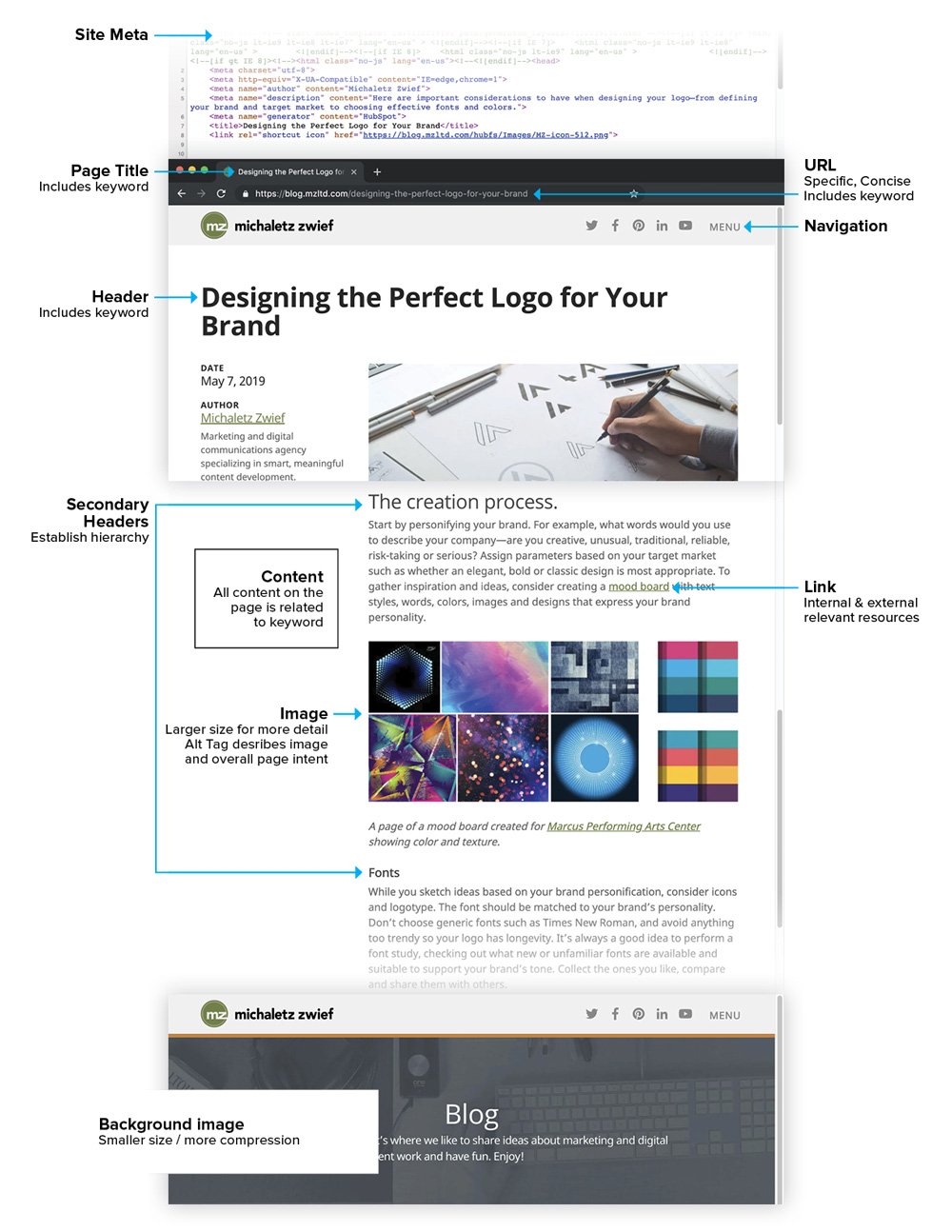 Site Meta
Meta tags only appear in HTML, not on the page itself. The short description that shows up under the page title in search results is the meta description. It doesn't directly affect your SEO, but a clear, well-written meta tag does have a huge impact on whether or not a user decides to click on your page.
A good meta description is compelling and includes your keyword. Best practices are to keep it under 160 characters but keep in mind only 120 characters are shown on mobile devices so it's best to keep it as concise as possible. Know also that your page's meta description is what will be copied over to social media if your content is shared.
Title Tags
A title tag is the HTML equivalent to your page title. It should always include your keyword in a natural way and accurately describe your content. If it doesn't, Google may choose to only show a portion of it. And since Google previews only 60 characters—including spaces—make sure it doesn't run longer than that.
URL
A URL should include your keyword and be specific and concise so search engines can easily crawl it. HTTPS should always be used when possible as well, since Google labels Non-HTTPS sites as "not secure," hurting their ranking. It's also best to have easily readable URLs so it can act as anchor text when copied and pasted or shared to social media, forums or other networks. An unoptimized, semantically inaccurate URL will deter people from clicking.
Navigation
Having an intuitive, mobile-responsive and balanced navigation makes it easy for search bots to crawl and index your site and provides a positive user experience—boosting SEO. Putting your social media buttons at the top and building the page to be shareable through those networks can also increase organic traffic. The number of times your content is shared is a ranking signal that validates the content. And the more shares you have, the more opportunities you have for people to see your content and backlink to it.
Header Tags
Headers serve as an organizational structure for your page, helping search engines distinguish what content is important and relevant to searchers. Break up sections using secondary headers (H2–H6) to establish a hierarchy and break up the text for an easier read. This also makes your page more scannable to search engines, boosting your SEO performance. Best practice is to include the most important keywords in H1 and H2 headers (but don't repeat ones from your page title), and all subsequent headers should identify subtopic keywords.
Content
The quality of your content arguably impacts your SEO ranking the most. Original content that presents thought leadership will not only boost your SEO but make you a trusted source within your market. Creating high-quality content starts with knowing what topics your audience is searching for and what keywords they use. All content on the page should be related to the keyword, and short and long-tail keywords related to your main keyword should be incorporated naturally throughout.
Links
Link building is an integral part of every SEO strategy since backlinks are one of the most important signals for ranking websites during searches. Link to relevant internal and external resources throughout, but keep in mind low-quality links won't help your SEO ranking. Knowing the best techniques for getting high-quality backlinks is essential.
Images
Did you know about 34% of Google search results are images now? With Google Lens or the new multisearch feature, people can search using images—but ensuring your images can be indexed is still crucial. All images should have an Alt Tag describing the image. This helps search crawlers understand what the image is and the intent of it on the page. Be careful not to keyword stuff in Alt Tags however, that would directly hurt your SEO.
While a crisp, high-quality image is desirable, images should be compressed if needed—which may or may not affect image quality—to ensure they won't slow down the page load time. If your page doesn't load in 3 seconds, there's a 40% chance the user will abandon your page.
Keep these key elements in mind when optimizing your web page for SEO to help your page rank in search results better, target quality traffic and stay ahead of the competition.
---