Updated

August 25, 2022

Publish Date:
September 2, 2020

Marketing and digital communications agency specializing in smart, meaningful content development.
Subscribe to the MZ Blog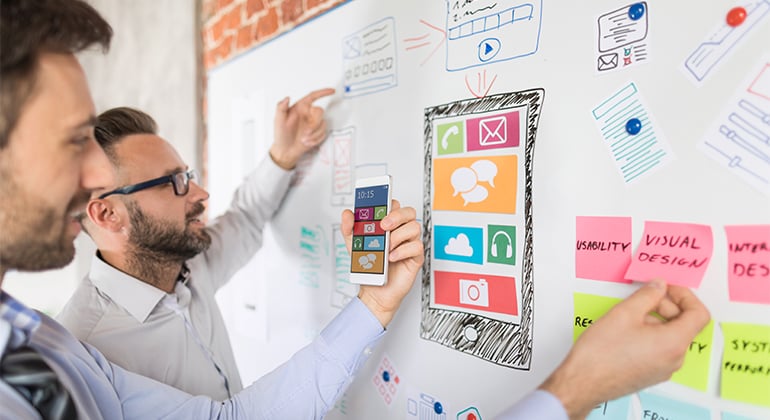 There are many unique challenges a B2B company faces when creating a website. Unlike a B2C company, there's a longer, more complex path to purchase—one that doesn't end with a shopping cart checkout. Solutions are often technical, served to a wide range of industries, and collaboration between multiple stakeholders is required before a sale is made. And while B2B websites serve a different purpose in the sales process, the need for attracting leads, building your brand image and credibility, and engaging customers is the same.
Here are two challenges B2B companies often struggle with when developing a website and how you can overcome them.
1. Presenting multiple brands, products, and/or services to a diverse audience clearly.
Many B2B companies serve multiple industries, providing a diverse range of complex solutions. As a result, they struggle to develop a site structure that presents all of their products and services in a user-friendly manner—leaving visitors frustrated and confused. And if customers can't find what they are looking for the first time, you often won't have a second chance. After a poor experience, 88% of users are less likely to return to a website.
Contributing to that problem, many B2B websites lead with information about their company. Hence navigations beginning with About and home page messaging focused on who we are, our accomplishments, history and more. Visitors however are more interested in "Can you solve my problem—yes or no?" Or they aren't even sure what their problem actually is and need to be made aware of it. Only when they determine your type of solution is what they need will the question change to "Are you my best option?" Simply put, websites need to be less about "me" and more about "you".
That's why it's best to start the navigation and overall presentation of your website by speaking directly to your audience's needs and presenting solutions. Buyers visit a website with specific questions in mind. An effective navigation and site structure enables them to find answers as efficiently as possible. This starts with categorizing the tasks your main audience is looking to accomplish.
Example
Cortland Company designs and manufactures high-performance synthetic rope, slings and tethers for companies around the world that work in various mission-critical industries. The website needed to present their various solutions to a diverse audience—ranging from engineers, purchasing and project managers to distributors, government contractors, and end users such as crew decks.
The website navigation needed to be redesigned to help the user find exactly what they need as quickly and easily as possible. Solutions needed to be presented by industry and product type to be the most effective. The challenge was deciding how to present their numerous products to such a diverse audience. To ensure the optimal solution was developed, MZ spoke with Cortland's marketing, sales and engineering teams to determine what buyers search for, including terms they use and are familiar with.
To present their numerous fiber rope solutions without needing to create a database and complex filtering system, separate pages were created based on the main considerations users have when searching for a rope product.

Customers can view Ropes by Fibers, Constructions or Certifications depending on their needs.
To eliminate having to duplicate content—and potentially confusing the user—the Fibers, Constructions and Certifications pages include product links that send the user to the relevant product on the All Rope page. This provides a logical pathway for each buyer persona to easily find what they need.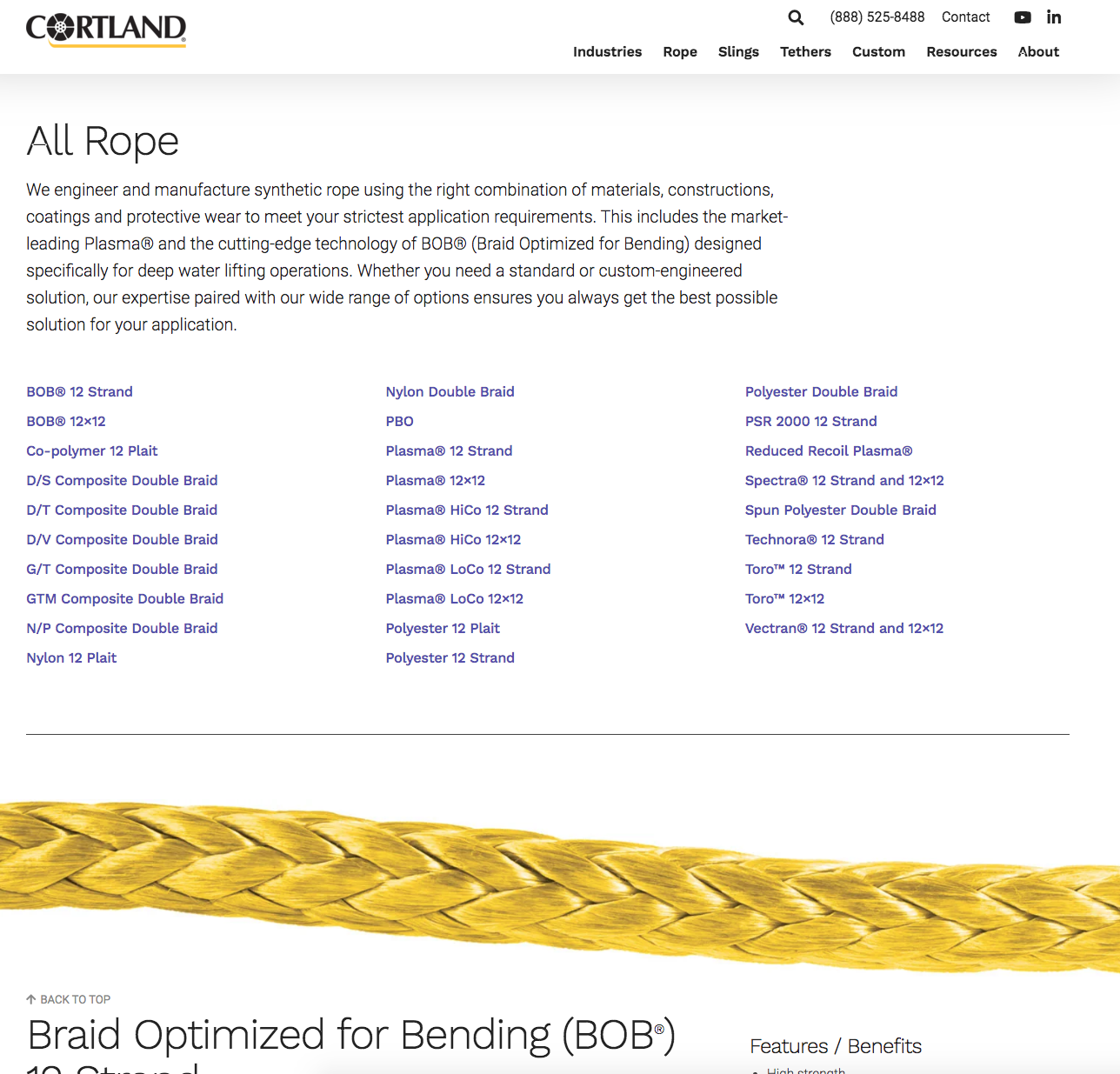 Product links jump users down the page to the relevant product.
2. Having a powerful visual appearance.
If asked to quickly think about the most visually attractive website you've ever seen, a B2B website likely isn't the first one to come to mind. The products that manufacturers, IT specialists or software companies provide aren't exactly as glamorous as, say, a new sports car or fall clothing line.
A website's visual appearance has value regardless of who you sell to. In fact, 46% of people admit to judging a company's credibility based on the site's visual appeal and aesthetics. An attractive well-designed website isn't simply a nice-to-have, it's a must.
While your solutions themselves may lack the excitement of a consumer product or service, the way you present them can make all the difference. It's all about perspective. Striking, high-quality photography, interactive elements, clean text, and a well-integrated color palette all contribute to leaving a positive impression.
Keep in mind, your website is the digital platform where your brand personality is built. If you need to use stock imagery be careful, generic photos will hurt your authenticity and credibility. In cases where stock is necessary, develop and apply treatments to the photos that complement your brand image. And if you portray customers in visuals, be sure to reflect your ideal customer accurately.
Examples
There are other ways to get high-quality images besides browsing stock sites or hiring a photographer. For example, if you're a contract manufacturer, you can search online and browse through customer's media libraries for finished product/s to feature throughout your site. When redesigning a website for our client, Hentzen Coatings, we sent requests to customers for high-resolution images of specific products finished with Hentzen Coatings to showcase throughout the new site among other well-known, respected brands who are Hentzen customers. The result was powerful high-quality visuals throughout that capture the quality and beauty of Hentzen Coatings.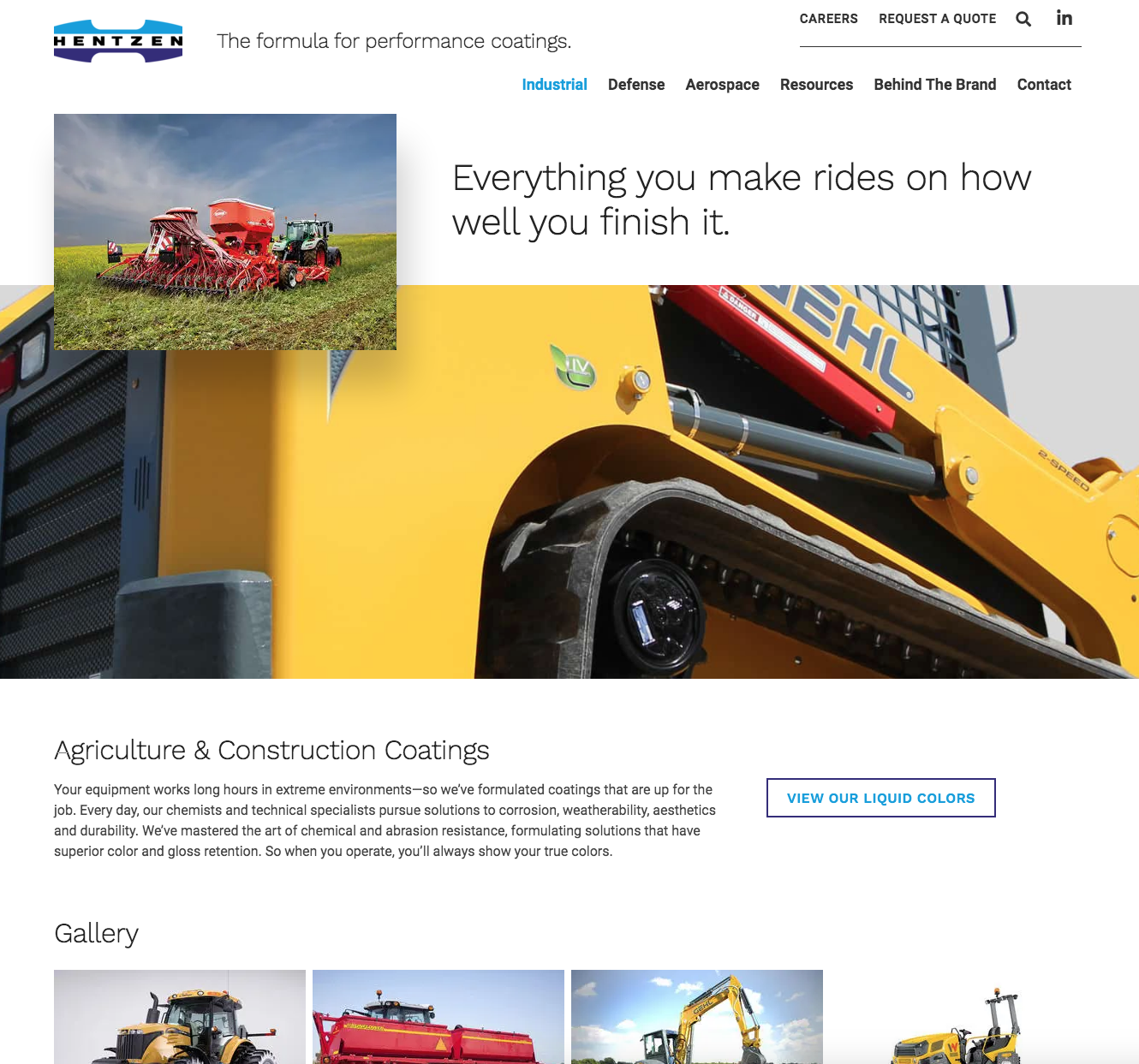 Industry-leading products finished with Hentzen Coatings are displayed throughout their site.
Photography that features employees is also very valuable, as it makes your brand more authentic and trustworthy, while instilling employee pride and company spirit. Featuring employees working, volunteering and having fun are great ways to display your credibility and culture.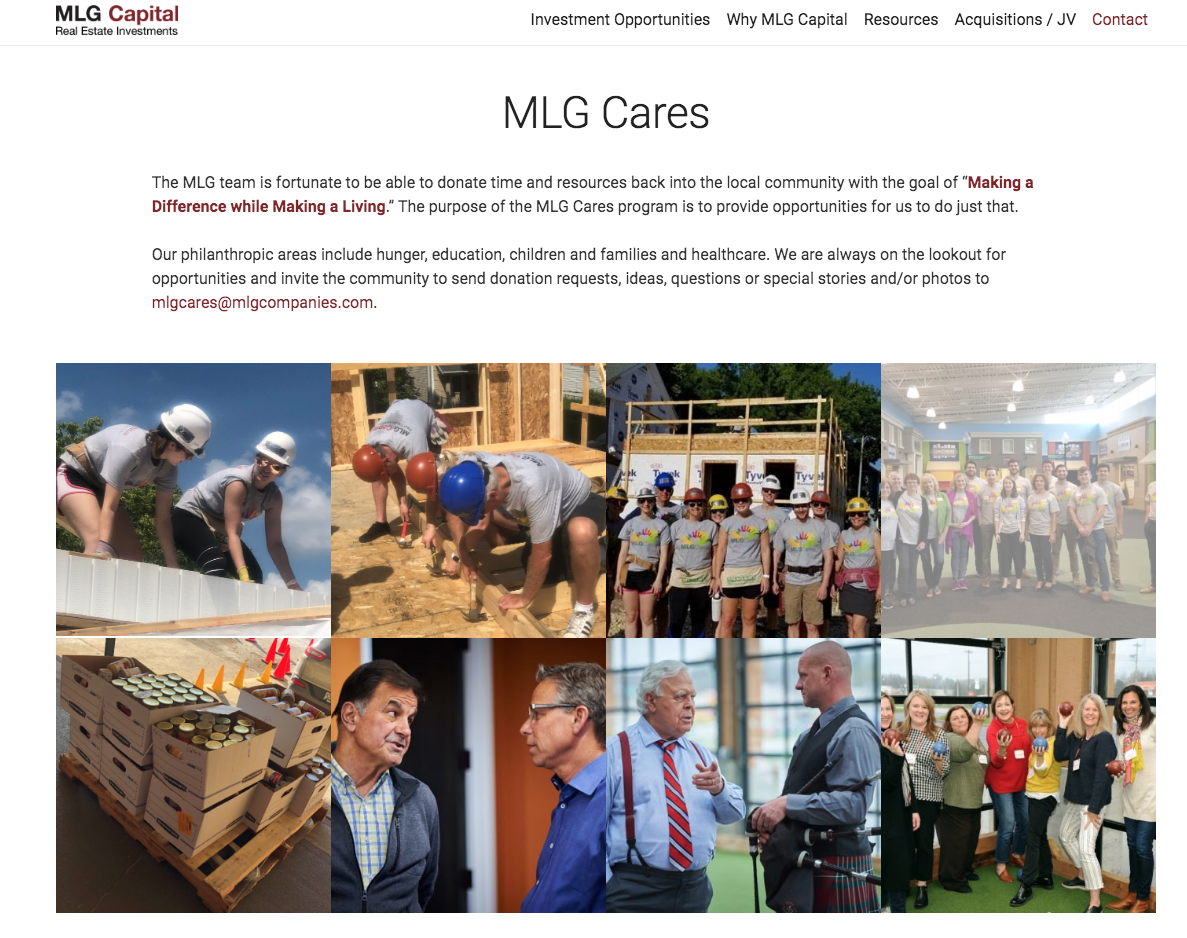 MLG Capital backs up their commitment to giving back to the community, showing employees working hard, volunteering and having fun.
Another way to improve your website's visual appearance is including a video at the top of your home page instead of the typical sliders, which are often overlooked. Clean, simple videos such as the one we created for Cortland Company, convey the magnitude of industries Cortland serves in a more engaging manner.
Developing a site structure that presents your products and services clearly combined with designing an attractive visual appearance are critical steps towards building trust with customers online. Make sure your site speaks to your audience's needs and gives them confidence in your company.
---